Gene Hackman has not appeared in a movie since 2004, leaving fans of movies like The French Connection and The Royal Tenenbaums wondering what exactly the two-time Oscar winner is doing in 2021.
An answer seemed to come this week via film historian James L. Neibaur's Twitter.
Alongside a pic of Hackman, he wrote: "Gene Hackman retired from acting 17 years ago, but had this recent pic taken to show he is alive and well at 91, and living in New Mexico. He goes bike riding every day and remains active and engaged with hobbies, and friends."
However, a Google reverse image search actually revealed that the image was a cropped version on a Facebook image from May 2019.
The image originated on the Facebook page of Official Pix, a company that offers signed pictures and memorabilia from celebrities.
In 2019, the company posted pictures of the legendary actor signing images of himself alongside a member of the Official Pix Team.
In one image, for example, we can see him signing pictures from Unforgiven, the movie that won him his second and final Oscar in 1993.
Neibaur acknowledged that the picture was 2019 after Twitter users pointed it out to him. He wrote: "I was informed that this pic is 2 years old, when he was a young, strapping 89 and I can't edit the post, so I am adding this tweet to clarify. Still great that Mr. Hackman is alive and well, and has so many supportive fans."
The picture, however, remains the most recent photograph of Hackman to have been made public, as the actor has kept a relatively low profile since retiring.
Since his last film Welcome to Mooseport came out in 2004, Hackman has been involved in very few projects. Most recently, he narrated 2017 documentary We the Marines—he had been a Marine himself from the ages of 16 to 19.
One of his last appearances on screen, meanwhile, came in 2008, when he appeared in an episode of Guy Fieri's Diners, Drive-Ins and Dives. Not because he was a guest on the show—he just happened to be a patron of the Sante Fe diner the show was filming in.
Since retiring, Hackman became an author, writing a series of historical novels like Escape from Andersonville, Payback at Morning Peak and Pursuit.
Asked by GQ whether he would ever do another film in 2011, the actor said, "I don't know. If I could do it in my own house, maybe, without them disturbing anything and just one or two people."
Speaking to Empire from his home in Santa Fe in 2009, he revealed exactly why he retired. He said: "The straw that broke the camel's back was actually a stress test that I took in New York.
"The doctor advised me that my heart wasn't in the kind of shape that I should be putting it under any stress."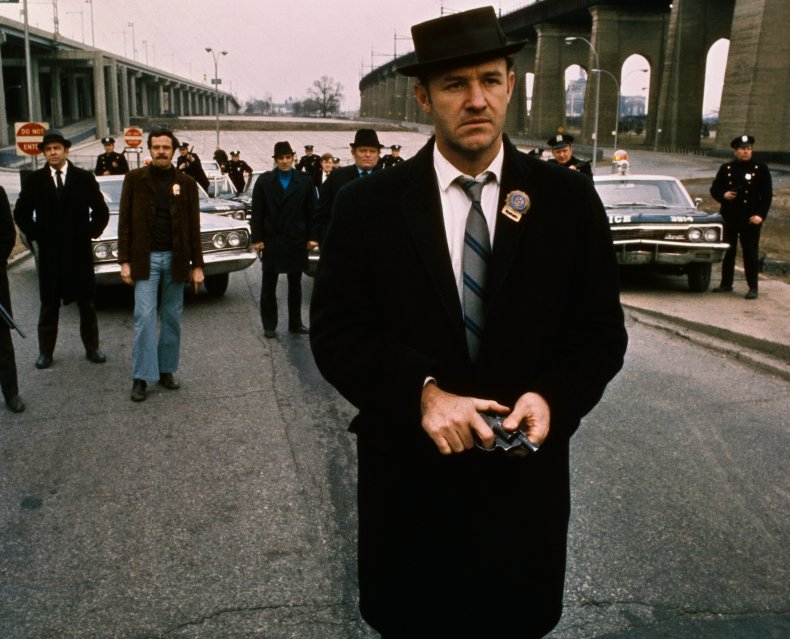 Asked by the interviewer what he does with his time, he said he watches "DVDs that my wife rents; we like simple stories that some of the little low-budget films manage to produce."
Per the article, he also fishes, paints and watch Comedy Central.