Who is Girl Scouts Murder Suspect Gene Leroy Hart and Where Is He Now?
Keeper of the Ashes: The Oklahoma Girl Scout Murders is the new true-crime documentary on Hulu about the tragic sexual assault and murder of Lori Lee Farmer, 8, Doris Denise Milner, 10, and Michele Heather Guse, 9 during a Girl Scouts camping trip on June 13, 1977.
Fronted by Kristin Chenoweth, Keeper of the Ashes revisits the events of the night Farmer, Milner, and Guse were killed, the police investigation, and the unsolved nature of the shocking case across four episodes
Gene Leroy Hart was first named as a suspect in the case in 1977 and even stood trial two years later, but was acquitted by a jury.
Newsweek has everything you need to know about him and his whereabouts today.
Who is Gene Leroy Hart?
Gene Leroy Hart a local man and high school football star who had been raised a mile away from the murder scene at Camp Scott.
He was a prison escapee with a violent past who had been sentenced to 308 years in prison for kidnapping and raping two pregnant women, as well as four counts of first-degree burglary.
In 1973 he had escaped from Mayes County Jail, remaining on the run for several years.
After an extensive manhunt, Hart was arrested on April 6, 1978, 10 months after the murders of Farmer, Guse and Miller at Camp Scott. He was named a suspect after photographs of a woman found in a cave near Camp Scott were traced back to him.
Hart had been staying at the home of a Cherokee medicine man in Cookson Hills of Cherokee County, 50 miles from Camp Scott where the girl's bodies had been uncovered. Hart himself is a member of the Cherokee Nation.
Hart was charged with the killings and stood trial after pleading his innocence.
He was found not guilty by a jury and acquitted in March 1979.
Where is Gene Leroy Hart Today?
Gene Leroy Hart died at the age of 35 on June 4, 1979, from a heart attack in prison, just two months after the 1979 trial for the Oklahoma Girl Scout Murders.
According to reports, he died after exercising in the prison yard at Oklahoma State Penitentiary.
His defense team had argued that the hair sample found at the crime scene on some duct tape did not belong to Hart. They also made accusations of racial profiling and argued the evidence against Hart was circumstantial.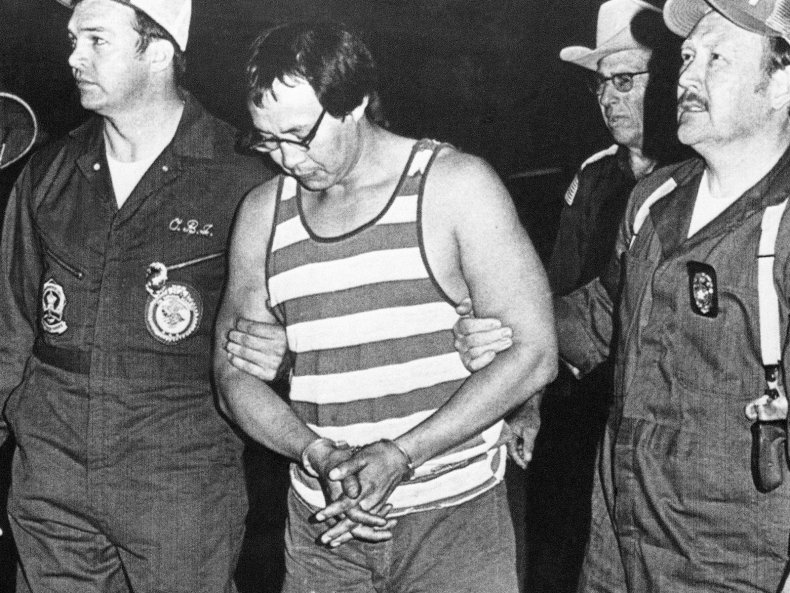 Following the murder trial, Hart returned to prison on charges relating to his previous charges of kidnapping, raping of two pregnant women, and first-degree burglary. He had 305 years of his 308-year sentence left to serve, meaning he would spend the rest of his life behind bars.
Since then, the killings of Farmer, Milner, and Guse have remained officially unsolved, despite numerous pieces of evidence that point towards Hart as their killer. Today, he remains the main suspect.
In the 1980s, a DNA test carried out on case evidence showed three of the five probes matched Hart's DNA. Officials at that time stated that only 1 in 7,700 Native American males would have matched the profile.
Thanks to advancements in the use of DNA over the past three decades, Hayes County Police was able to reopen the case in recent years.
In 2016, Mayes County Sheriff Mike Reed raised $30,000 in donations to carry out new DNA testing, reported People.
In May 2022, the Hayes authorities announced more DNA tests that took place in 2019 strongly pointed to Hart's involvement in the killings.
Speaking to Tulsa World, Reed shared Mayes County Police had questioned over 130 potential suspects since the case and other names have surfaced over the years and DNA collected.
Reed stated: "There's no suspect attached to this case that has not been excluded in one way or another, whether it's DNA, whether it's an alibi, whether it's polygraph test, whatever."
The recent tests eliminated other potential suspects but could not fully eliminate Hart.
Inevitably the results are to be deemed officially inconclusive as no full DNA profile has ever been developed in the case.
Sheriff Reed, who re-opened the investigation into the Girl Scout murders, shared his thoughts on the recent DNA results in a recent statement, asserting he was "convinced" of Hart's guilt.
He said: "Unless something new comes up, something brought to light we are not aware of, I am convinced where I'm sitting of Hart's guilt and involvement in this case."
Keeper of the Ashes: The Oklahoma Girl Scout Murders is streaming on Hulu now.