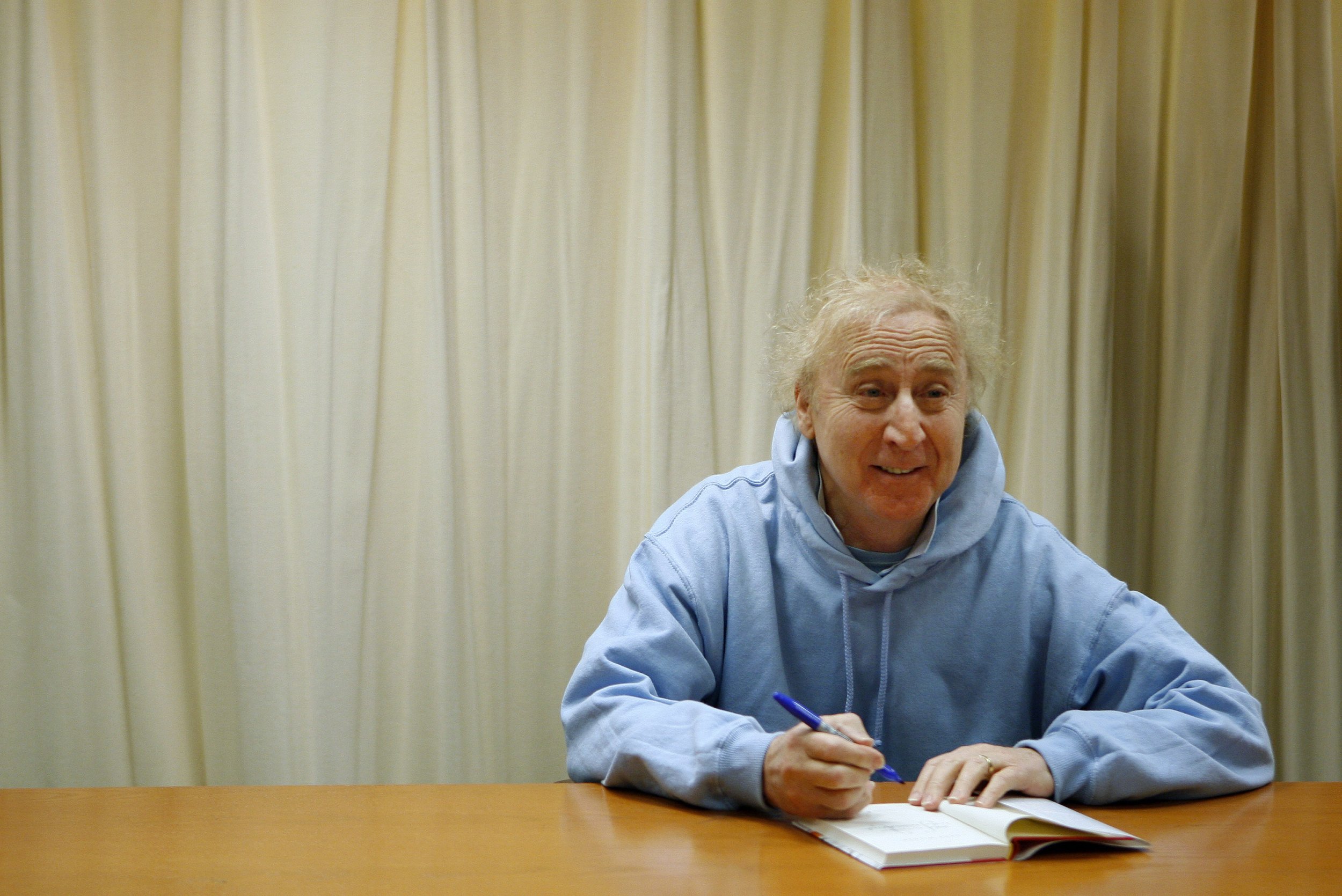 For a guy who was the epitome of Hollywood through a string of hits--breaking box-office records, commanding the highest salary in the movies--Gene Wilder's affect remains disarmingly un-Hollywood. The star of instant classics like "Willy Wonka and the Chocolate Factory" (1971), "Blazing Saddles" (1974), "Young Frankenstein" (1974) and many more, Wilder now lives quietly in rural Connecticut, in a house willed to him by his third wife, comedienne Gilda Radner, who died of ovarian cancer in 1989. He has just written his memoir, "Kiss Me Like a Stranger," a title inspired by Radner herself. It is a book so tender in its recollections, so naked, that the reader roots for Wilder even though he's only ever been the underdog in his own mind.
Born Jerome Silberman in 1935, Wilder recalls the first time he tried to make anyone laugh: it was to entertain his mother, seriously ill with heart disease. Officially bitten by the acting bug after seeing his sister on stage, Wilder would go from the University of Iowa to New York where he studied under Uta Hagen and later the legendary Lee Strasberg at the Actor's Studio. He made his film debut in 1967 with a small turn in "Bonnie and Clyde," but it was with "The Producers" that he exploded: his demented energy, roiling under a fragile shy-guy sheen, was comedy catnip. How could you not want more?
In this endearing memoir, Wilder shares secrets from his best movies, dissects the happy accidents of his life, and writes with heartbreaking honesty about Radner and his subsequent remarriage, his own struggle with non-Hodgkin's lymphoma and his successful stem-cell transplant. Wilder recently discussed these topics and more with Newsweek's Brian Braiker.
Excerpts:
Newsweek: How are you feeling these days?
Gene Wilder:Do you mean my knees? [Laughs.] I feel fine. I just came back from a short rest with my wife in Kiawah Island, South Carolina.
I didn't realize that you had had a stem-cell transplant. Have you done any advocacy for more stem-cell research or are you staying out of that debate?
I wasn't a friend, but I was an acquaintance, of Chris Reeve, and we talked about it the last time I saw him, which was at the U.S. Open. The Bush administration has this--I don't know what to call it--I'd like to say Neanderthal outlook about it. Generally, I don't like it when actors get up and start preaching, but it's something that should be obvious and it's hard to speak with vehemence when you think that the people you're addressing it to aren't going to understand what you're saying. I think it's something Congress should take up.
You write about this compulsion to pray you had when you were younger. What's so fascinating about it is that you called the compulsion your "Demon" when ostensibly you were praying to God.
Actually, I never thought of it as God. I didn't know what to call it. I don't believe in devils, but demons I do because everyone at one time or another has some kind of a demon, even if you call it by another name, that drives them. It came in March of my freshman year at the university in Iowa and it lasted a long time. I never knew when it was going to come or go. Every time I was happy it seemed to rear--well, I say his ugly head, but I don't know if it was a he or a she.
So it was guilt based.
I covered it very briefly when [my therapist] Margie asked me, "Do you know now why your demon came." And I said, "What right did I have to be happy when my mother was suffering every day of my life?" It sounds so simple, but I remember what Freud said. He told someone, "I could have told this young man what was wrong with him on the first day he came to my office, but it would have done no good. He had to tell me." That's what I knew Margie was doing with me.
Do you think that if your mother hadn't been so sick when you were growing up you would still have become an entertainer?
You're asking the $64 question. I don't know. I started writing, just casually writing, the ironies in my life--the strange accidents that turned the corner of where my life was going to. I kept thinking about that large doctor, sweaty, who brought my mother home after the first heart attack. He took me by the arm and squeezed and had the sweat dripping from his face onto my cheek. He said, "Don't ever get angry at your mother, that might kill her." That set off my demons I think. The other thing he said, which surprised me, was, "Try to make her laugh." I had never tried consciously to make anyone laugh before, I was 8 years old. I think that was a small catalyst. The big catalyst was seeing my sister, when I was 11, doing a dramatic recital. When I saw her on the stage and everyone listening to her so patiently, quietly, that's all I wanted: for someone to look at me and listen to me, but in some beautiful and artistic way.
And yet at the same time you write that actors are children.
A lot of comic actors derive their main force from childish behavior. Most great comics are doing such silly things; you'd say, "That's what a child would do." What I meant by child in that case was the love that you were looking for that you didn't find when you were a kid. You're fooled by the applause into thinking that they love me. They really, really love me. Actors fall into this trap if they missed being loved for who they really were and not for what they could do--sing, dance, joke about--then they take that as love. I'd like to be like the catcher in the rye and catch them and tell them. That's an impossible task, but maybe some actor reading it will say, "That's like me."
You write very sweetly about Gilda. I love that you were writing a comedy while she was sick in the other room.
You'd think that it would be impossible, and yet it saved me. She was upstairs, throwing up. I'm trying to write "See No Evil, Hear No Evil" and take a break every 20, 30 minutes to see how she was doing. I never thought she was going to die. I always thought she'd pull through. I suppose it was divine ignorance because when she saw that I wasn't afraid she was going to die, it took a lot of fear away from her. She told me that.
Richard Pryor's wife Jennifer posted an angry response online to your portrayal of him.
That's a surprise. If they'd read the book, they wouldn't, I don't think, say I was denigrating him or his talent. I didn't tell anything that wasn't true. The only thing I said was my definition of [Pryor as] sullen [was] because you never knew with him. He was so sweet, at times angelic, and he would become so morose, and you'd say, "Why, with all that talent?" If Richard had read the book, or had someone read the book to him, I think he would be not at all upset by anything that I said about it. He could say, "I wish he hadn't told that story that I was late [to the 'Stir Crazy' set]." But if you ask any of the people on the crew or the cast, ask Sidney Poitier, it wasn't a secret. But all the loving things--when we first met, the respect we had for each other--I hope we still do. He's the one who taught me to improvise in front of a camera.
You studied with Uta Hagen and Lee Strasberg. You were really in New York at a revolutionary time for acting.
Yeah, well I don't know what to call it: luck, good fortune, irony. When you consider that if Jerome Robbins hadn't miscast me in "Mother Courage" after six readings--the last three of which were illegal because you were supposed to pay an actor after three readings--starring Anne Bancroft, whose boyfriend was Mel Brooks. How would my life be different now? It wouldn't be the same, that's for sure. I wouldn't have done "The Producers" or "Blazing Saddles" or "Young Frankenstein." I never used to believe in fate. I used to think you make your own life and then you call it fate. That's why I call it irony.
Have you seen "The Producers" on Broadway?
Oh, yeah, Mel wanted me to come during previews. I thought it was magnificent. I was scared. I thought, "I'm not going to like it, I'm not going to like it." As soon as the curtain went up and the first laugh came, I said, "This is going to be great." And it was. Not to compare anything to the movie, because this is a musical. When I went back to see Matthew [Broderick], he said, "How could you do that? My voice kept giving out." I said "Matthew, I did it in two takes. You have to do it eight times a week. That's the difference."
Speaking of remakes, have you seen Johnny Depp in "Charlie and the Chocolate Factory?"
Not yet. If I were asked to do a remake, I would have said maybe after they do the remake of "The Wizard of Oz." But if I were going to do it, I would have cast Johnny Depp because I think he's a wonderful actor. I don't think this movie's going to be anything like [the original].
You're so honest in this book about yourself, from your awful military-academy experience to how you met your current wife, Karen. Was there anything that was too hard to include?
There were some things that were too hard, yeah. I didn't talk about the last parts of Gilda because it was too painful, and I didn't want the book to be about that, only about how it related to what I was talking about. If I left anything else out, it would be to spare feelings.
Are you nervous sending this out? It's a fairly naked portrayal.
I hope. That's what I wanted. I didn't set out to shock. I said, "Just tell the truth" and see how it comes out. I used to be a milksop, beat around the bush, not speak frankly. Now everyone says, "Don't ask Gene, because he'll tell you."