General Milley Says Confederate-Named Military Bases Hinder 'Cohesion'
Joint Chiefs of Staff Chairman Mark Milley said Thursday that Confederate symbols on U.S. military installations could be a stumbling block to "cohesion" within the Armed Forces.
As protests over the May death of George Floyd have inspired a national conversation about racism, calls for the military to distance itself from the Confederacy have been made. Some believe that Confederate symbols, such as fort names or monuments, represent hatred and a connection to slavery. President Donald Trump has said that he would not allow the bases to be renamed, citing their important place in American history.
Milley told a meeting of the House Armed Services Committee on Thursday that keeping the Confederate-centered names may serve as a reminder to Black soldiers of racial inequality.
"The military equity here is divisiveness and, as you mentioned, cohesion," Milley said. "And for those young soldiers that go on to a base, a Fort Hood or a Fort Bragg or a fort wherever, named after a Confederate general, they can be reminded that that general fought for an institution of slavery that may have enslaved one of their ancestors."
Milley also told the committee about serving with a staff sergeant at Fort Bragg who said "he went to work every day on a base that represented a guy who enslaved his grandparents."
Milley referred to the Civil War as an "act of rebellion" which saw soldiers who chose to join the Confederacy "turn their back on their oath."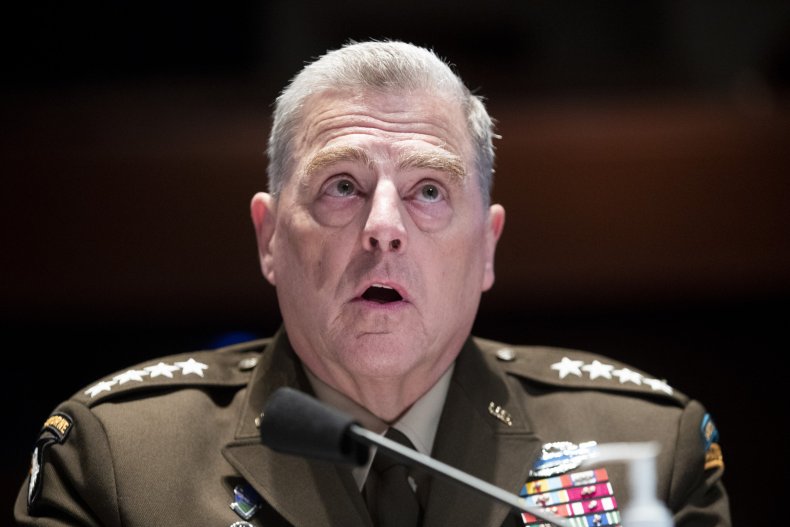 Although military leaders have expressed an openness to the idea of renaming the bases, President Trump tweeted in June that he would not allow it to happen.
"The United States of America trained and deployed our HEROES on these Hallowed Grounds, and won two World Wars," Trump wrote. "Therefore, my Administration will not even consider the renaming of these Magnificent and Fabled Military installations. Our history as the Greatest Nation in the World will not be tampered with. Respect our Military!"
Trump also threatened to veto the National Defense Authorization Act (NDAA) if an amendment to remove Confederate symbols, added to the bill by Massachusetts Senator Elizabeth Warren, was passed. The 2021 NDAA delineates allocations for the yearly U.S. defense budget. Warren's amendment, which would enable the formation of a commission to study renaming the bases, was passed by the House Armed Services Committee in June.
Legislation was introduced in June by some Senate democrats that would require the Department of Defense to divest itself of anything that recalls the Confederacy within one year.
"Military bases named after Confederate leaders are shameful and disparaging to the Black servicemen and women, past and present, who have sacrificed for our country," wrote bill co-sponsor Illinois Senator Dick Durbin in a June statement. "If we're to move forward toward a more equitable society built on racial justice, we must rename the military bases that commemorate confederate leaders who committed treasonous atrocities in order to preserve slavery."