Black General Motors Employees: 'Whites Only' Signs, Hanging Nooses Weren't Investigated By GM, Lawsuit Says
Nine former and current General Motors employees, who are black, filed a lawsuit against the company for allegedly failing to address dozens of racist incidents including "Whites Only" signs and a hanging noose appearing in the Toledo, Ohio GM factory.
A lawsuit filed September 21 in U.S. District Court for the Northern District of Ohio claims three nooses were found hanging from the ceiling of the Casing Machine Department within the GM Powertrain & Fabrications plant in Toledo last year. That March 22, 2017, incident is just one of several Jim Crow-era incidents of racist harassment that nine black workers say occurred for decades. The discrimination and harassment lawsuit notes several disturbing racial attacks including the drawing of black penises, Nazi swastikas and a failure to discipline the admitted perpetrators.
Other incidents claimed in the lawsuit detail white coworkers demanding blacks return to Africa, a white supervisor asking "What's the big deal about nooses?" during a company meeting and black employees being warned by white employees their "daddy was in the Ku Klux Klan."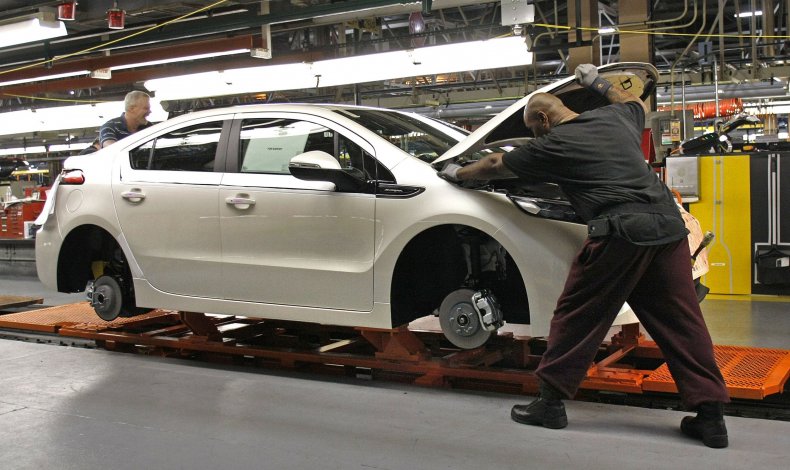 General Motors responded to the lawsuit saying it has taken countless measures to enforce its zero-tolerance policy for workplace violence or harassment, particularly in regards to race, sex, age, ethnicity, religion, national origin or sexual orientation, the Detroit Free Press first reported.
Among the nine workers filing the lawsuit, Kenny Taylor, 58, told the Detroit Free Press that in April 2017 a coworker told him, "You're in my chair, n****r" before pulling the break room chair out from underneath his body. Taylor said he and the other African-American plaintiffs routinely received zero help from GM's Human Resources department as well as their local union.
"They said they would investigate and get back to me and they never did," Edwards told the newspaper. "When I'd go to the bathrooms, I saw Nazi symbols on the walls and 'Hate blacks' and 'Blacks shouldn't be here.' It hasn't gotten better, it's gotten worse because when you start complaining about stuff, nothing gets done. You tell your union supervisor and nothing gets done."
Lawsuit plaintiff Mark Edwards, 59, told the Free-Press nothing was done in response to his decades of complaints about racial slurs and harassment at various General Motors plants since he joined the company in 1977. Edwards detailed a 1968 incident in which his then-19-year-old brother was left brain-damaged after being tied up with a rope and beaten by coworkers. "That rope took me right back. I thought of my whole childhood again, being afraid and having to know I had to be strong," Edwards said.
General Motors, the Detroit-based automaker, announced last week it is set to cease production at five plants, including the closing of the Lordstown Assembly plant in northeast Ohio. The 1,700 people working at the Toledo GM plant, most of whom build rear and front-wheel-drive transmissions, is not expected to face any imminent layoffs.
The lawsuit filed in September says GM failed to take prompt corrective actions after dozens of reported incidents or racist harassment, and allowed "an atmosphere whereby hate-driven employees felt free to hang nooses, display racist graffiti, and verbally attack and racially insult African-Americans. These symbols of the historical torture and lynching of African-Americans touched each of the plaintiffs, were a personal affront to each's dignity and caused each fear for his or her safety."
GM rejected the claim they failed to take appropriate actions to prevent or punish such behavior, even halting plant production to train employees on anti-harassment and anti-discrimination policies in the wake of the noose incident. "Discrimination and harassment are not acceptable and in stark contrast to how we expect people to show up at work," GM responded in a statement. "General Motors is taking this matter seriously and addressing it through the appropriate court process."
Four of the plaintiffs in the September lawsuit had previously filed complaints with the Ohio Civil Rights Commission in May 2017, detailing the noose incidents and HR failing to investigate their complaints. A commission investigation found "GM engaged in unlawful discriminatory practices" and rejected the company's request in April for reconsideration.