Who Really Won the General Motors vs United Auto Workers Strike?
The monthlong United Auto Workers strike against General Motors may have come to a close Thursday with union members walking away with higher pay and stronger job security, but what it couldn't save were jobs.
The UAW secured a record $11,000 signing bonus for most members and a 3 percent wage increase for hourly workers, as well as a shorter path for temporary workers to become full-time employees. But it also agreed to GM closing the Lordstown, Baltimore and Warren plants.
That, said Kristin Dziczek, vice president of research at the Center for Automotive Research, was a score for GM.
"It looks like GM was able to close three of the four plants that it wanted to close, so they got a capacity correction that they were seeking," Dziczek told Newsweek.
To be sure, the UAW's pay wins were big, but the glimmer of those gains dims when you factor in the economic toll the strike took on the workers, GM and businesses that support them, experts said.
"GM didn't get the flexibility it wanted in its manufacturing, but it may have retained enough to survive. Workers didn't get the job security they wanted, but they got more than they had prior to the negotiations," Erik Gordon, a professor at the University of Michigan Ross School of Business, told Newsweek.
"Some of the money that GM, the workers and others lost during the strike will be caught back up, but some money—like the money restaurants didn't get when workers tightened their belts—will not be made up," Gordon added.
In the end, the UAW's wins may look like more of a wash.
The deal between United Auto Workers and GM comes after a four-week strike involving nearly 50,000 workers that shut down 55 plants across the nation. According to Automotive News, more than 150,000 employees at suppliers or GM were laid off or lost wages, costing them about $800 million in pay, Masters estimated. At least 575,000 employees in businesses that support GM operations were directly or indirectly impacted by the strike, he said.
In the end, GM losses could total $2 billion, CNBC reported. Had the strike dragged on, one analyst warned investors this week, it would have "brought GM to its knees."
Marick Masters, a professor at Wayne University's School of Business, praised the workers.
"They demonstrated solidarity and a willingness to fight for what they believed," he told Newsweek. "They attempted through this strike not only to get a better deal for the auto workers but also to tip the scales more toward labor in a society that has paid too little attention to the plight of the struggling working class."
Paul Mishler, a labor studies professor at Indiana University South Bend, said he believed that this was an important learning moment for GM.
"One of the victories for GM is that they are learning that if they want their corporations to succeed, dealing with a unionized workforce that has some power is one of the conditions of doing business," Mishler told Newsweek. "I think you see with the investors, the auto companies not on strike, their share values went up. GM's went down. Investors were uncomfortable with this. The audience for GM isn't necessarily the UAW; it's their investors. They were seeing that investors wanted them to do something different. They didn't want the strike."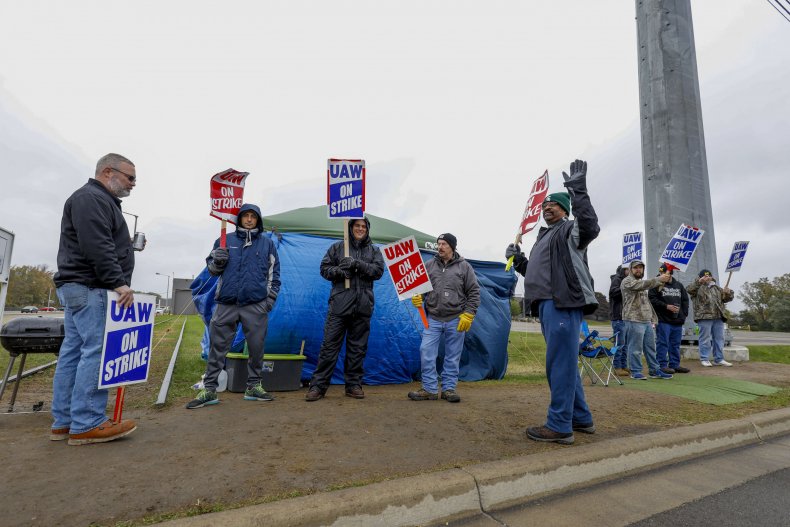 The strike came during troubled times for both sides. Despite its profitability, the auto industry has been hit by the difficulty of meeting labor costs with stunted sales as the industry struggled to meet consumer demand for fewer sedans and more self-driving and electric cars.
Dziczek pointed out that the Silverado had already slipped behind the Dodge Ram in terms of popularity of pick up trucks before the strike.
"That's a difficult position to be in," she said.
On top of that, Tariffs proposed by President Donald Trump that threaten to raise the price of new cars have added to the industry's concerns about maintaining its profits.
On the other side, the UAW is facing sinking membership. It also lost regional director Vance Pearson, who was placed on leave in the middle of the strike following embezzlement charges. Those charges come as part of a two-year federal corruption investigation that has led to the conviction of ex-UAW Vice President Norwood Jewell and eight other people, the Detroit Free Press reported.
The union's battles aren't over. After the deal is ratified, UAW will be turning its attention to contracts with Ford and Fiat Chrysler, where negotiations may be less contentious because as The New York Times reported, Ford has not pushed production to Mexico.
When that will happen isn't clear. Union members still need to ratify the contract.
"The strike's not over yet," Dziczek said.
On Thursday evening, UAW formally announced it would continue striking until workers approved the deal.