General Warned Trump's Actions Could Get Admin Tried as War Criminals: Book
General Mark Milley once warned former President Donald Trump's advisers that they could be tried for war crimes during a heated discussion about military activity against Iran, according to a new book.
Trump appointed Milley to serve as chairman of the Joint Chiefs of Staff in December 2018, but multiple disagreements throughout his tenure quickly strained their relationship, according to an excerpt published in The New Yorker on Monday from the book, The Divider: Trump in the White House, 2017-2021, by Susan B. Glasser and Peter Baker.
The excerpt outlined the tense relationship between Trump and his generals, who often found themselves at odds with the ex-president over what they viewed as misuses of the military. These concerns included his plans to send the military in to stop protests in the summer of 2020 following the police murder of George Floyd, and concerns he would start unnecessary wars.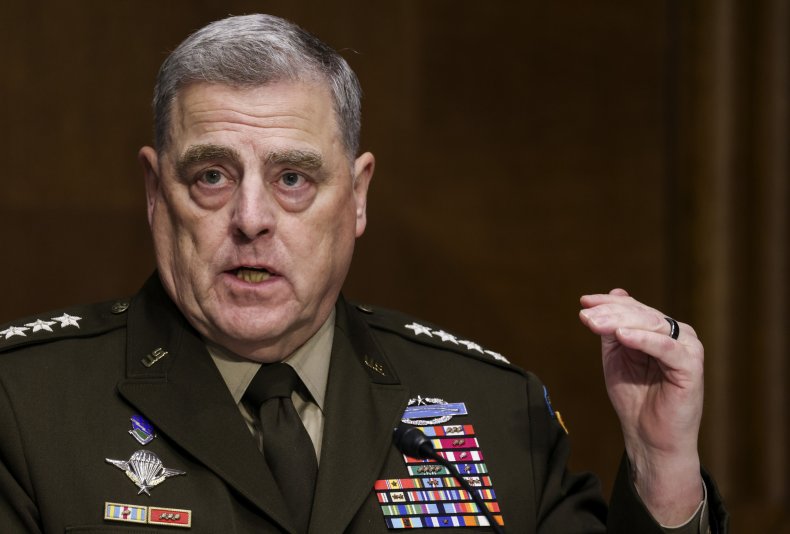 After months of frustration, Milley eventually viewed his role as a guardrail against any efforts to use the military against American civilians or start a foreign war—concerns that grew throughout 2020, as some advisers pushed for a strike against Iran, according to the book.
Trump's team began pushing for a "showdown" with Iran amid concerns that they would lose the 2020 presidential election, according to the excerpt. Military action against Iran would have been viewed as an escalation with the Middle Eastern country and would likely have far-reaching consequences.
One adviser allegedly told Trump that if he lost the election, he should strike Iran's nuclear program. Then-Vice President Mike Pence allegedly considered taking the drastic action also "because they are evil," the book reported.
During one meeting with Trump's advisers, Milley offered a dire warning against escalating to war with Iran "If we do what you're saying, we are all going to be tried as war criminals in The Hague," he said, according to the book.
Milley Once Penned Resignation Letter
Milley grew frustrated with Trump at several other points during his presidency, according to the book. At one point, he even planned to resign from office following controversy about appearing with Trump at a controversial photo-op at Lafayette Square in front of St. John's Church in Washington, D.C. The controversy came after police dispersed a crowd of people who were peacefully protesting Floyd's death, sparking a dialogue about the role of the military in civil life.
The incident, and its fallout, prompted Milley to pen a resignation letter, where he accused the president of "doing great and irreparable harm to my country."
"I believe that you have made a concerted effort over time to politicize the United States military. I thought that I could change that. I've come to the realization that I cannot, and I need to step aside and let someone else try to do that," he wrote, according to the excerpt.
However, he ultimately decided not to quit, instead opting to continue to serve in the Trump administration, the book reported. He reportedly told his staff: "F*** that s***. I'll just fight him."
Newsweek reached out to Trump's office and the Joint Chiefs of Staff for comment.