The Black Lives Matter protests in Portland and Seattle are the latest chapter in the long struggle for Black equality. But something is different. Fresh young faces are leading the charge, and the old guard of the civil rights movement is uneasy.
"National leadership, frankly, has been caught napping, and so there are other leaders, other organizations who have risen up and who are speaking out," news commentator and radio host Roland Martin told Newsweek. "The establishment always has fear because they don't want to lose power."
Unrest continues to roll across the country since the death of George Floyd, a Black man, in police custody in Minneapolis in late May, sending nationwide shockwaves as far away as the predominantly white Pacific Northwest. The clashes between protesters and law enforcement have garnered widespread media attention, but they have also alienated some of the most long-standing supporters of the Black community.
"Unfortunately, 'spectacle' is now the best way to describe Portland's protests," Rev. E.D. Mondainé, president of the Portland chapter of the National Association for the Advancement of Colored People (NAACP), wrote in an op-ed in the Washington Post. "Vandalizing government buildings and hurling projectiles at law enforcement draw attention — but how do these actions stop police from killing black people?"
Martin argues that sometimes violence is the only option that works.
"I don't support looting. I don't support violence," Martin said. "The reality is America only understands violence. It's the hardest thing for people to have to come to grips with."
Martin urged Mondainé and others to step up and reach out to those on the ground if they felt the tactics were distorting the Black Lives Matter message.
"I then challenge the Portland NAACP president to use his leadership position to then go meet with the leaders of the protests in Portland to make that very point," Martin told Newsweek. "If there are Black people in Portland who feel that the protests that are taking place have gotten out of hand, those Black people need to go to the protest leaders and say, 'This is not representative of what we want and what we're trying to achieve.'"
But there is a yawning generation gap separating the young activists from the civil rights establishment.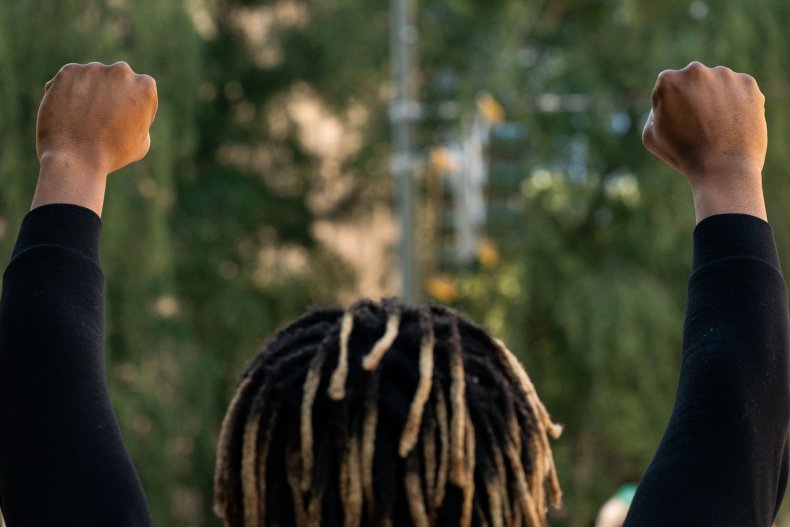 "Part of the issue is that those traditional Black movement voices are not at the forefront of Black Lives Matter and they never have been," Christen Smith, an associate professor of African and African Diaspora Studies and Anthropology at the University of Texas, told Newsweek. "I think that it's really, deeply unsettling to have folk step up and kind of speak for a younger movement when they're distant from it."
Some of the generational differences are simply matters of style, as Melina Abdullah, co-founder of the Black Lives Matter movement and a professor of Pan-African Studies at California State University, Los Angeles, told Newsweek.
"I think some of the elders who are most attached with the kinda more traditional civil rights movement," Abdullah said, "we've had to talk with them about things like why we're not going to commit to not cussing, why the politics of disruption isn't a departure from what they did."
But substantial differences in approach separate the generations, and there is some resentment.
"Here in the city of Seattle, the younger generation is really tired of a lot of people who have assumed the role of gatekeeper decade after decade after decade," Omari Salisbury, a journalist with Converge Media, told Newsweek. "They have a cushy and cozy relationship with City Hall or the statehouse and give a perception that they represent all the Black folks, and what they're really doing is gatekeeping. People are tired of it."
Salisbury highlighted the work of largely youth-driven movements such as the Black Femmes, United Better Thinking and Africatown Seattle that regularly muster hundreds or even thousands of people, including a sizable Black community presence. While cameras focus on fiery skirmishes between protesters and police, he said peaceful gatherings intended to raise awareness were lost on many of those watching the events in Seattle.
The struggle continues, and even though some question their tactics, most admit that the future belongs to the young.
"The younger generation always ends up winning," Phillip Atiba Goff, Co-Founder & CEO of the Center for Policing Equity and professor of African American Studies and Psychology at Yale University, said. "It's not just because they live longer, it's because they were the ones who risked most recently and they will live long enough for another generation to come and say, that wasn't enough."
Perspectives change with age, he added.
"When you see that wave after wave," Salisbury said, "it can be scary if you're the shore, and it's beautiful if you're the ocean."