Genius is Trying to Revolutionize How We Understand the State of the Union, One Line at a Time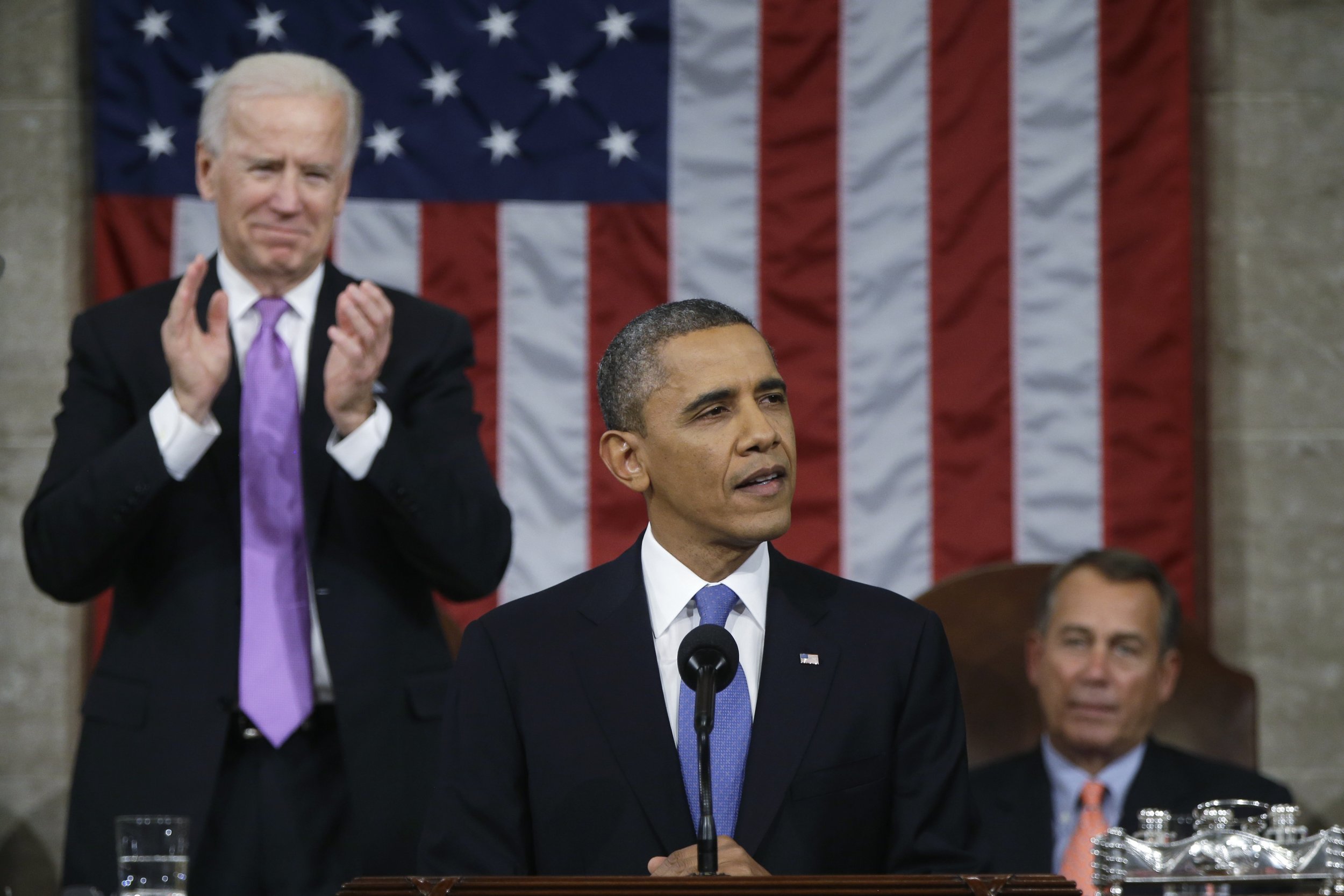 During his 2012 State of the Union address, Barack Obama made a joke about spilled milk while discussing dairy farmers. It was pretty lame. Clearly embarrassed, the president flashed a prolonged, exaggerated smile as the audience groaned. He quickly moved on and the moment was forgotten save for passing mentions in a few next-day blog posts.
Now, thanks to Genius, a company founded in 2009 to annotate rap lyrics, we know how such a cheesy line made it into such a venerable address. Former Obama speechwriter Jon Faveau explains:
I came up with the infamous spilled milk joke at 3am after not sleeping for weeks. I was very punchy and thought it was cheesy but usable. Somehow, it survived the vetting process (probably because I defended it) and turned out to be the least funny thing I've ever written for the President. Can't win 'em all.
The story is one of several annotations made to the speech by Favreau, deputy national security adviser Ben Rhodes, the White House and others as part of Genius's recently unveiled collaboration with the White House to annotate every State of the Union address delivered by Obama, including the final time he steps behind the podium in front of Congress and million of viewers, tonight at 9 p.m. ET. You can read the Genius-powered annotations on Obama's previous speeches at the White House's website.
"The State of the Union is on every network and is instantly analyzed and recapped, and there is this sort of old-fashioned official response from the opposing party," Genius co-founder Ilan Zechory tells Newsweek. "That sort of commentary is like annotation. Every talking head and every pundit and every newspaper editorial is interested in it. We think of every annotation not just as a yellow line you click on and read a bubble that pops up, but as a broader metaphor or description of this sort of commentary and response. Anytime there is a piece of culture that elicits that level of response, it's prime for an annotation."
Because of the "focused," as Zechory puts it, nature of the State of the Union, Genius users have been uploading transcripts for annotation since the site's inception, as if they were song lyrics. "If you look at all of the State of the Union addresses just on [Genius's website] annotated by community members, you'll see a lot of fascinating annotations talking about this or that dog whistle, hidden message, statistic, backing up or refuting claims that have been made. For these reasons, the State of the Union has always been really popular."
But what once was a community-driven text-annotation service hosted on a site primarily concerned with explaining diamond-related hip-hop metaphors now has the White House's seal of approval. In fact, it was the White House who reached out to Genius about a potential collaboration. "They came up with the idea," says Rachel Blatt, who works in the company's product and partnerships department. "In the last couple of months, they've said they wanted to do something with the State of the Union and wondered how they could get it off the ground with us. We worked really closely with their digital team to think it through and nail down who is it that people want to hear from—folks like Vice President Joe Biden, for example. Everyone is wondering what it is like for him. Jon Favreau and [official White House photographer] Pete Souza. They are two people who are behind-the-scenes, and it was really cool to hear from them and hear their anecdotes."
Attached to the transcript of Obama's State of the Union from 2010 is a behind-the-scenes account from Souza of Obama's pre-address hand-shaking duties and how Souza was able to snap a particularly memorable photo of the president reaching out to Secretary of Defense Robert Gates.
The Obama administration has been know for its receptiveness to forward-thinking digital ideas. Most recently, the president appeared on Jerry Seinfeld's Comedians in Cars Getting Coffee, and in the past he's been a guest on Zach Galifianakis's Between Two Ferns, Marc Maron's WTF podcast and other cultural forums that most wouldn't expect the leader of the free world to pay much mind to. It's not surprising, then, that this administration would be open to collaborating with Genius. But what happens in January 2017 if a new, maybe-not-as-progressive team occupies the White House?
"We think the Bernie Sanders administration will be very friendly to lots of different internet platforms," says Zechory before pumping the brakes on a potential endorsement and trailing off. "There's going to be a re-education process with anybody and anybody who uses a complicated or new thing for the first time is going to need training and conversation. But the more interesting stuff like that happens, the more people have an example of how to use Genius. This can only help."
In other words, the groundwork has been laid, and with this as an example, there's no reason Genius can't continue to expand its reach into the political realm, as well into other arms of cultural content. On Tuesday, they announced a new collaboration with Spotify in which users can view Pop-Up Video–style annotations to some of their favorite songs from within Spotify's platform.
Tonight, though, it's all about Obama, and if a joke falls flat or a point needs a little bit of clarification, now you know where to turn for an explanation.