Geno Auriemma Marches Toward Coaching Immortality With the University of Connecticut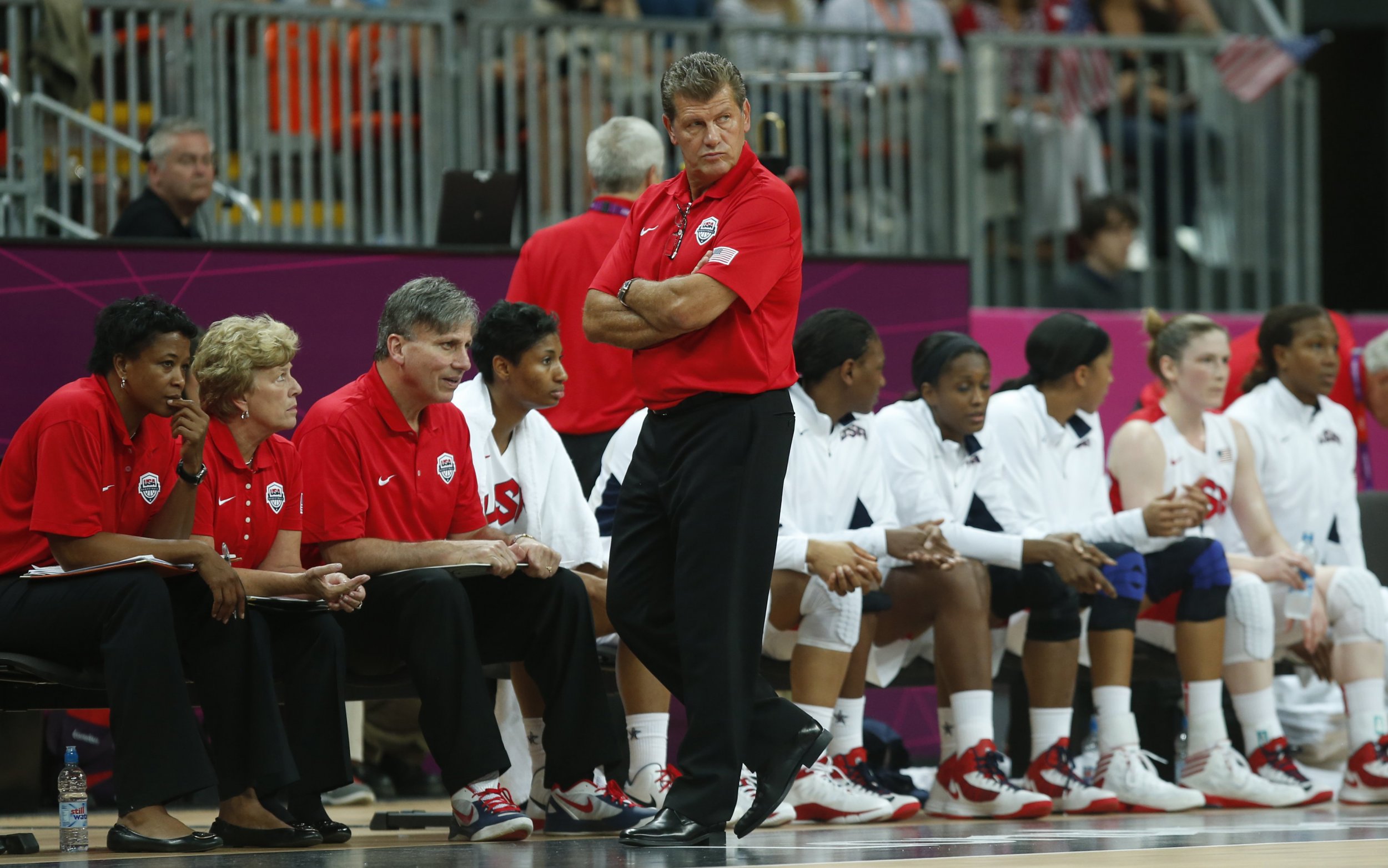 Imagine if you were Sir Edmund Hillary and were charged with climbing Mount Washington. Or if you were Raymond Babbitt (Rain Man) and given the duty of remembering one phone number. Or Will Hunting, asked to figure out a 20 percent tip. Or if you were Geno Auriemma and commanded to coach the University of Connecticut's women's basketball team to victory.
In the next week, Connecticut will attempt to cap off its fifth unbeaten season and (yawn) win a record-setting ninth Division I NCAA women's basketball championship under Auriemma. This season, no opponent has come within 11 points of the 39–0 (ho hum) Huskies. Eleven is also the sum total of defeats UConn has been dealt in the past four years. In the past 20 seasons, Geno's teams have won 92.9 percent (Zzzzzzz) of their games (715–55).
How does Geno, who turned 60 on March 23, continue his march toward coaching immortality without becoming bored to death? "Creating adversity has never been a problem for me in practice," says Geno, now in his 28th season as UConn's women's basketball coach. "I kind of enjoy that, and I teach my players how to enjoy that, how to embrace how hard it is."
If you are Geno Auriemma, you must manufacture adversity for your Huskies and yourself since opponents so rarely provide it. "I remember we were [scrimmaging] one time, and it was five of our [starters] against seven of them," says Geno. "So there's 12 people on the floor... And then a week later it was five against eight, and it was like Jesus, Mary and Joseph… " —to be clear, these were not the names of the three additional players– "Every once in a while, the five would get a couple of stops, and they would feel unbelievably good about that.
"Then the following week I went five against six," Geno says, "and my starters looked at me like, What, you think we stink? We can't play against seven or eight anymore?"
Winning long ago ceased to be Geno's—or his players'—ultimate challenge. Ennui is. And so Geno, an Italian immigrant who understood adversity the minute he stepped into his second-grade class in Norristown, Pa., not knowing one word of English, finds himself manufacturing adversity for the plethora of All-Americans who dot his roster.
Only two teams in women's college basketball are capable of beating the University of Connecticut's starting five: the Huskies' reserves, provided they use additional players, and Notre Dame. Which is why the women's Final Four, which hits Nashville this Sunday, should be whetting your sports appetite.
Connecticut (38–0), which won last year's title contest by a record 33-point margin against Louisville, could potentially face the Fighting Irish (36–0) in Tuesday night's national championship game. Not only would it be the first time in college basketball that two unbeatens played for the national championship since 1939, when Long Island University defeated Loyola (Ill.) in the men's National Invitational Tournament; but since Tennessee ceased to be a dominant program, Notre Dame has been UConn's lone rival. The Irish have been responsible for six of those 11 Connecticut defeats.
Of course, in order for this to happen, UConn must first defeat Stanford and the Fighting Irish must eliminate Maryland—both contests will be rematches of regular-season games—on Sunday. If that happens, then women's basketball, a sport so often devoid of drama due to the hegemony of a few programs, will satisfy fans' (and ESPN's) craving for an unprecedented—in NCAA tournament lore—battle of unbeatens on Tuesday night.
Connecticut will not lose on Sunday. No opponent has come within 11 points of UConn all season and only seven have come within 20. The Huskies possess the game's best player (Breanna Stewart), its best center (Stefanie Dolson) and undoubtedly its best coach. The Irish could fall, though, as they lost senior forward Natalie Achonwa, their leading rebounder and third-leading scorer, to a torn ACL in their regional final victory against Baylor.
Notre Dame's dilemma is reminiscent of one UConn encountered in 2001, when it lost two starters, both first-team All-Americans, to season-ending injury. "I know exactly what it feels like when all of a sudden you've got to retool your team," Geno says, referencing that season. "It's something you don't wish on any team, and certainly you don't wish that injury on any player."
That season, UConn lost to Notre Dame in the Final Four, a year in which Notre Dame won its first and still only national championship. Like Geno, Irish coach Muffet McGraw, 58, is from the Philadelphia area and also has been in her current job since the mid-1980s. The two coaches, although not particularly close, even coached at the same summer basketball camp when they were teenagers.
So there is history here. And in the wake of the retirement of Tennessee coach Pat Summitt, Notre Dame is as close as it comes to a rivalry for UConn. "I know it's a great story, and I know everybody loves story lines," says Geno, "and in today's day and age, God forbid if you don't have a story line, [or] we'll just create one. So, fortunately, there is a story line."
Thirteen years and six national championships ago, Geno allowed this writer to embed himself with the program for an entire season. That same 2001 season. That Husky squad, which featured five current or future first-team All-Americans, regularly doubled its opponents' scores. That was, until the squad's best player that season, Svetlana Abrosimova, was lost in February to a season-ending foot injury.
The next day Geno, leaving practice, stopped by me just long enough to quip, "Your book just got interesting."
And that is why, from a fan's perspective, you want to see UConn meet Notre Dame on Tuesday night. After five months of scorched-earth basketball, it's the only matchup with the potential of truly piquing our interest. And Geno's.