Geno Silva, 'Scarface' Actor, Dies at 72
Geno Silva, who played a hitman in an iconic Scarface scene, died earlier this month. He was 72.
The actor died May 9 in his Los Angeles home due to complications from frontotemporal degeneration, a form of dementia, according to a report from The Hollywood Reporter.
Born in Albuquerque, New Mexico, in 1948, Silva is perhaps best known for playing shotgun-wielding hitman, The Skull, who takes out Al Pacino's Tony Montana in the Brian De Palma classic.
Silva is survived by his wife, Pamela, daughter Lucia, grandchildren Eva and Levon and his sister Elizabeth.
Although a small role in the film, Silva's part left a lasting impression on viewers, as his character was the one to finally shoot Montana in the finale, leading to the infamous fountain death scene.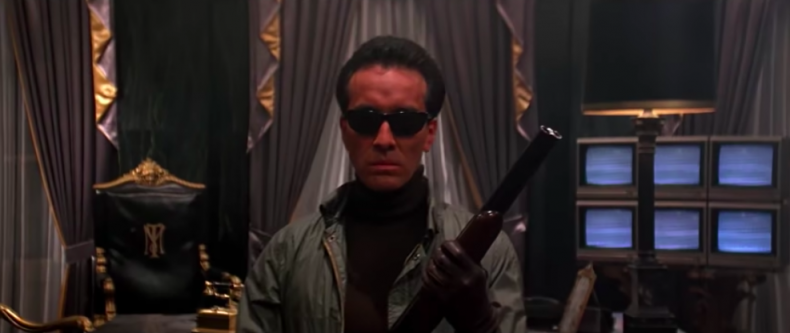 Throughout his career, Silva appeared in more movies which would become classics, such as David Lynch's Mulholland Drive, in which he played a hotel manager, and as a barge captain in The Lost World: Jurassic Park in 1997.
Other notable appearances include roles in Tequila Sunrise in 1988, Zoot Suit in 1981, and Amistad in 1997.
In television, Silva was cast in several small roles, including in 1975 when he appeared in On the Rocks and in 1977 in How the West Was Won.
In 1993, he had a leading role in drama Key West as Hector Allegria alongside Fisher Stevens and Denise Crosby.
Silva appeared in more small-screen classics like Hill Street Blues, 227, Miami Vice, MacGyver, and Days of Our Lives.
One of his later roles was Senator Vrax in Star Trek: Enterprise in 2005.
A veteran of the stage too, Silva starred alongside the late Phillip Seymour Hoffman and John Ortiz in The Merchant of Venice in 1994.
He was reunited with Ortiz later for a production of Sueño.
Ortiz, who recently starred in Netflix's Messiah, shared a tribute to his late friend on Facebook last week.
"Heartbroken at the passing of Geno Silva," Ortiz wrote.
"Geno was my friend. A father figure. An artistic warrior brother. A confidante. A lover of life. He was generous, passionate, bold, strong, intelligent, joyful with a regally imposing physical presence which never shut down his magnetic curiosity or spirituality. He was proud of his roots, and even prouder of his friends and family."
Ortiz added: "I'm so grateful for the time we had and for the Silva spirit that will continue to live on in so many people lucky enough to have crossed paths with him."