Genoa Bridge Collapse: Italian Minister Blames European Union Budget Contraints
Italy's Deputy Prime Minister Matteo Salvini has hinted that the European Union may be responsible for Tuesday's catastrophic bridge collapse in Genoa, suggesting that the bloc's spending limits are putting lives at risk.
The Euroskeptic politician's comments came the day after at least 35 people were killed in the northwestern city of Genoa as a portion of the Ponte Morandi failed during a storm. Rescuers are still working to dig out more victims and the death toll is likely to rise.
Speaking to reporters in Sicily, Salvini—who leads the far-right League party—said, "If external constraints prevent us from spending to have safe roads and schools, then it really calls into question whether it makes sense to follow these rules." According to Bloomberg, Salvini, who is also the minister of the interior, also said, "There can be no trade-off between fiscal rules and the safety of Italians."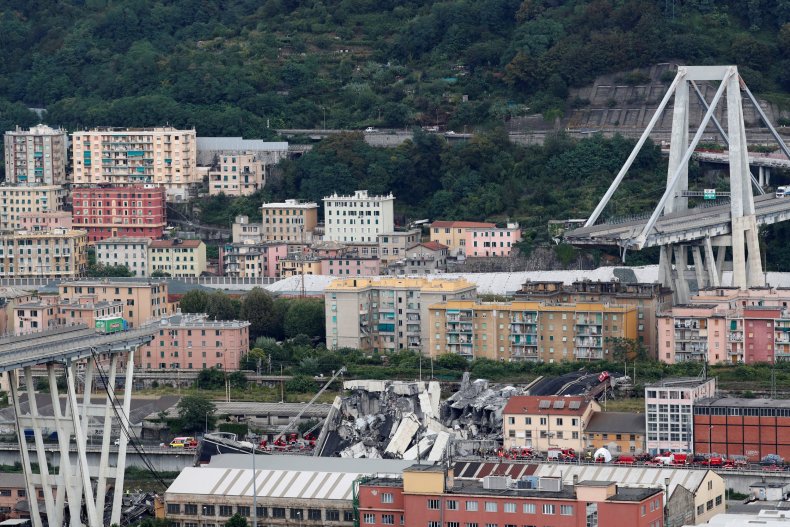 The Ponte Morandi was built in the 1960s, and according to the news website Giornalettismo was in poor condition and subject to constant maintenance. It is part of a vital route through the heart of Genoa to the Italian Riviera and southern French coast.
Italy is ruled by an anti-establishment populist coalition, composed of the League and the Five Star Movement, the latter led by Luigi Di Maio. Both parties are Euroskeptic and have suggested the country should re-examine its relationship with Brussels. The coalition is currently preparing its 2019 budget, and has called on the EU to relax its deficit target to allow spending increases and tax cuts.
The EU sets a deficit limit of 3 percent of economic output for member states. Italy's deficit is forecast at 1.6 percent this year, comfortably within the target. The European Commission, however, has set tighter restrictions on Italy in an effort to cut its debt, currently the largest in Europe at around $2.7 trillion. EU rules also state that public debt should be kept below 60 percent of economic output.
Transport Minister Danilo Toninelli echoed Salvini's comments, and said he would fill the gap in funding for infrastructure maintenance, Bllomberg said. Claudio Borghi, the head of the parliamentary budget committee, lamented years of spending restrictions, arguing, "The safety of the Italians must come first."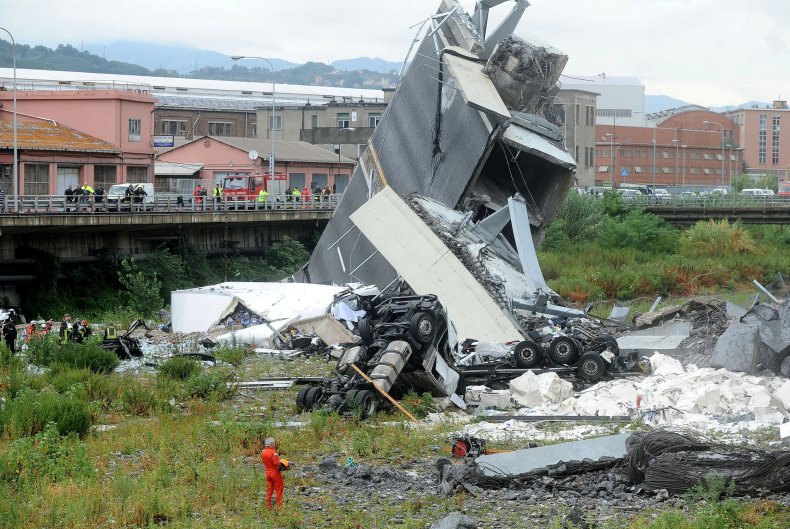 Opposition lawmakers have urged government figures not to politicize the tragedy. Former Prime Minister Matteo Renzi, of the center-left Democratic Party, wrote on Twitter, "Maybe finally it is the time to discuss infrastructure, but without ideology. But today, please, is a day only for silence."
President Sergio Mattarella—also a member of the Democratic Party—released a statement saying that all citizens "have a right to a modern and efficient infrastructure that they can safely rely on in their everyday lives." He emphasized that private companies responsible for infrastructure must ensure necessary upgrades are made.
Meanwhile, Toninelli said the leaders of the Autostrade per l'Italia—the company in charge of the country's highways—should step down. Atlantia SpA, Autostrade's parent company, said it would rebuild the bridge as soon as possible and vowed to cooperate fully with any inquiry.