MiHoYo, the developers behind global sensation Genshin Impact, confirmed new details about the imminent version 2.3 update of the game. Among other things, they announced a release date, the character line up, and a list of key events that will be taking place over the next couple of weeks.
Entitled "Shadow Amidst Snowstorms," the new content will basically serve as Genshin Impact's winter update for 2021. Most of the quests will take place in the Dragonspine frozen mountain range, where the Adventurer's Guild has established training grounds for you to hone skills.
While you try to overcome the challenges scattered around this icy environment, you will also have to contend with the chilly climate by keeping yourself nice and toasty. If you don't, then the "Sheer Cold" status effect will take hold and your health bar will gradually deplete, like in The Legend of Zelda: Breath of the Wild.
The version 2.3 update isn't all grueling trials and bitter weather conditions though, as there will also be some more wholesome seasonal activities to lighten the mood. For example, there's an opportunity to build snowmen with your friends, hang out with new characters, and rescue critters from a criminal gang of bipedal dogs. Presumably that last part will make a lot more sense in context.
Here is everything you need to know about the version 2.3 update.
When Is the 'Genshin Impact' 2.3 Update Release Date?
According to the official blog post, fans won't have to wait too long for Genshin Impact version 2.3. The "Shadow Amidst Snowstorms" update will be launching on Wednesday, November 24.
In the meantime, fans can keep busy by working through the content from version 2.2., which launched a month ago and saw the game crossover with Horizon Forbidden West.
Dragonspine Training Challenges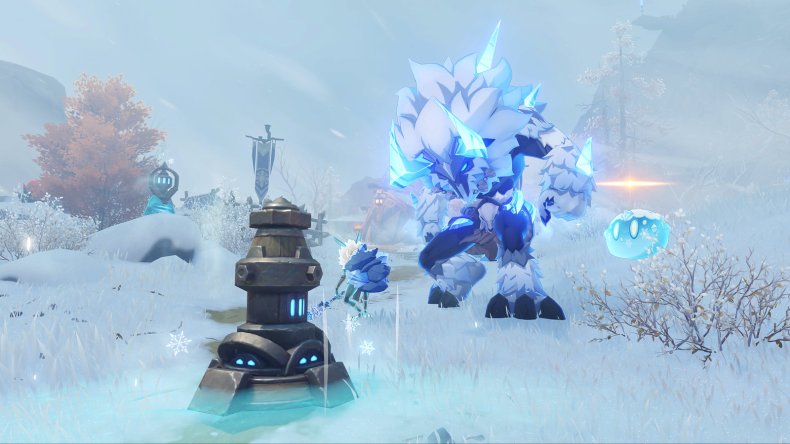 The bulk of the "Shadow Amidst Snowstorms" update will be focused on the Dragonspine region of Mondstadt.
Here, there will be three types of challenges for players to master. Agility obstacle courses are essentially platforming racetracks, tracker training has you scouring the area for ice crystals and then, finally, there are the combat gauntlets.
The latter will have you fighting snow-themed enemies next to special lures that emit cold air. When in the proximity of these devices, your opponents will be given special damage buffs and enhanced abilities, while you will suffer from the sheer cold effect. So it's not exactly a fair fight.
MiHoYo has promised that you will be compensated for your troubles, however, as there are plenty of new rewards to unlock, including a 4-star cinnabar spindle weapon and components for constructing your very own snowmen.
Do You Wanna Build a Snowman?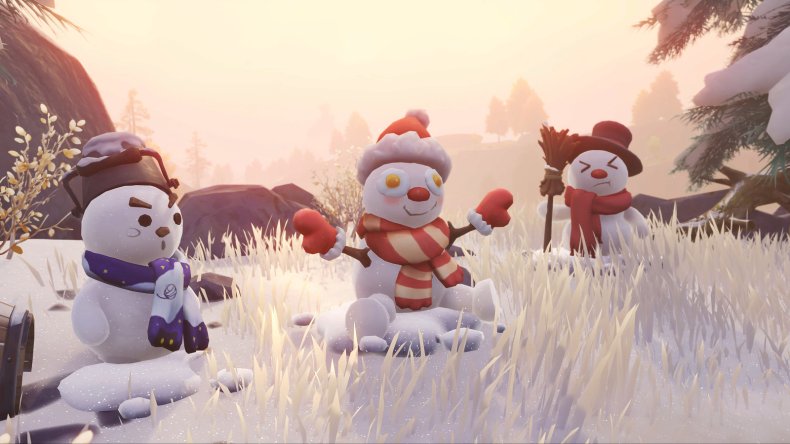 Speaking of which, Genshin Impact version 2.3 will allow you to personalize your own winter wonderland by building a thriving community of frozen buddies.
You will be able to exchange snowman parts with your friends online as well, swapping out different eyes, scarves and hats. This should prove to be a nice way of unwinding after all those arduous Dragonspine training challenges.
Isle of Dogs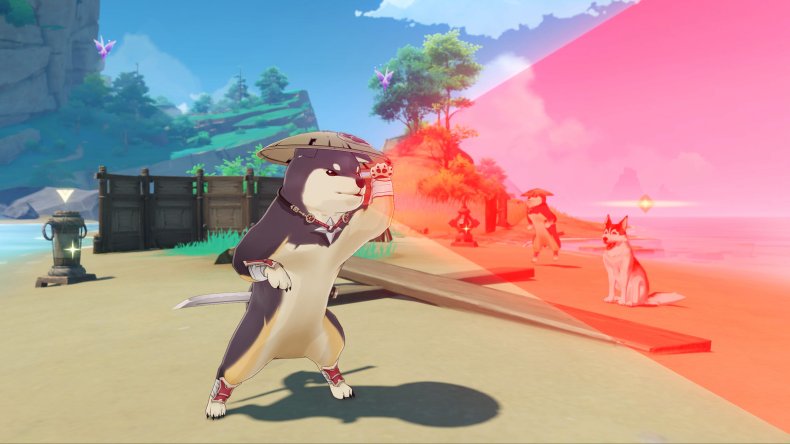 Meanwhile, over in the archipelago region of Inazuma, there will be a new event titled "The Bantan Sango Case Files: The Warrior Dog."
In this bizarre questline, you will be tasked with rescuing missing animals that have been kidnapped by a gang of anthropomorphic canines. You will need to use stealth tactics to get past these bad dogs, deploying smoke machines and fireworks in order to direct their attention elsewhere while you smuggle targets out of the prison.
In addition to the usual primogem currency, you will also be rewarded with the "Omni-Ubiquity Net" device for completing this island event. The new gadget will enable you to clone smaller creatures that you find in your travels and take them home with you (meaning that you can rapidly crowd your house with new pets).
New Characters
Finally, Genshin Impact version 2.3 will obviously introduce some new characters to the fold.
Arataki Itto is a 5-star Claymore wielder with overwhelmingly powerful attacks. Meanwhile, Gorou is a 4-star archer who can also play a more supportive role and buff his teammates in combat.
Alongside these newcomers, there will also be an opportunity to recruit familiar faces like Albedo and Eula during the initial phase of "Shadow Amidst Snowstorms."
Genshin Impact was recently the subject of controversy, fan outrage and review bombing, following its lackluster anniversary event. This wasn't even the first time that the game had come under fire either, as #BoycottGenshin was previously trending back in April owing to concerns about perceived racism and pedophilia content.
Genshin Impact is available on PS5, PS4, PC, iOS and Android devices, where it is free to play.