'Gentefied' Cast: All the Stars of the New Netflix Show
Netflix's new comedy-drama Gentefied, based on the web series of the same name, has been a hit for the streamer, with the series currently sitting at number 4 in the platform's top 10. Part of this success is down to the talents of its cast of Latinx actors, lead by Joaquin Cosio as a restaurant owner and J.J. Soria, Karrie Martin and Carlos Santos as his grandchildren. Ugly Betty star America Ferrera acts as executive producer on the show, and also makes a cameo appearance.
Who is in the cast of Gentefied?
Casimiro "Pop" Morales—Joaquín Cosío
Though best known for playing heavy roles in films and series like Quantum of Solace, Narcos Mexico and The Lone Ranger, Joaquín Cosío has a rare comedic role in Gentefied as Pop, the widowed restaurant owner.
Speaking to Entertainment Weekly, he said of his role: "As an actor, playing Pop gave me the opportunity to play a role completely different to what I'm used to. Most people recognize me for the violent and rude characters I've played...I love Pop, he's a good man who stands by his family and is ready to defend them at all costs. He cares about his community."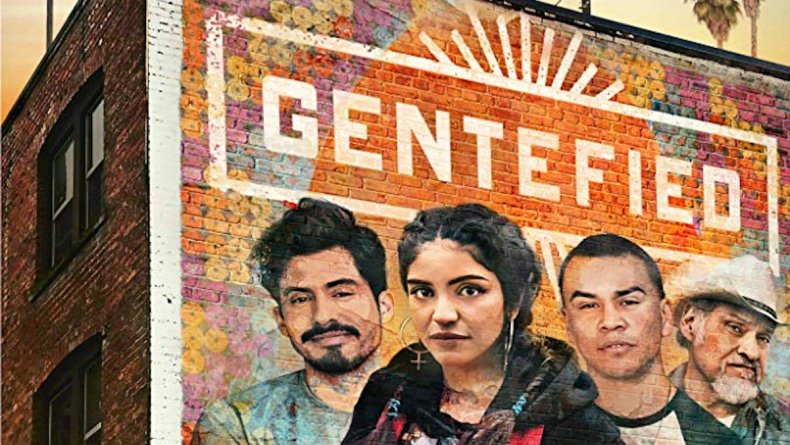 Erik Morales—J.J. Soria
After roles in The Oath, Animal Kingdom and The Purge: Election Year, J.J. Soria plays Pop's grandson Erik, who is about to have a child with his girlfriend Lidia (played by Annie Gonzalez). Speaking to Vulture, he said of the role: "It was the first time that I read something and I went, 'That's me.' The character, the world, the show, it all embodied my experience. The way they communicated, that's how me and my family talk. All the shit-talking, that was a piece of my life."
Ana Morales—Karrie Martin
Karrie Martin, who has combined bit parts in Pretty Little Liars and The Purge with work as a casting assistant on movies like Bad Boys for Life, Dolemite is My Name and Creed II, plays Pop's artist granddaughter who is in a relationship with local activist Yessika (Julissa Calderon).
Speaking to Backstage, she said of her new role, "I'm not getting this opportunity on Netflix's Gentefied because of my work in casting, but because I used everything I learned in casting to change my work in the [audition] room."
Chris Morales—Carlos Santos
The final of Pop's grandchildren is Chris, a chef portrayed by Carlos Santos, previously seen in web series like Equals Three and its spin-off Booze Lightyear. He said of his character to Vulture: "I think my way into Chris has been that little brother energy that I was cued into from birth. I've always been the youngest with my friends and my family. I've always had this mascot mentality, and Chris is definitely trying to belong so hard. To a fault."
Also in the cast of Gentefied are:
Yessika Castillo—Julissa Calderon: Ana's activist girlfriend
Javier—Jaime Alvarez: A local musician
Chef Austin—Greg Ellis: Chris' boss at the restaurant he works in
Lidia Solis—Annie Gonzalez: Erik's pregnant girlfriend
Nayaeli Morales—Bianca Melgar: Ana's sister and Erik and Chris' half-sibling
Beatriz Morales—Laura Patalano: Ana and Nayeli's seamstress mother
Pancho Solis—Rafael Sigler: Lidia's father
Gentefied is streaming now on Netflix.