Is Mariana Lawton From 'Gentleman Jack' Based On A Real Person?
Gentleman Jack Season 2 is starting to get seriously interesting after Anne Lister's (played by Suranne Jones) former flame, Mariana Lawton (Lydia Leonard) decided to make an appearance, via a whole host of moving letters. The timing could not be more inconvenient, considering Lister has recently tied the knot with her love, Ann Walker (Sophie Rundle).
As audiences have seen over the seasons of Gentleman Jack, Lister does not let too much get to her but there is something about Mariana Lawton that Lister cannot seem to shake.
With Anne Lister based on a real woman of the same name, often dubbed the "modern lesbian", audiences are wondering if Mariana Lawton is also based on a real person. Newsweek has everything you need to know about Mariana and what this means for Lister going forward.
Is Mariana Lawton From Gentleman Jack Based On A Real Person?
Yes, Mariana Lawton in Gentleman Jack is based on a real person.
Born Mariana Belcombe (later, Lawton through marriage), Mariana met Anne in 1813 at a house party, when Anne was 23 years old and Mariana was 24.
Mariana was the daughter of doctor William Belcombe and had four sisters.
As seen in Gentleman Jack, Mariana was one of Anne's lovers and they are believed to have been together for two decades, even when Mariana married her husband, Charles Lawton.
Writing in her diary, Anne detailed how she would often be called Gentleman Jack by those living in Halifax.
Anne's moniker was owed to her choice to dress unconventionally all in black and take part in "gentleman" activities that were not the norm for women such as opening and owning her own colliery. She also took great interest in railways, the canals, and solo travel.
At first, Mariana was bothered by the name-calling but she soon accepted it, Anne detailed in her diaries.
She wrote: "'For if we once got together the world might say what it pleased. She should never mind. . . . She shrank from having the thing surmised now, but declared that if we were once fairly together, she should not care about it. I might tell our connection to all the world if I pleased."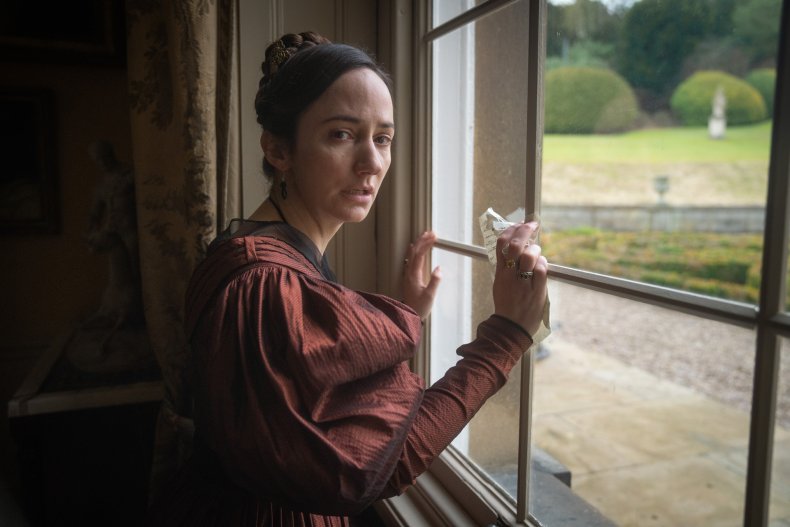 Rictor Norton in the article "Anne Lister, The First Modern Lesbian" details how Anne was even able to convince Mariana's husband Charles to ensure Mariana received a good annual income after his death, despite her being written out of his will.
Helena Whitbread decoded Lister's diaries over five years and later published The Secret Diaries of Miss Anne Lister.
In 2019, with an audience in the writing room at Shibden Hall, Whitbread detailed Anne and Mariana's plans to raise Mariana and Charles's children (if there were to be any) as their own, following Charles' death. As Anne would go on to do with Ann Walker, she and Mariana also planned to combine their income.
However, Anne and Mariana were in an on-off relationship for years, with things taking a turn when Mariana married Charles Lawton (for money and security) coupled with Anne's multiple affairs in 1816.
As seen in Gentleman Jack, despite engaging in a physical relationship with one another throughout Mariana's marriage to Charles, Anne ultimately remained hurt by Mariana's choice to marry a man instead of being with her.
However, with Anne moving on with Ann Walker, Mariana's jealousy could not be ignored.
Anne Choma detailed in her book Gentleman Jack: The Real Anne Lister how on one occasion, Mariana visited Anne at Shibden Hall in November 1836, when Anne was married to Ann Walker.
Choma wrote of the visit: "At first Mariana was shocked at just how settled Anne and Ann were as a couple. Occasionally she tried to tempt Anne with an 'open-lipped' kiss but Anne resisted, refusing all intimacy. 'The fact is,' said Anne, when Mariana left to return to Lawton Hall, 'I am not sorry she is gone.'"
Mariana and Anne Lister never got back together. Anne died on September 22, 1840, and Mariana died on October 31, 1868.
Speaking to Newsweek, Suranne Jones teased what Mariana's presence means for Anne going forward.
She shared: "Anne Lister has curated a version of herself for Ann Walker, and now we're looking at, you know, all of her past relationships, and you can't be with a person and invite them to live with you and expect to keep all of your secrets."
Jones continued: "What's great about Lydia [Leonard] coming back to play Mariana is we get to spend time with them in episode five and episode four, and to really look at the intricacies of what happened to their relationship and why wasn't Mariana brave enough to settle down? And also take a look at how brave that makes Ann Walker, because a lot of Anne Lister's ex conquests were married or were secrets, or as Mariana did, chose to be with a man, and so it highlights how wonderful their relationship is, and how brave Ann Walker was."
Gentleman Jack Season 2 airs Sundays on BBC 1 and Mondays on HBO Max.