The wait for Gentleman Jack Season 2 is finally over... for some. The next installment in the story of lesbian power couple Anne Lister (played by Suranne Jones) and Ann Walker (Sophie Rundle) continues on Sunday, April 10, on BBC One and BBC iPlayer in the UK.
However, unfortunately, fans of Gentleman Jack in the U.S. and HBO Max customers across the world will have to wait a little later for the highly-anticipated drama to debut.
Newsweek has everything you need to know about the return of Gentleman Jack to HBO Max.
When is Gentleman Jack Season 2 Coming to HBO Max?
Just like Season 1 of Gentleman Jack, Season 2 will air on BBC One and the BBC iPlayer a little earlier than HBO Max, starting on Sunday, April 10 at 9 p.m. BST.
The good news is, as with other shows such as Peaky Blinders and The Tourist, fans in the U.S. will not have to wait until Gentleman Jack finishes airing on the BBC before it can make its way to HBO Max.
Gentleman Jack Season 2 will premiere on HBO Max on Monday, April 25, just two weeks after the UK premiere.
Episodes of Gentleman Jack will air weekly on both sides of the Atlantic and fans are in for a treat.
To watch Gentleman Jack in the U.S., you must be an HBO customer. You can also sign up to HBO's streaming platform, HBO Max for $14.99 per month.
In the U.K., you must have a TV license to watch Gentleman Jack.
What Will Happen in Gentleman Jack Season 2?
The second season of Gentleman Jack will pick up from the romantic ending of Season 1, which saw Anne Lister and Ann Walker exchange vows.
As women could not legally marry each other in the 19th century, Lister and Walker took the sacrament, declaring themselves "wife and wife."
Now, Lister is hoping to take the next step with Lister, by moving her into Shibden Hall and combining their estates however, in 19th century English society, where homophobia and prejudice run rife, this is not going to be the most simple of tasks.
Elsewhere, fans will be desperate to know the outcome of the Thomas Sowden (Tom Lewis) murder plot.
Once again, Gentleman Jack Season 2 will also draw upon Lister's real-life diaries, which were often written in code. Her diary entries, consisting of over 7,700 pages and five million words, drive the plot of the show.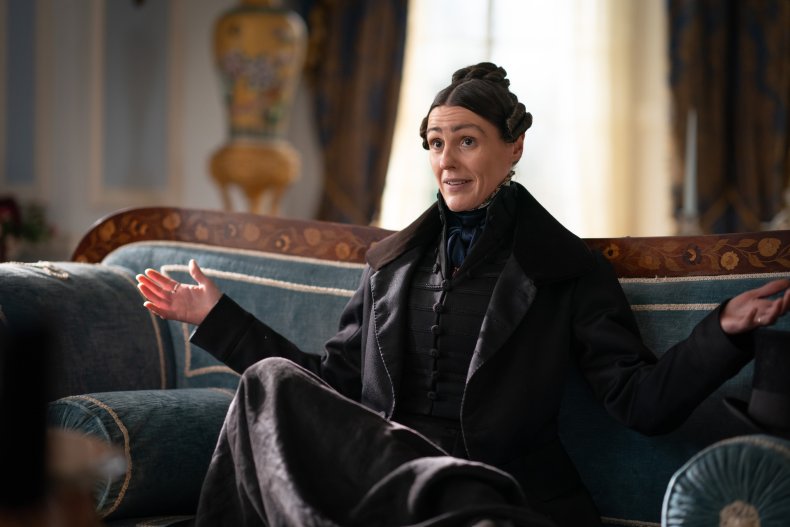 Who Is The Cast of Gentleman Jack Season 2?
Doctor Foster star Suranne Jones is back as a real-life industrialist and the "first modern lesbian," Anne Lister.
Peaky Blinders star Sophie Rundle is also back as Anne's love interest, Anne Lister, a wealthy landowner with her own troubles.
The Larkins star Joanna Scanlan guest stars in the new series as Lister's ex-lover, Isabella 'Tib' Norcliffe.
Also returning to Gentleman Jack Season 2 are:
Gemma Whelan as Marian Lister
Gemma Jones as Aunt Anne Lister
Timothy West as Jeremy Lister
Jodhi May as Lady Vere Cameron
Katherine Kelly as Elizabeth Sutherland
Derek Riddell as Captain George Sutherland
Stephanie Cole as Aunt Ann Walker
Peter Davison as William Priestley
Amelia Bullmore as Eliza Priestley
Vincent Franklin as Christopher Rawson
Shaun Dooley as Jeremiah Rawson
Rosie Cavaliero as Elizabeth Cordingley
Joe Armstrong as Samuel Washington
Anthony Flanagan as Ben Sowden
George Costigan as James Holt
Gentleman Jack Season 2 airs Sunday, April 10 on BBC One and Monday, April 25 on HBO Max.