'Gentleman Jack' Season 2 Release Date, Cast, Trailer, Plot: Here's What You Need To Know
Gentleman Jack Season 2 is finally heading to screens after more than three years of waiting. The romantic period drama tells the real-life story of English heiress Anne Lister (played by Suranne Jones), a landowner and diarist, and known as the "first modern lesbian."
Season 1 saw her romance with fellow landowner Ann Walker (Sophie Rundle) blossom, as well as showing us Lister's success in various business interests, such as mining and canals.
Newsweek has everything you need to know about Gentleman Jack Season 2 release date, cast, trailer, plot and more.
When Is Gentleman Jack Season 2 Out?
The wait for Gentleman Jack Season 2 is almost over.
While HBO and the BBC have not announced an exact release date, they have confirmed Season 2 of Gentleman Jack will arrive on screens in April 2022.
The first season premiered on HBO on April 22, 2019, and it is possible Season 2 will follow suit, meaning fans may have to wait until mid-to-late April for Gentleman Jack to air.
In the meantime, Season 1 of Gentleman Jack is available to stream via HBO Max in the U.S. and the BBC iPlayer in the UK.
To watch Gentleman Jack, you must be a HBO and BBC customer.
Like Season 1, all eight episodes are likely to be released weekly on the channels, with episodes available to stream on HBO Max and the BBC iPlayer live and after they have finished airing.
Who Stars in Gentleman Jack Season 2?
The entire main cast is set to return for Gentleman Jack Season 2.
Of course, Suranne Jones is back as Anne Lister, and Peaky Blinders star Sophie Rundle returns as Ann Walker, Lister's love interest.
Fans can also expect to see the return of Killing Eve's Gemma Jones as Aunt Anne Lister and Last Tango in Halifax star Timothy West as Capt. Jeremy Lister.
Other familiar faces include:
Joe Armstrong as Samuel Washington
Amelia Bullmore as Eliza Priestley
Rosie Cavaliero as Elizabeth Cordingley
Gemma Whelan as Marian Lister
Tom Lewis as Thomas Sowden
What Will Happen in Gentleman Jack Season 2?
The second season of Gentleman Jack will pick up from the cliffhanger ending of the first season, which saw Anne Lister and Ann Walker move in together in Shibden Hall.
As women could not legally marry each other in the 19th century, Lister and Walker took the sacrament, declaring themselves "wife and wife."
Season 2 is sure to follow Lister and Walker in their married lives and what this means for their families going forward. In particular for the Walker's, who were determined to marry her off to a rich man.
Elsewhere, fans will be desperate to know if Thomas Sowden (Tom Lewis) will get away with murdering his own son, Sam Snowden.
Gentleman Jack Season 2 will also draw upon Lister's real-life diaries which were often written in code. Her diary entries, consisting of over 7,700 pages and five million words, drive the plot of the show.
Speaking to Digital Spy, creator Sally Wainwright revealed the series will be about Anne and Ann's relationship progressing, based on Lister's diary entries.
She said: "They move into Shibden together in series two and it's about how they negotiate their married life, conspicuously in public, and how they deal with their detractors and the effect that has on their relationship as well.
"There's no end of stories, the diaries, this huge wealth of knowledge."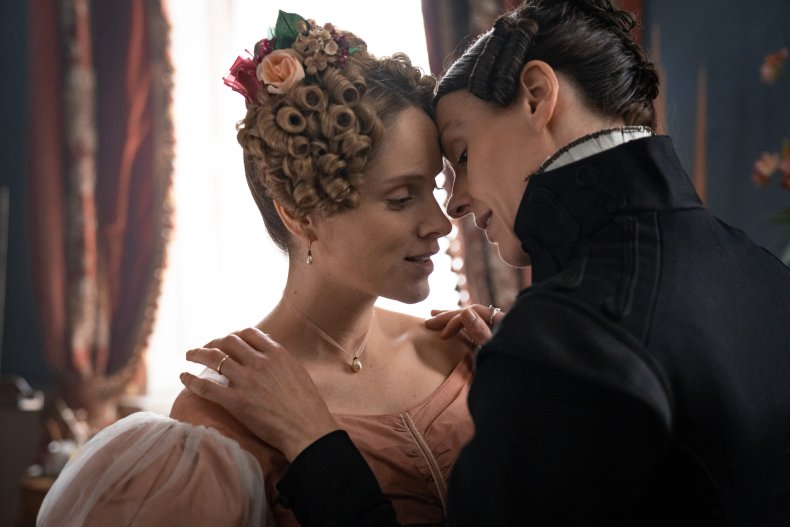 Is There A Trailer for Gentleman Jack Season 2?
Yes, there is an exciting new trailer available for Gentleman Jack Season 2 to keep fans in suspense.
In the trailer, Lister and Walker are seen settling into their new home at Shibden Hall. They seem at ease in their private lives but as for the world outside, the public is not too pleased about their relationship.
As a result, Lister finds herself in conflict with those around her, which risks damaging her position in Halifax's patriarchal society.
At one point in the trailer, Lister tells Walker: "We are the only people in the world, who want us to be together."
Fears of the locals can also be heard, with one elderly resident stating: "With Anne Lister's wit and Ms. Walker's money, she could run the whole of Halifax."
The trailer comes to an end teasing "the next chapter awaits."
Gentleman Jack Season 2 is coming to HBO Max and BBC One in April 2022.