The wait for Gentleman Jack Season 2 is finally over. It's been three years since fans last saw the extraordinary Anne Lister and classy Ann Walker romance play out on screen and it has for sure been a long wait to see them return.
Season 2 of the historical drama will follow Lister and Walker as wife and wife, making the big move into Shibden Hall, Lister's estate. In 19th century England, gay marriage was not legal and sodomy was punishable by death.
However, the thought of two women being together never really crossed the minds of lawmakers, luckily for Lister and Walker.
Gentleman Jack creator Sally Wainwright spoke to Newsweek about bringing Lister's story to life, describing the experience as "really exciting."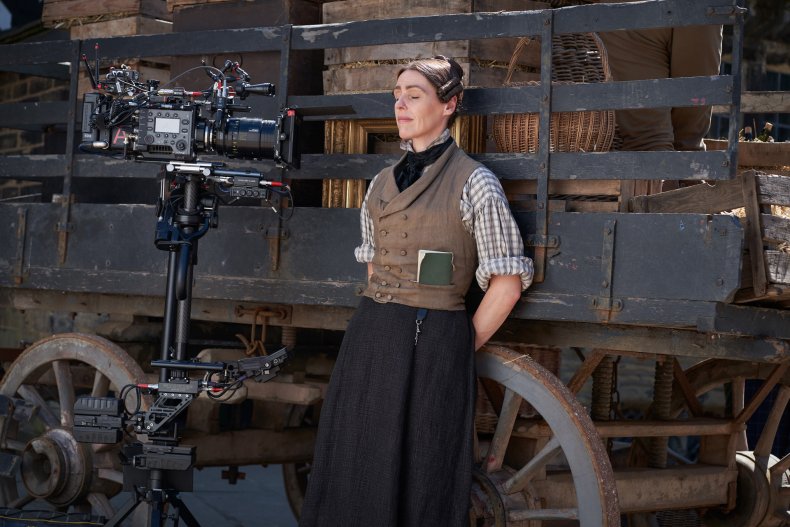 The series is based on Lister's diary. Her entries were often written in code and were decrypted long after her death by her relative, John Lister, and his friend, Arthur Burrell. They were published by Helena Whitbread in 1988 and 1992.
In the article "Anne Lister: The First Modern Lesbian," Rictor Norton explains Lister's code combined the Greek alphabet, signs of the zodiac, punctuation and mathematical symbols, which were used to detail her lesbian affairs.
Speaking to Newsweek, Wainwright said: "It's really exciting bringing them to life. I mean, the journal itself is very, it's a fabulous document. She was such a brilliant writer. There's so much detail every day, day after day.
"There are very few niches there that are missed from the journal, so you do build up, when you read it over a consistent period of time, you just build up a really, really vivid and exciting picture of their world and it's exciting because of Anne Lister, because of this formidable energy that she had and she brought that to everything."
Suranne Jones, who plays Lister, said Season 2 was like "Anne Lister on speed."
She joked to Newsweek: "She is very busy. I keep saying it's like Anne Lister on speed.
"She's got the wife, she's got the money. She's got plans, she's got adventures up her sleeve, she's excited about…not only the coal but the canals, the railway, there's so much going on for her and I think that she's a slightly different person.
"Grander, she's grander because of all of that. Her peacock feathers are out and she is showing off. It's great, because then we see the downfall of you know, what living life like that does, and everyone's trying to keep up with her."
Who Was Anne Lister?
Anne Lister was born in 1791 to a landowning family and grew up in Shibden in West Yorkshire. Her father was Jeremy Lister, a British army veteran who served during the American War of Independence.
Anne Lister was an English landowner and diarist, who became known as "the first modern lesbian" owing to her diary entries.
Not only were her multiple relations with women documented in great detail in her diary entries, but Lister also spoke of life in West Yorkshire, the development of her residence Shibden Hall (inherited on her aunt's death) as well as the ongoing industrial revolution and it's developments such as mining, railways and canals.
Lister would go on to become a landlord and have shares in the canals, railways and mining areas in West Yorkshire, as seen in Gentleman Jack. She even owned her own colliery, which was exceptionally unusual for women at the time.
She was also a traveler, visiting France on numerous occasions as well as Italy, Belgium, Germany, Switzerland and Spain.
In the 1830s, she entered a relationship with wealthy heiress Ann Walker.
They wed at Holy Trinity Church, York on Easter Sunday in 1834. At the time, same-sex marriage was not recognized as legal, and instead, Lister and Walker took communion together, declaring themselves married.
Sadly, Lister died of a fever on a trip to Koutais (now present-day Kutaisi in Georgia) on September 22, 1840.
Lister is buried in Halifax Minster.
Gentleman Jack Season 2 airs Sundays on BBC One in the U.K. and Mondays on HBO Max in the U.S.