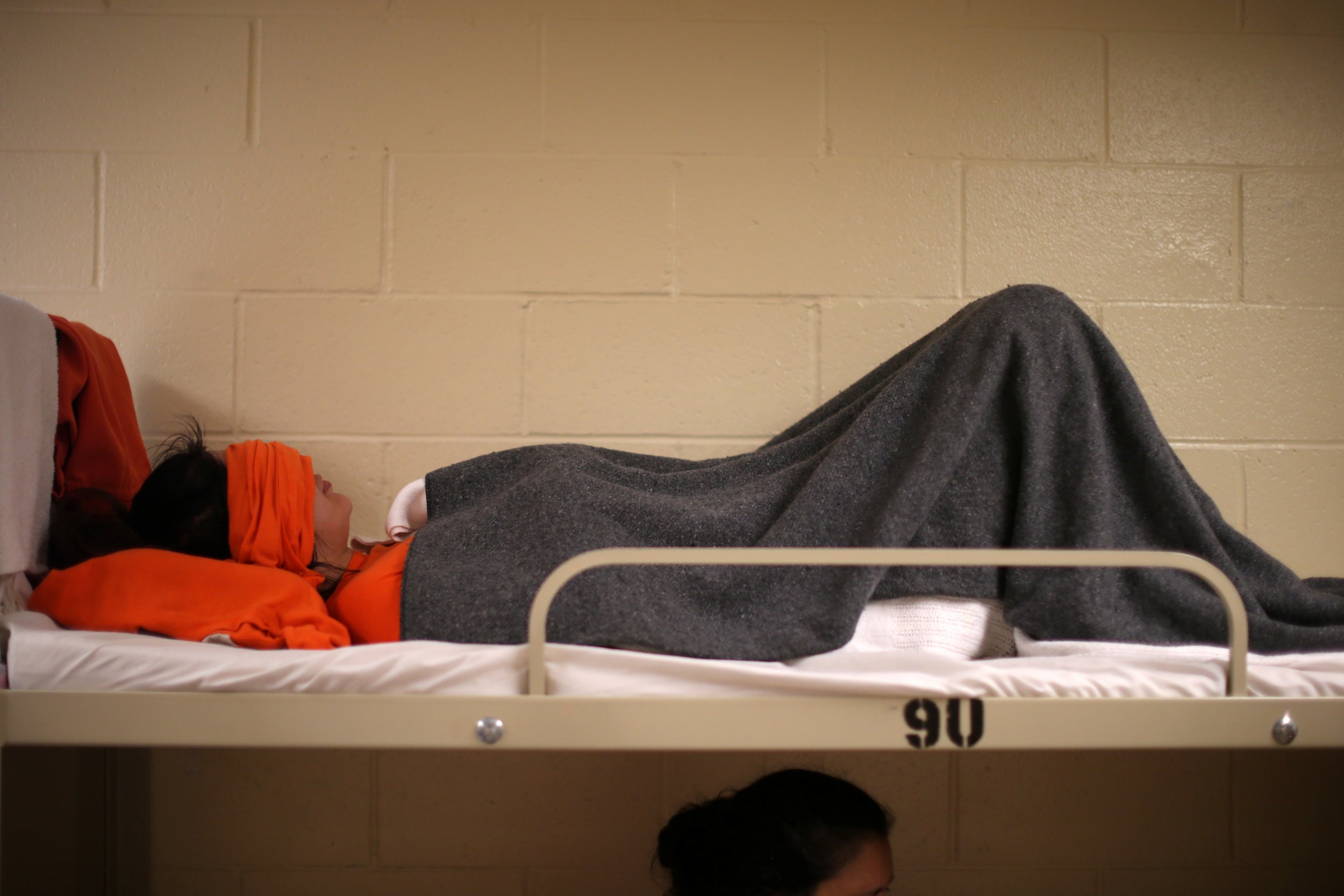 Updated | Within the Texas legislature, a controversial bill is pending. A private prisons company called the GEO Group has allegedly asked Republicans to submit a law that could lead to immigrant children being indefinitely detained in its lucrative centers.
Representatives John Raney, John Cyrier and Mark Keough—all Republicans—have authored legislation that, if passed, would allow immigration detention centers to obtain child care licenses. Equipped with the permits, the centers would then be able to circumvent a 2015 federal ruling that said detained immigrant children must be transferred to a child care facility after 20 days in detention.
Raney, Cyrier and Keough's bill would not require the detention centers to change their setups, but it could significantly benefit them. The GEO Group, which runs the Karnes Residential Center—one of two family detention facilities in Texas—earns $55 million annually from the facility. At present, just 100 of its 830 beds are occupied, according to the Associated Press.
This perhaps explains why the GEO Group—despite having a Greek immigrant, George Zoley as its CEO—is so keen to see Raney, Cyrier and Keough's bill pass. So keen, in fact, that the organization essentially wrote it. "I've known the lady who's [the GEO Group's] lobbyist for a long time," Raney told the Associated Press. That's where the legislation came from. We don't make things up. People bring things to us and ask us to help."
Read more: Why the Justice Department was phasing out private prisons
The GEO Group did not respond directly to an email from Newsweek asking if Raney's comments were accurate. Pablo Paez, vice-president of corporate relations at the company told Newsweek that the GEO Group "supports any effort to provide appropriate levels of government oversight and ensure the highest standards of care for the children and parents entrusted to us.
The bill looks unlikely to make it into law. Opposition to holding children in detention centers is strong and already child psychologists have testified against the legislation, saying that detaining children can negatively affect their mental health. Immigrants who have been held at Karnes have also reported sexual abuse and appalling conditions at the site. In 2016, an immigrant mother, identified in court documents as E.G.S., filed a lawsuit alleging that her 12-year-old daughter was sexually abused at Karnes.
In an email to Newsweek, Paez refuted the allegations against Karnes. "The Karnes County Residential Center provides high quality care in a safe, humane, and family friendly environment," Paez wrote. "Past allegations of sexual abuse have been thoroughly investigated by the Department of Homeland Security, Office of Inspector General and have been determined to be unfounded." In support of this claim, Paez provided a link to a 2015 news report published a year before E.G.S.' lawsuit.
Even if Karnes fails to receive a child care licence, the GEO Group might not be too concerned. From 2015 to 2016, the company's total revenues leaped 18 percent, from $1.8 billion to $2.2 billion. Its shares are currently hovering at around $31.64 per share, an all-time high.
And the company knows who to thank: President Donald Trump.
Make the GEO Group Great Again
In August 2016, the then Deputy Attorney General Sally Yates announced that the Obama administration would begin phasing out private prisons. In a memo about the plan, Yates said that the U.S. prison population had dropped from 220,000 people in 2013 to 195,000. As a result, the Department of Justice did not need to rely on private prisons, which had held 15 percent of all prisoners in 2013. The declining number of inmates, Yates said, "means that we can better allocate our resources to ensure that inmates are in the safest facilities and receiving the best rehabilitative services."
Her statement came just two months after Mother Jones reporter Shane Bauer published his damning exposé into private prisons. Bauer, who went undercover for four months as a private prison guard, found a system where constant cost-cutting had led to abuse, neglect and appalling living conditions.
The day Yates made her announcement, on August 18, the GEO Group's stock fell from $21.53 a share to $13.01. Investors had clearly realized the impact of Yates' decree on the GEO Group—in 2015, 45 percent of the company's revenue came from government agencies.
The GEO Group had long troubled U.S. lawmakers like Yates. In 2007, Texan officials shut down the company's juvenile justice center in Coke County after investigators discovered horrific living conditions for inmates, who lacked access to education, were terrified of attacks by other prisoners and were only allowed out of their cells to shower. At the time, Senator Juan Hinojosa said: "I'm not surprised at what we found at Coke. The GEO Group has a long history of problems and litigations, not only in Texas but around the country."
Those problems continued after the Coke County center was shut down. Prisoners at the GEO Group's Reeves County Detention Complex in Texas — the largest private prison in the U.S. — rioted in December 2008 and February 2009, causing $1 million and $20 million worth of damage respectively.
In 2009, the GEO Group dropped a private prison it ran in Pennsylvania (the state's only privately-run facility) after being served with several wrongful death lawsuits. Then in 2010, the company was hit with a class-action lawsuit over conditions in its youth correctional center in Mississippi, the largest juvenile facility in the U.S. (The GEO Group no longer runs the Mississippi center).
Paez disputes claims that the GEO Group has had a dire record as a corrections company. In an emailed statement he told Newsweek : "We have worked for 30 years with Democratic and Republican administrations to help meet the correctional, detention and rehabilitation needs at the federal level. We're proud of our longstanding record providing high quality, culturally responsive services in safe, secure, and humane environments."
Though the GEO Group survived the various lawsuits, scandals and closures, it seemed less likely that it would thrive after Yates' announcement. The Democratic presidential nominee Hillary Clinton—who polls put as the favorite to win the presidency—also supported ending private prisons.
Her opponent, Donald Trump, did not. Running on a platform of getting tough on illegal immigration, he promised to end catch-and-release—under which undocumented migrants are detained and then freed pending a court hearing—by keeping these people in detention centers. This, coupled with his self-described position as the "law and order candidate" vowing to get tough on crime, convinced the GEO Group that with Trump in charge, its fortunes could soon change.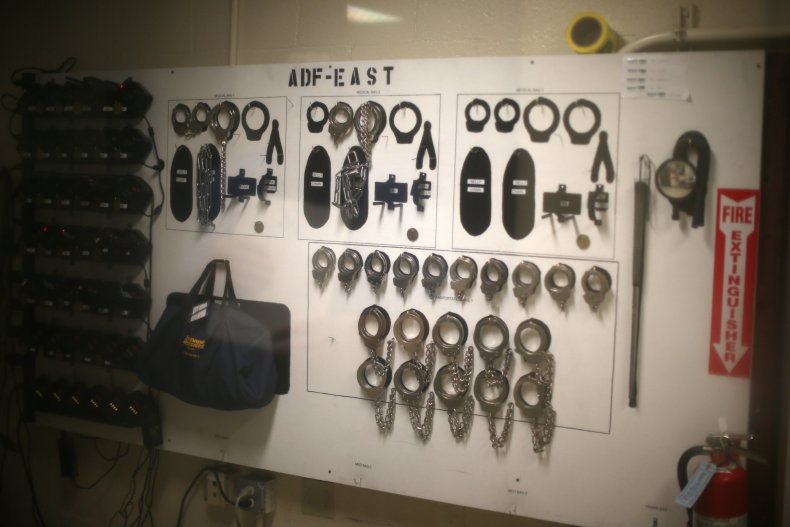 Spend Money to Make Money
On August 19, the day after Yates' announcement, GEO Corrections Holdings Inc., a subsidiary of the GEO Group, donated $100,000 to the pro-Trump PAC Rebuilding America Now. Then, on November 1 —seven days before the presidential election— it gave another $125,000 to the organization.
In addition, GEO Corrections Holding Inc. had donated $200,000 to the Senate Leadership Fund, a Republican PAC, on September 27, 2016, and $100,000 to the Conservative Solutions PAC on April 17, 2015.
The GEO Group maintains that despite these donations, it does not take a political stance. In a statement, Paez told Newsweek : "Our political activities focus entirely on promoting the use of public-private partnerships and our contributions should not be construed as an endorsement of all policies or positions adopted by any individual candidate."
But these donations might be illegal. In November, the Campaign Legal Center, a D.C.-based organization of election law experts, submitted a complaint to the Federal Election Commission, which it updated in December. The document pointed out that "according to publicly-available records, GEO Corrections Holdings, Inc. appears to be a federal contractor." Under campaign finance laws, federal contractors cannot make political donations.
The GEO Group maintains that the ban does not apply to its donations. "Our contribution was fully compliant with all applicable federal election laws," Paez told Newsweek in a statement. "GEO Corrections Holdings Inc., the company that made the donation, is a non-contracting legal entity and has no contracts with any governmental agency."
Despite the ongoing complaint, for the moment, the GEO Group has won: The candidate it backed is now in the White House. When Trump began sourcing donations for his inauguration festivities, the GEO Group, and Core Civic (The U.S.' largest private-prisons contractor, the GEO Group is the second-largest) each gave $250,000.
The GEO Group seems to have benefited from its generosity. In July 2015, under the Obama administration, it submitted a bid to build a 1,000-bed immigration detention center in Texas that would replace the Houston Contract Detention Facility run by its competitor Core Civic. (U.S. Immigration and Customs Enforcement did not answer a question from Newsweek about why the Obama administration didn't award the contract).
Then, in April, the Trump administration said the GEO Group would build the center, which it anticipates will generate $44 million a year in revenue. It was a move that angered the company's opponents. In March, the GEO Group had been served with a class action lawsuit, alleging that it had violated the constitution and anti-slavery laws by forcing around 60,000 current and former immigrants to work for less than a dollar a day at its detention center in Colorado.
That lawsuit is ongoing, and so are Trump's immigration plans. In his first budget, released on March 13, the president said he hoped to spend an additional $1.5 billion on "expanded detention, transportation, and removal of illegal immigrants." During a conference call last month, the GEO Group's vice-president David Venturella told shareholders they would "start to see the benefits" of increased apprehensions and detentions of undocumented migrants.
If Congress agrees to spend more on immigrations and customs enforcement, the GEO Group could be in line for more lucrative contracts. Sources who spoke to The Daily Beast say the company is already moving closer to government.
Daniel Ragsdale, Deputy Director of U.S. Immigration and Customs Enforcement is rumored to be moving to the GEO Group at the end of the month. Though neither the GEO Group nor Ragsdale have commented on this (Paez told Newsweek the company doesn't discuss employment-related matters) the Department for Homeland Security told The Daily Beast that Ragsdale is moving to the private sector.
If the rumors are true, then 2017 looks to be an even more lucrative year for the GEO Group.
This story has been updated to reflect the fact that the procurement process for a new immigration detention center in Texas began under the Obama administration.