Georgia Lieutenant Governor Geoff Duncan went on CNN Tuesday morning to discuss a new ballot review of the 2020 presidential race that is moving forward in his state. During the appearance, Duncan also said he believes it's time for fellow Republicans to move away from Donald Trump.
"Republicans are waking up every day, whether they like Donald Trump or not, and realizing that he's not going to be the 47th president and that we need to put together a new plan and a new approach that plays on the things that he did well," Duncan said.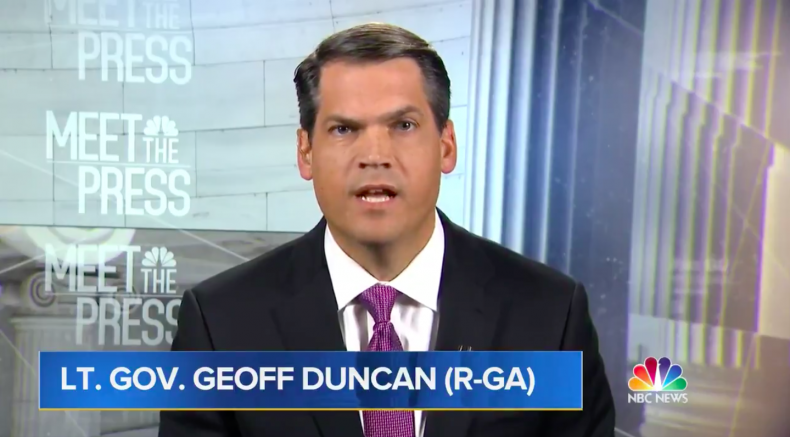 Speaking with New Day host John Berman, Duncan talked about the ballot review in his state. He said, "You know, it still amazes me that any Republican thinks that doubling down on this election fraud debacle is a winning strategy. The only way we're going to change the fact that Joe Biden is the president of the United States is putting a winning Republican campaign together in 2024. That's just the cold, hard facts."
The new Georgia ballot review effort is being led by Garland Favorito, a controversial figure in Georgia who once published a book questioning the origin of the September 11 attacks in 2001. Favorito has also pushed unproven theories about the Kennedy assassination and said in a 2014 video that the federal government was illegitimate and should be overthrown.
Berman asked the GOP lieutenant governor how people could still have faith in the political system when there are still so many independent audits being undertaken to review ballots from last November's election.
Duncan's response was that those people pushing for such initiatives do not represent the vast majority of elected officials or even the GOP. He said it is the "outside 5 percent that's continuing to double down on this [election fraud]."
At that point in the conversation, Duncan mentioned that he felt more and more people within the Republican Party have started to believe that Trump is not the person best suited to win in 2024. Instead, his party should search for another candidate that puts them in a better position of taking back the White House, he said.
"But we've got to do better," he said. "We've obviously got to message better, and we've got to remind folks of the policies that make sense and put a better direction."
Berman brought up a recent poll that reportedly shows that 53 percent of Republicans say that Trump is the "true president right now." Duncan replied that he was not sure if that percentage is accurate, but he noted that those who believe Trump won the election are wrong.
He said that instead of obsessively clinging to the false hope of overturning the election, the party needs to take President Joe Biden to task for what he called "massively increasing inflation," "instability in all types of labor markets" and other "real problems."
Duncan did say conservatives can have hope for the future, though. "I've got good news. If you're a Republican, and you're watching, GOP 2.0 is a group that we've launched—a movement. And I've got to tell you, I never expected this type of traction and energy. We've got folks coming to gop2.org signing up for the movement, donating money, asking how they can get involved."
Duncan has been pushing the GOP 2.0 campaign in recent days. On May 17, he announced he would not seek a second term as Georgia's lieutenant governor to focus on starting a new vision for the Republican Party beyond Trump.
Berman also brought up Georgia Representative Marjorie Taylor Greene comparing mask mandates and vaccinations to the Holocaust. Duncan said it was "embarrassing as a Georgian, it's embarrassing as an American, it's embarrassing as a Republican to hear somebody try to spew that type of misinformation and just hatred."
He said it was time for Republicans to return to honest leadership, noting that "if you're a Republican and you truly want to win an election in the future, it's time to turn the page. It's time to figure out a new strategy to help us get this game on the road."
Newsweek contacted Duncan for further comment but did not hear back in time for publication.