George W. Bush Decries Modern Republican Party as 'Nativist'
Former President George W. Bush called the modern Republican Party "isolationist" and "nativist" on Tuesday morning as he promoted his new book hailing immigration and calling for reform.
In an interview with NBC News' Today show, Bush said the GOP was protectionist and said its current political vision was "not exactly" his own. But he also said he was "just an old guy they put out to pasture."
The former Republican president criticized the state of his own party a few days after he contrasted himself with former President Donald Trump in a separate interview with CBS News.
Speaking about his view of the Republican Party in the wake of the Trump presidency, Bush told Today: "I would describe it as isolationist, protectionist, and to a certain extent, nativist."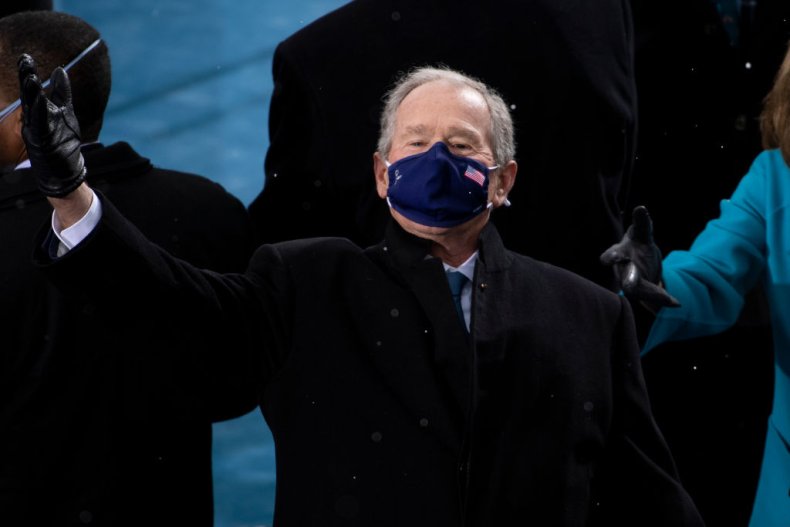 Asked if he was disappointed about the direction of the party, he added: "Well it's not exactly my vision. But you know, I'm just an old guy they put out to pasture. Just a simple painter."
Earlier in the interview, Bush spoke about immigration reform amid the ongoing border crisis. "The system really needs to be reformed and fixed," he said.
The former president added that an asylum process that was "more robust" would be one possible solution to problems with the immigration system. He also called for work visas to be changed as he claimed "a lot of jobs" were empty.
"I talk to border patrol down there in that southern sector, and one of the problems we have right now is that many of the law enforcement... are pulled off duty to deal with children, guard hospitals, and it just goes to show there's a real shortage of manpower and focus down there," he later said.
Bush's new book on immigration, Out of Many, One: Portraits of America's Immigrants, was released today. The book is a collection of oil paintings of immigrants, along with their personal stories.
The George W. Bush Presidential Center is also holding an exhibition of the oil paintings through to early January next year. Axios reported earlier today that the Center and the Koch Network were working in partnership on the interactive exhibition.
In a memo seen by NBC News on Monday, the White House asked Customers and Border Protection (CBP) bosses to refrain from using the words "alien" and "illegal alien" to describe immigrants. Instead, they have been asked to use the word "noncitizen."
The Biden administration is also pushing forward with a raft of immigration reforms that would offer a path to citizenship for so-called Dreamers.