George Bush Delights Democrats, Infuriates MAGA World With Veiled Jan. 6, 9/11 Comparison
On the 20th anniversary of the deadliest terror attack in the U.S., former President George W. Bush warned of danger from domestic terrorists, delighting Democrats and infuriating supporters of former President Donald Trump.
"We have seen growing evidence that the dangers to our country can come, not only across borders, but from violence that gathers within," Bush said in a speech marking the anniversary at the Flight 93 Memorial in Shanksville, Pennsylvania.
"There is little cultural overlap between violent extremists abroad and violent extremists at home," he said. "But in their disdain for pluralism, in their disregard for human life, in their determination to defile national symbols, they are children of the same foul spirit."
"And it is our continuing duty to confront them," Bush added.
Bush's veiled remarks came eight months after violent rioters stormed the U.S. Capitol on January 6 in an effort to disrupt Congress certifying President Joe Biden's election win, and just days after Attorney General Merrick Garland warned that the threat from homegrown violent extremist groups, particularly white supremacists, has grown to a level "higher than it ever was."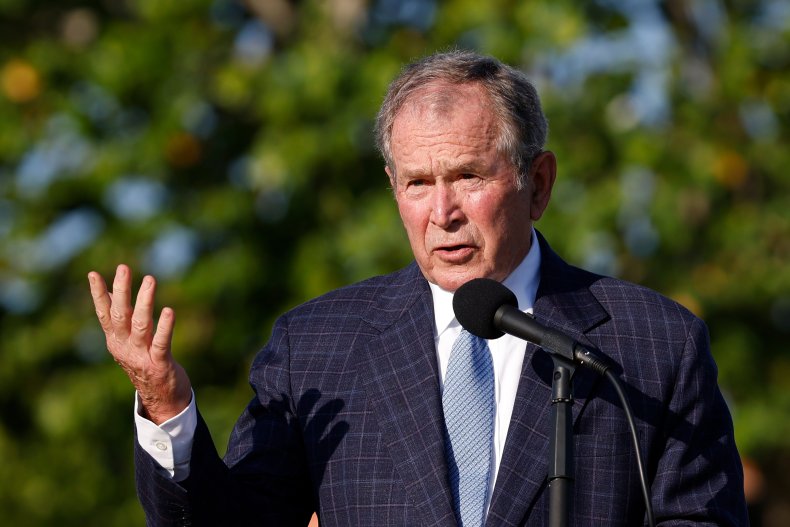 Democrats and other critics of Trump quickly praised the former Republican president's apparent linking of January 6 to September 11.
"George W. Bush is right—we must always remain vigilant against terrorist extremists both at home and abroad. And we cannot rest until all of Trump's traitorous, insurrectionist foot soldiers face justice," tweeted the Democratic coalition.
Keith Olbermann, a former MSNBC anchor who was suspended from the network in 2010 for making political contributions, tweeted: "Even George W. Bush now recognizes Trump, his supporters and those who directly participated in the 1/6 Coup attempt are terrorists—surely as the 9/11 ones were. I'll say it again: Trump damaged America in a way Bin Laden only dreamed of."
Meanwhile, Trump supporters and far-right figures vehemently condemned Bush's remarks online.
Former Senate candidate and longtime Republican Rob Maness tweeted, "I have personally overlooked many things from former President George W. Bush but his comparison between Trump voters and the Jihadists from 9/11 is an absolute disgrace."
"George Bush has been a skid mark on this nation for some time. And remains so," tweeted conservative commentator Jesse Kelly, who ran for the House in 2012 to represent Arizona.
Orchestrated by al Qaeda founder Osama bin Laden, the September 11 terror attacks killed nearly 3,000 people after two hijacked planes crashed into the World Trade Center in New York City, one into the Pentagon in Arlington, Virginia, and a fourth into a field in rural Shanksville, Pennsylvania.
Four people died in the insurrection, three of natural causes and one shot dead by police. Among the officers who responded to the riot, one Capitol police officer died the following day after he was attacked by rioters and four others who defended the building later took their own lives.
Both January 6 and September 11 have been described as attacks on American Democracy and way of life, including by Biden.
Bush has previously been outspoken about condemning the Capitol rioters and Republican politicians that have supported them.
"It's a sickening and heartbreaking sight. This is how election results are disputed in a banana republic–not our democratic republic," he said in a statement on January 6. "I am appalled by the reckless behavior of some political leaders since the election."
Newsweek reached out to the White House and Trump representatives for comment.