George W. Bush Breaks Down During Emotional Eulogy, Says Father Is 'Hugging Robin' and 'Holding Mom's Hand'
On Wednesday, former President George W. Bush offered a touching eulogy to his late father, former President George H.W. Bush, that was filled with emotion and personal tributes while offering lighthearted jokes that spoke to the Bush family's brand of humor.
"Through our tears, let us know the blessings of knowing and loving you, a great and noble man. The best father a son or daughter could have," said the son as he held back tears. "And in our grief, let us smile knowing that dad is hugging Robin and holding Mom's hand again."
George H. W. and Barbara Bush had a 3-year-old daughter, Robin, who died of cancer in 1953. Barbara died in April of this year.
The 43rd president, in his eulogy of the 41st president at Washington National Cathedral, revealed his father's shortcomings through humor.
"To us, he was close to perfect—but not totally perfect," Bush said. "His short game was lousy. He wasn't exactly Fred Astaire on the dance floor. The man couldn't stomach vegetables, especially broccoli.
"And, by the way," Bush said, "he passed these genetic defects on to us."
Gathered at the Washington cathedral were friends, family and world leaders, including five current and former U.S. presidents. It was the final time George H.W. Bush would visit the nation's capital, where thousands of people had lined the cold streets of D.C. to bid their final farewell to the former president as he lay in state at the U.S. Capitol.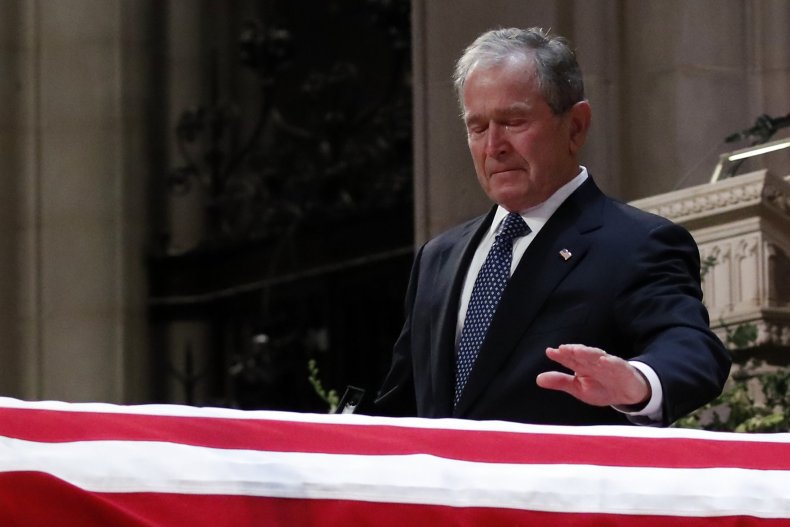 Bush said his father, who "valued character over pedigree," taught him and his four siblings what it meant to "be a wonderful father, grandfather and great-grandfather.
"He was firm in his principles and supportive as we began to seek our own ways," Bush said. "He encouraged and comforted but never steered. We tested his patience. I know I did. But he always responded with the great gift of unconditional love."
The 43rd president also spoke of the last words his father said during a telephone call with him last week.
"Dad, I love you, and you've been a wonderful father," Bush told his father. George H.W. Bush's final words came in his reply to his son: "I love you, too."