George H.W. Bush Was Still Heartbroken Over Death of His Wife When he Died, Says Former White House Photographer
Former President George H.W. Bush, who died Friday at the age of 94, never got over the death of his wife, Barbara, his White House photographer said.
David Valdez, who served as Bush's official photographer from 1989-1993, told ABC News that the former president was still heartbroken over the death of his wife, who died on April 17 of this year.
Valdez told Brad Mielke on Start Here that many believed the former president would quickly follow his wife after her death.
"A couple days after Mrs. Bush passed away, he went into the hospital, and we thought, you know, he's just dying of a broken heart," Valdez said.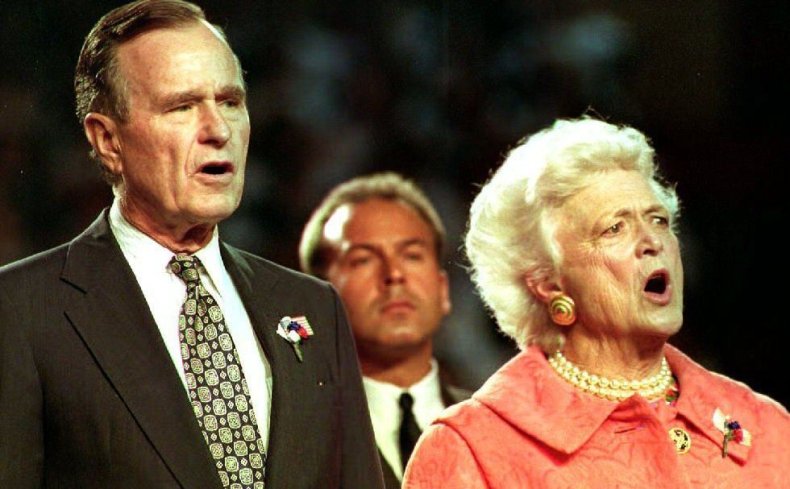 "And I think these seven or eight months later, there's some of that there. They were so in love."
Valdez described the days before the 41st U.S. president's death, and said that Bush had stopped eating and drinking.
Former Secretary of State James Baker was among a group of people in the room when his son George W. Bush called and was put on speaker phone and told his father that he loved him.
The elder Bush replied, "I love you too," which were his last words. "And then he quietly passed away," Valdez said.
Valdez told the program that he entered the couple's circle of trust in 1983 when Bush Sr. was vice president, and he photographed the couple's children.
Barbara Bush especially liked the images and said as long as he took pictures of them, "I could go anywhere and do what I wanted to do."
The golden labrador that was Bush's service dog has been photographed resting by his coffin. The dog will accompany the casket on the flight from Texas to Washington on Monday, where the body will lie in state before a day of national mourning, the BBC reported.
Bush had been receiving treatment for a form of Parkinson's disease and had been admitted to the hospital with a blood infection in April.
A funeral service will be held at the National Cathedral in Washington. Bush will be buried on the grounds of the George Bush Presidential Library and Museum in College Station, Texas, alongside his wife, whom he married in 1945 when she was 18, and a daughter, Robin, who died in 1953.