George, Charlotte and Louis's First Carriage Procession for Queen's Jubilee
Prince George, Princess Charlotte and Prince Louis waved at cheering crowds during their first ever royal carriage procession for Queen Elizabeth II's Platinum Jubilee.
The Cambridge children joined mother Kate Middleton as they dipped their heads in honour of soldiers on parade.
The younger generation of royals played a bigger role than ever before in Elizabeth's Trooping the Colour birthday parade.
Jamie Lowther-Pinkerton, godfather to Prince George, described how the three royals were "fantastic" during the major royal occassion.
He told the BBC: "I loved the way that they dipped their heads to the colour as they past it, learning young. Absolutely right, fantastic."
George waved and was also seen smiling and joking with Kate during the regal display along Horse Guards Parade.
Prince Louis, the youngest of the trio, sat between his older brother and sister as the third, fourth and fifth in line to the throne watched the celebrations.
Their father, Prince William was not with his family as he had formal duties during the Trooping the Colour ceremony.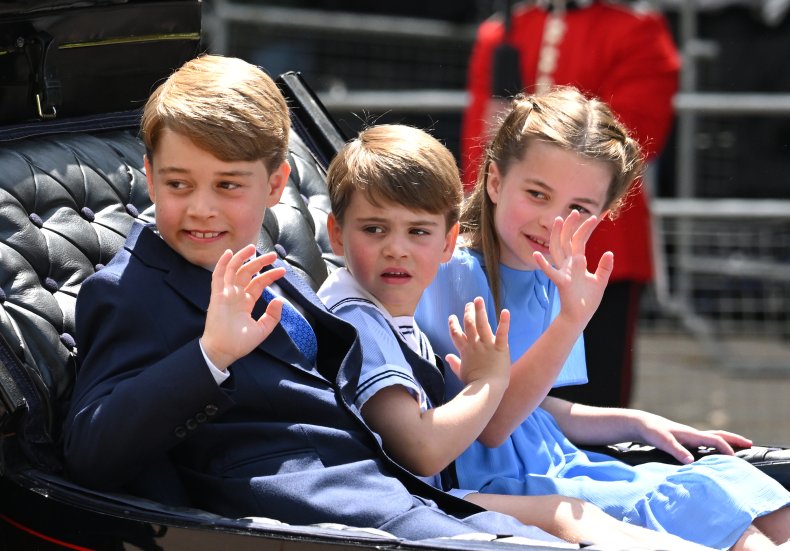 Prince William joined Prince Charles and Princess Anne to receive the salute as Queen Elizabeth II prepared to watch on from the balcony of Buckingham Palace.
Elizabeth was not on the parade ground to receive the salute for the first time in 70 years following months of health difficulties, described by the palace as "episodic mobility problems."
However, the 96-year-old Monarch made sure she would be present in a unique capacity as the nation celebrated Britain's first ever Platinum Jubilee.
Thousands of Brits scrambled for a chance to see the parade, which opened four days of celebrations for the queen's Platinum Jubilee.
Tube stations were overrun with people and had to evacuate as security in London's Green Park had to turn away throngs of royal fans desperate for a chance to see the royal carriage procession.
God Save the Queen was among the songs that played as the parade ground filled with soldiers in iconic bright red tunics and bear skin hats for the formal ceremony broadcast to an international audience.
The Irish Guards, who count Prince William as their Colonel, led this year's Trooping the Colour, accompanied by 1,200 officers and soldiers from the Household Division.
Hundreds of Army musicians and around 240 horses also took part in the event, which has a history dating back more than 260 years.
Lowther-Pinkerton, who was previously an aide to both Prince William and Prince Harry, took part in Trooping the Colour himself in the 1980s.
He told the BBC of his memories of the event: "Long time ago, I suppose nerves. I didn't sleep a whole lot the night before. Dusting of terror, if I'm honest with you. But now you have to banish that, you're concentrating on the job at hand."
For more royal news and commentary check out Newsweek's The Royal Report podcast: