George Clooney Brands Donald Trump a 'Knucklehead' Who Was Always 'Chasing Girls'
George Clooney has taken aim at former President Donald Trump in an interview, branding him a "knucklehead" who was constantly "chasing girls."
The politically outspoken actor and director shared his cutting take on Trump as he defended current President Joe Biden amid falling poll numbers.
Appearing on BBC's The Andrew Marr Show on Sunday, Clooney argued that Trump's legacy has left Biden's administration with an uphill struggle in fixing America's issues.
"It's like taking a battered child and thinking everything's going to be OK his first day in school," said Clooney. "There's a lot of things that have to be repaired, there's a lot of healing that has to happen, and its going to take time."
Despite having failed in his mission to land a second term in the White House at last year's election, Trump continues to hold weight in U.S. politics—though Clooney said he hopes Americans have "a little better sense" than to reelect him.
"It's so funny, because he was just this knucklehead,'' Clooney went on. "I knew him before he was a president. He was just a guy who was chasing girls. Every time you went out he'd be like, 'What's the name of that girl?' That's all he was."
Newsweek has contacted representatives of Trump for comment.
Elsewhere in his interview, Clooney—who shares twins Ella and Alexander, 4, with his wife, Amal Clooney—dismissed the idea of launching a political career himself.
When asked if he had any intentions of running for office, he said: "No, because I would actually like to have a nice life."
Clooney, who is currently promoting his latest movie The Tender Bar, went on to explain that he plans to take on fewer projects while he is healthy and can continue to "play basketball and do the things I love.''
He said: "I turned 60 this year and I had a conversation with my wife and we were working a lot, as we both do, and I said we have to think of these as the halcyon years.
"In 20 years, I will be 80 and that's a real number. Doesn't matter how much you work out, what you eat, you're 80 and so I said we have to make sure we enjoy and live these years in the best possible way."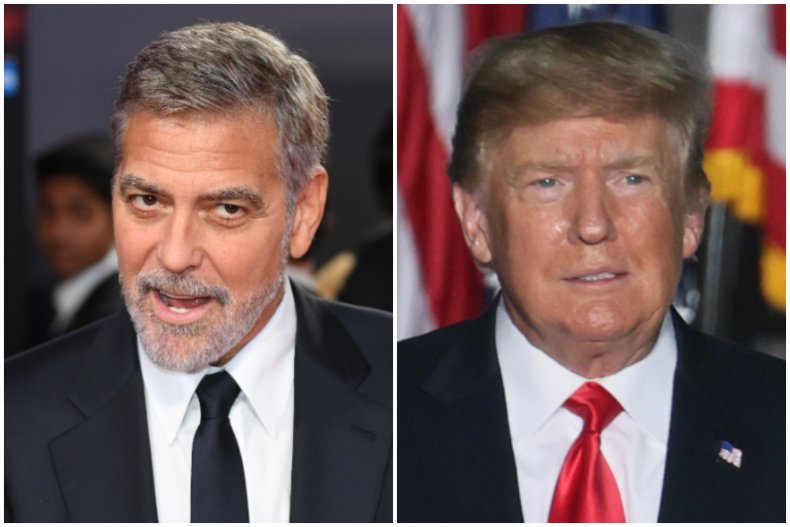 Back in 2017, Clooney discussed the irony of Trump stoking a culture war between America's so-called "coastal elites" and Middle America, given the real estate mogul's pre-presidential career as a millionaire real estate mogul in New York City.
Speaking with The Daily Beast, Clooney said: "Here's the thing: I grew up in Kentucky. I sold insurance door-to-door. I sold ladies' shoes. I worked at an all-night liquor store. I would buy suits that were too big and too long and cut the bottom of the pants off to make ties so I'd have a tie to go on job interviews.
"I grew up understanding what it was like to not have health insurance for eight years. So this idea that I'm somehow the 'Hollywood elite' and this guy who takes a s*** in a gold toilet is somehow the man of the people is laughable.
"People in Hollywood, for the most part, are people from the Midwest who moved to Hollywood to have a career. So this idea of 'coastal elites' living in a bubble is ridiculous. Who lives in a bigger bubble?
"He lives in a gold tower and has 12 people in his company. He doesn't run a corporation of hundreds of thousands of people he employs and takes care of. He ran a company of 12 people!
"When you direct a film you have seven different unions all wanting different things, you have to find consensus with all of them, and you have to get them moving in the same direction. He's never had to do any of that kind of stuff.
"I just look at it and I laugh when I see him say 'Hollywood elite.' Hollywood elite? I don't have a star on Hollywood Boulevard, Donald Trump has a star on Hollywood Boulevard! F*** you!"