George Clooney Slams Steve Bannon: A Failed Screenwriter Who Would've Been 'Licking My Ass' To Make A Movie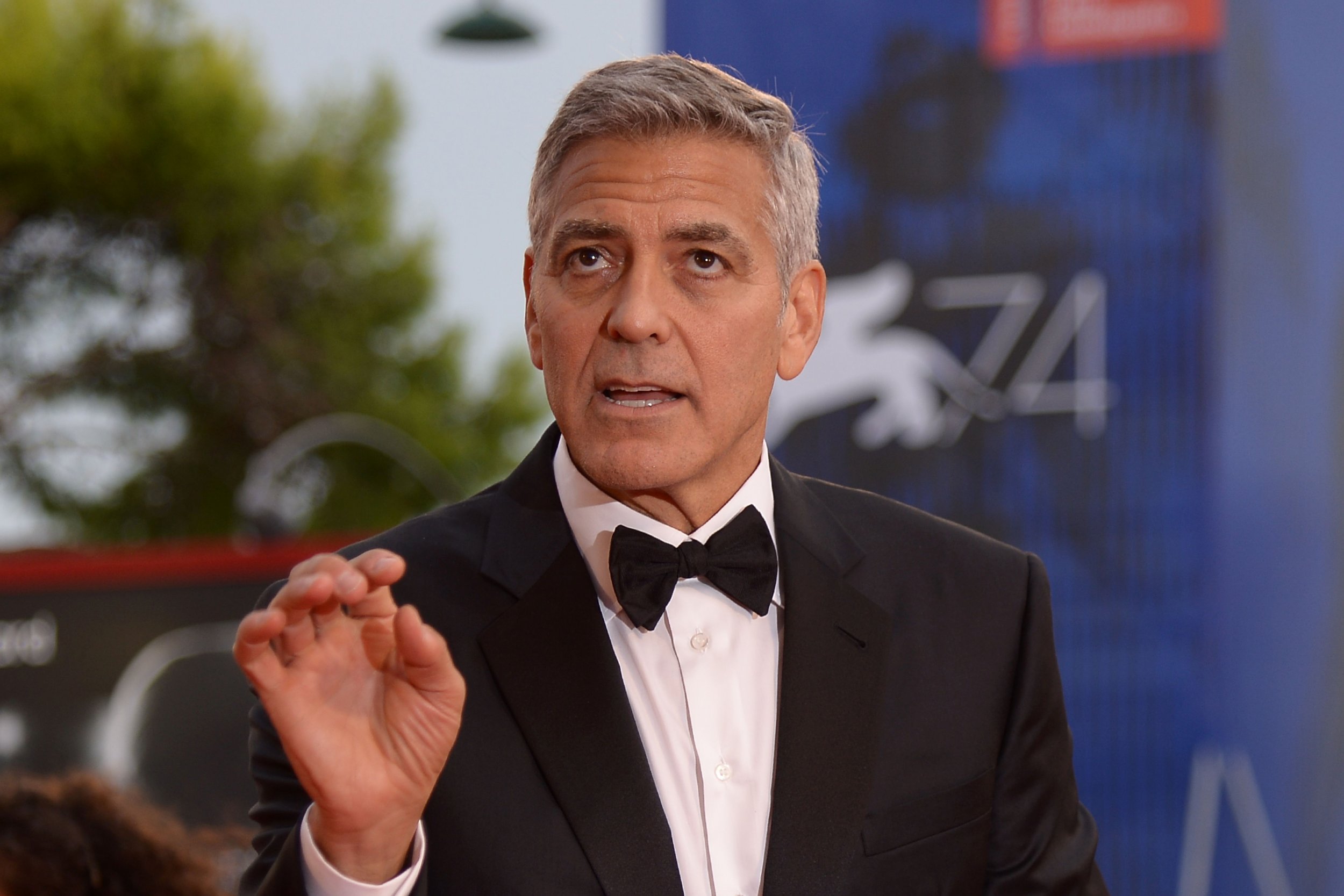 George Clooney does not think highly of Steve Bannon and he used some, let's go with...colorful language to describe his distaste this weekend.
Bannon, in case you haven't consumed any news for the past year, was the head of the far-right website Breitbart—a website that caters to the alt-right that's crawling with racists and hate-mongers—before he took over President Donald Trump's campaign and helped catapult the former reality TV star into the White House. Bannon was a top White House adviser before he was canned by Trump last month.
But Bannon is a man who has lived many lives, including regular dabbles in Hollywood. Clooney, speaking with reporters while promoting a movie, was not complimentary of Bannon's entertainment career.
"I like picking fights. I like that Breitbart News wants to have my head. I'd be ashamed 10 years from now if those weaselly little putzes, whose voices are getting a lot higher every week as this presidency starts to look worse and worse weren't still [after me]," Clooney said, according to Entertainment Weekly. "Steve Bannon is a failed fucking screenwriter, and if you've ever read [his] screenplay, it's unbelievable. Now, if he'd somehow managed miraculously to get that thing produced, he'd still be in Hollywood, still making movies and licking my ass to get me to do one of his stupid-ass screenplays."
Clooney is likely referring to Bannon's script, which—and this is not made up—was a hip-hop remake of Shakespeare's "Coriolanus." Bannon also helped a number of far-right documentary films get made. His most famous Hollywood accomplishment, however, was getting a stake in the royalties for the hit sitcom Seinfeld (although how much money he made off that deal has come into question).
Clooney was quick to point out, despite conservative's common complaints about liberal Hollywood, that the entertainment business actually has quite a bit of influence over the White House. Outside of Bannon, Trump himself has a star on the Hollywood Walk of Fame and Treasury Secretary Steve Mnuchin has had a producer role on blockbuster films like Batman v. Superman, Suicide Squad and Mad Max: Fury Road, among many others.
"Hollywood is being quite well represented right now in the West Wing somehow," Clooney said, according to Entertainment Weekly. "You know, they say I'm out of touch. You want to call me a Hollywood liberal? Come at me. I sold ladies shoes, I sold insurance door to door, I worked at an all-night liquor store, I cut tobacco for a living. I can change the fan belt on my car. I grew up in that world in Kentucky. I know every bit of that world, and I know my friends and what they believe. And I know this is not a moment in our history that we'll look back and be proud of. So if I'm not standing on the side I believe to be right, I'd be ashamed."