George Conway once again called out his wife, counselor to the president Kellyanne Conway, on Twitter Monday afternoon, this time taking a direct shot at her and her boss, President Donald Trump.
The latest public spat between the Conways was sparked by a remark by Kellyanne labeling former Vice President Joe Biden as "Creepy Joe." The White House counselor shared a resurfaced video from Turning Point USA's Benny Johnson which shows Biden telling an odd story about how children would rub his leg hair when he was a young Delaware lifeguard.
"WATCH: Sleepy Joe is Creepy Joe. We need Ukraine's help to defeat THIS guy?" Conway tweeted, sharing the Biden video.
"Your boss apparently thought so," George commented in a retweet of Kellyanne's post, prompting a deluge of comments questioning the couple's marriage. While George Conway has garnered national media and political attention for his very public challenges to Trump's presidency, he has not previously put forth a direct challenge to one of his wife's tweets.
In the "creepy" video initially posted by Johnson, Biden is heard telling children, "I got hairy legs that turn blonde in the sun and the kids used to reach in the pool and rub my leg down and watch the hair come back up again..and I tell you what the men, the guys I worked with down here, they were all guys at the time ... I loved kids jumping on my lap."
Kellyanne appeared to take a veiled shot back at her husband, who frequently offers psychiatric diagnoses for Trump. "This video is everything. The amateur armchair psychiatrists ought to take a crack at Creepy Joe," she tweeted, linking to an animated video showing a young child playing with Biden's leg hair.
The back-and-forth highlights the ongoing House impeachment inquiry into whether Trump forced a quid pro quo ultimatum against Ukrainian President Volodymyr Zelenskiy last July. Trump stands accused of threatening to withhold military aid from Ukraine in exchange for the foreign government's help in digging up dirt on Biden and his son, Hunter Biden.
"Dinner conversation is going to be very normal at the Conway home tonight," replied National Observer reporter Caroline Orr.
"Oh, to be a fly on the wall," MSNBC's The Last Word producer Kyle Griffin wrote.
Ardent supporters of Trump and Conway immediately attacked her husband, "George Conway seems so completely threatened by his wife's success. It's absolutely vile. She married way too far down. I mean. Look at this guy," replied Cassandra Fairbanks.
"Actual footage of George Conway," right-wing provocateur Jack Posobiec tweeted, sharing a gif of a dumpster exploding.
Some Twitter bystanders found the latest Conway kerfuffle redundant and boring, noting that Conway clearly tolerates Trump and his wife's stances given that he has not filed for a divorce.
"*yawn* to whatever the hell George Conway said to Kellyanne Conway. Wake me up when he announces a separation from the chief spokesperson for the world's most visible white supremacist," wrote Human Rights Campaign communications head Charlotte Clymer.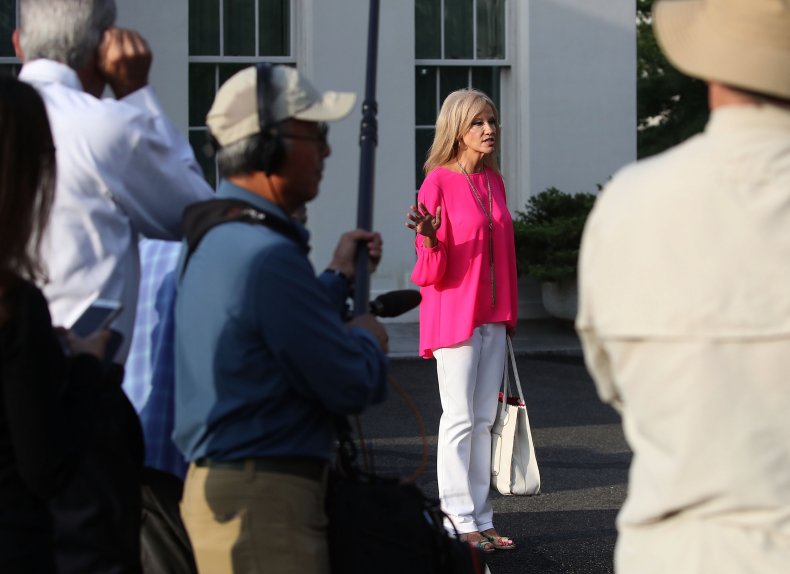 "What's really creepy is this foreplay thing you two have going on..." remarked Twitter user Simon Melktert.
"Kellyanne Conway and Melania trump, two of the planet's most horrible people, are BOTH trending at the same time as 'Meet the Depressed.' Sounds about right," quipped popular account "Brooklyn Dad Defiant."