George Conway Compares Trump's Ukraine Statement to Tony Soprano Having a Guy 'Whacked'
George Conway, husband of White House aide Kellyanne Conway, attorney and frequent Twitter critic of President Donald Trump, mocked the president over social media Wednesday morning, comparing Trump's claims about blocking military aid to Ukraine to HBO's landmark series The Sopranos.
Responding to a Fox & Friends segment featuring former U.S. Ambassador to Ukraine William Taylor, Trump had tweeted, "Neither he (Taylor) or any other witness has provided testimony that the Ukrainians were aware that military aid was being withheld. You can't have a quid pro quo with no quo." Congressman John Ratcliffe @foxandfriends Where is the Whistleblower? The Do Nothing Dems case is DEAD!" Conway shared the tweet adding, "This is like Tony Soprano saying, "hey, look, the guy didn't know where I was gonna have him whacked."
The president's original tweet was referring to Taylor's congressional testimony as part of the ongoing impeachment inquiry into Trump's dealings with Ukraine. In one of Taylor's texts, he wrote, "I think it's crazy to withhold security assistance for help with a political campaign," The New York Times reported. Another text from Taylor read, "Are we now saying that security assistance and WH meeting are conditioned on investigations?"
In his opening statement Tuesday,Taylor called Trump's interference in Ukraine "a weird combination of encouraging, confusing, and ultimately alarming." He also stated that Trump appointed representatives European Union Ambassador Gordon Sondland, Special Envoy Kurt Volker, Secretary of Energy Rick Perry, and, unbeknownst to Taylor, Rudy Giuliani worked in "irregular" and "informal" channels.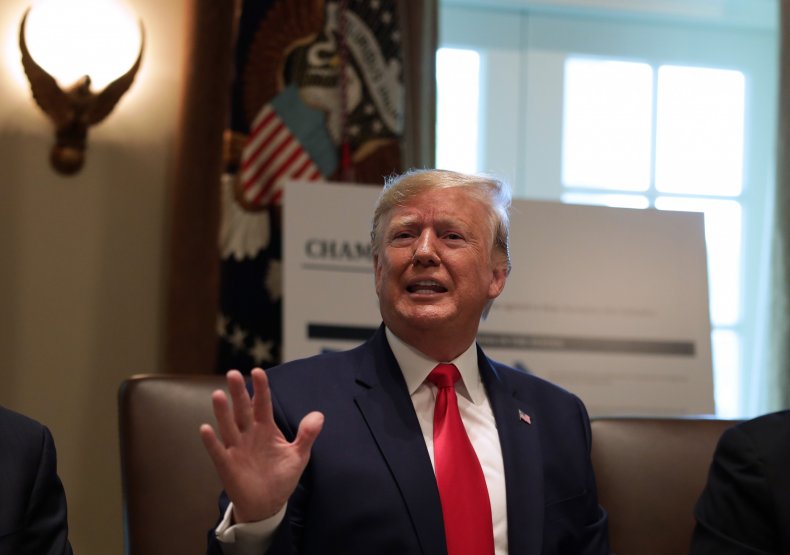 U.S. representative Andy Levin referred to hearing Taylor's testimony as his "most disturbing day in the Congress so far." One of President Ronald Reagan's former speechwriters said the testimony was significant of "the worst day for the Trump Presidency."
Referring to HBO's prestige drama, Conway drew the comparison between Trump and mobster Tony Soprano. The crime boss, portrayed by James Gandolfini, was one of the most celebrated anti-heroes in TV history, a murderer with mental health issues. The reference certainly wasn't the first time Conway has critiqued the president's communications strategy. He has previously taken to Twitter to announce that "thousands of documented lies" will be Trump's legacy, and has also called Trump "a sociopath, a con man," and a "pathological narcissist."
Conway's tweet was also not the first time a connection has been drawn between president and the Mafia. Trump, as a private citizen, even acknowledged his dealings with the mob on national television back in 2013, calling his gangster acquaintances "very nice people."
Replying to a tweet from CNN's Jim Acosta which noted that White House advisers recommended the president reinforce his public relations efforts for the proceedings, Conway tweeted earlier Wednesday morning, "What use is beefing up the communications team when you have no coherent defense to communicate?"