George Conway, Democrats Slam Trump's Remarks About China and Hong Kong Protests: 'Again With the Both Sides'
George Conway and some Democrats criticized President Donald Trump on Tuesday for weighing in on the violent protests in Hong Kong between anti-government protesters and police.
"It's a very tricky situation," Trump told reporters when asked to comment on the clashes. "I think it'll work out. And I hope it works out for liberty. I hope it works out for everybody, including China. I hope it works out peacefully. I hope nobody gets hurts. I hope nobody gets killed."
Later, Trump also tweeted additional remarks about the Hong Kong protests. "Many are blaming me, and the United States, for the problems going on in Hong Kong. I can't imagine why?" the president wrote.
He added in another tweet: "Our Intelligence has informed us that the Chinese Government is moving troops to the Border with Hong Kong. Everyone should be calm and safe!"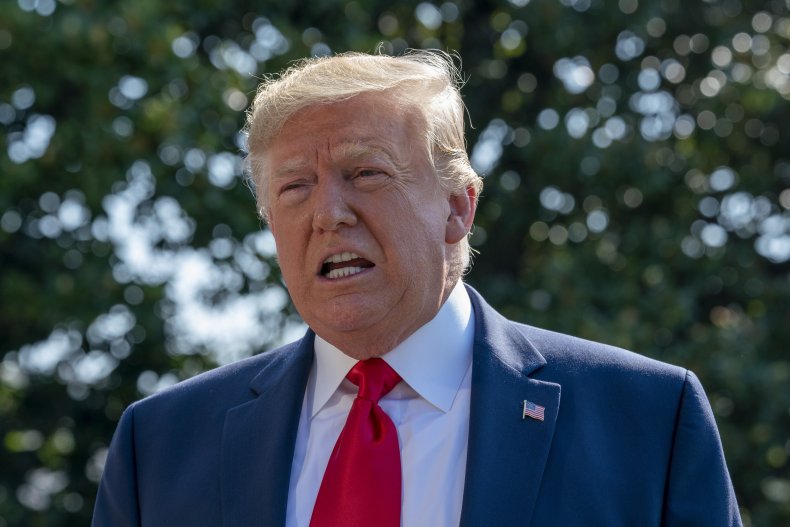 In response, Conway, husband of high-ranking White House aide Kellyanne Conway and near-constant critic of Trump, criticized the president for suggesting that both sides are to blame for the protests.
"Again with the both sides," Conway tweeted.
Some Democrats joined Conway in rebuking Trump's remarks on Tuesday, with some saying he should have backed the protesters in Hong Kong.
Senator Chris Murphy (D-Conn.) responded to one of the president's tweets by noting that Trump's remark "is not foreign policy." "It's hard to overstate how meaningful support or backing from the U.S. is to the work of human rights and democracy activists overseas," Murphy added in later tweet. "It's also hard to overstate how devastating it is when they risk it all to speak up for these 'American' values, and America is silent."
In a tweet, Senator Mark Warner (D-Va.) said that the U.S. has a "responsibility to speak up in defense of democracy and make clear that a violent crackdown by the Hong Kong or Chinese governments against this protest would be unacceptable."
2020 presidential candidate Pete Buttigieg said Trump "made it about himself" during an appearance on MSNBC. "He's on Twitter when he probably should be in the Situation Room trying to figure out how the U.S. could in some way be an effective voice for stability," Buttigieg added.
Protests erupted across Hong Kong in June after the government proposed legislation that would enable citizens from the semi-autonomous territory to be extradited to China.
Thousands of demonstrators stormed Hong Kong airport on Monday and Tuesday, forcing Hong Kong Airport Authority to suspend check-in for passengers.