George Conway Says Donald Trump Would Turn the U.S. Into a 'Banana Republic' if He Got His Wish
Lawyer George Conway, the husband of Kellyanne Conway, the counselor to the president, on Friday said that if people were to be indicted based on President Donald Trump's wishes, the United States would be a "banana republic."
Conway used the epithet—which can refer to both a politically unstable country with a limited economy, or to a country essentially operated as a private commercial enterprise—while speaking on a panel at Georgetown Law School.
"Now we have a president who has actually criticized this own attorney general on political grounds, because the attorney general allowed the indictment to congressmen who were supporters of the president," Conway said. "The criticism being, 'These guys supported me. Why did you allow that to happen?'"
Trump ripped then-Attorney General Jeff Sessions back in September for allowing the indictments of Republican representatives Chris Collins and Duncan Hunter to go forward, threatening the GOP majority in the House at the time. Collins was accused of lying to the feds and of insider trading, while Hunter was charged with misusing $250,000 in campaign funds for his own purposes.
"Good job Jeff," Trump tweeted at the time, then referred to the midterm elections. "Two easy wins now in doubt."
Conway continued that "the president has suggested that members of his own Justice Department should be locked up for investigating the president."
"Now, if people were to get indicted or not indicted on the basis of whether or not the president likes them, we wouldn't have a republic," Conway concluded. "We'd have a banana republic."
Trump wanted to order the Department of Justice to prosecute his 2016 election opponent Hillary Clinton and former FBI Director James Comey, The New York Times reported in November 2018. It is not clear on what grounds Trump wanted the charges to move forward.
Back in November, the president retweeted an image of Deputy Attorney General Rod Rosenstein and several other current and former law enforcement officials and Democrats behind prison bars. "He should never have picked a special counsel," Trump told the New York Post of Rosenstein, when asked why he shared the image.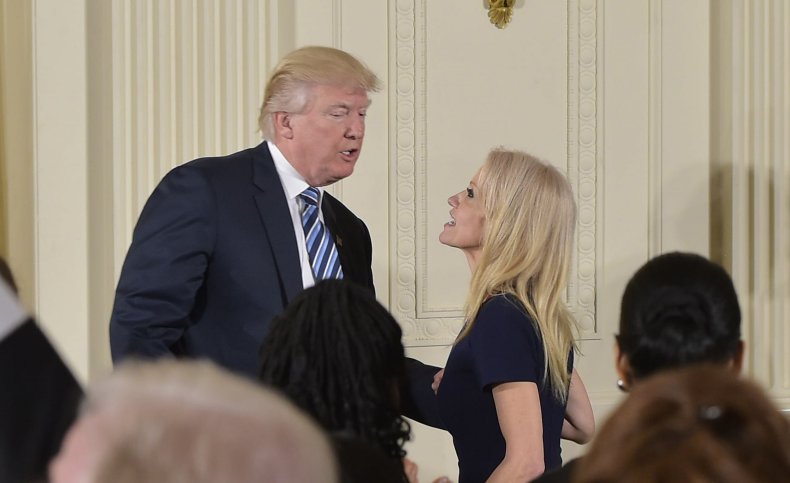 Conway has unabashedly criticized Trump despite his wife's long-held, high-ranking position within the White House. He frequently slams the president on Twitter and retweets posts that are unfavorable to him.
Trump in November mocked Conway as "Mr. Kellyanne Conway" and "just trying to get publicity for himself," after the lawyer expressed concern that the appointment of Matthew Whitaker as acting attorney general could be unconstitutional, following Sessions's resignation.