George Conway Says Donald Trump Sucks at Golf, 'But He's Still an Olympic-Caliber Liar'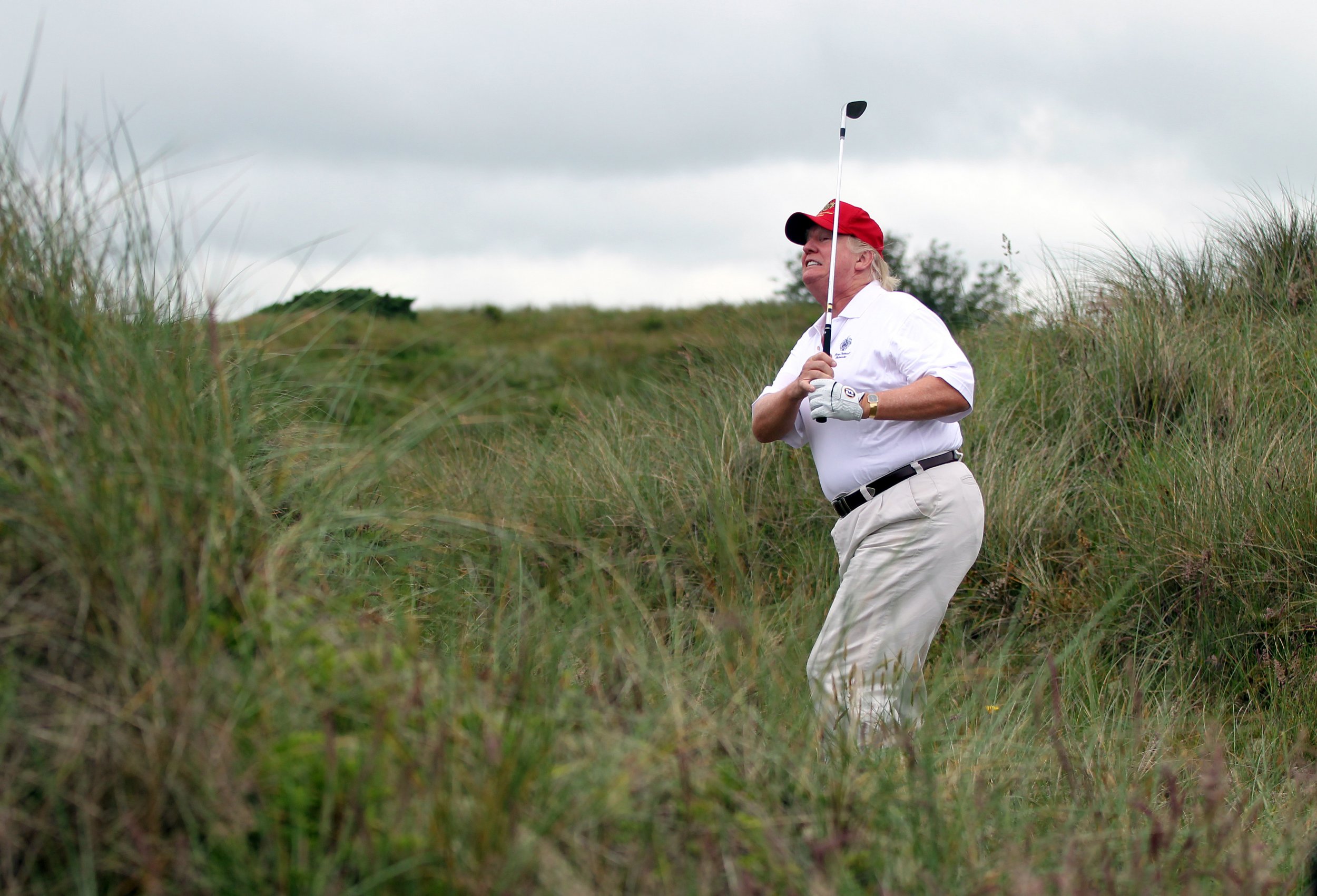 Lawyer George Conway, the husband of counselor to the president Kellyanne Conway, on Tuesday endorsed a new book claiming that President Donald Trump is not nearly as great at golf as he pretends, adding that Trump is still a liar of "Olympic-caliber."
George Conway tweeted a couple of excerpts of former Sports Illustrated columnist Rick Reilly's book Commander in Cheat: How Golf Explains Trump, published by The Guardian.
"At Trump Bedminster in New Jersey, Trump once won a senior club championship from 87 miles away," Conway quoted from the book. "Final score on the '18 club championships': Lies 16, Incompletes 2, Confirms 0. By this time, Trump's nose has grown so long he could putt with it."
Conway then said about Trump: "He may not be as good at golf as he makes himself out to be—but he's still an Olympic-caliber liar."
The lawyer pointed out a claim in the book that Trump at one time threw sports announcer Mike Tirico's golf ball off the green into a bunker. Conway also highlighted an excerpt in which Reilly wrote that caddies "got so used to seeing [Trump] kick his ball back into the fairway they came up with a nickname for him: 'Pele,'" in a reference to the Brazilian soccer legend.
Conway also highlighted Reilly's comment to The Associated Press that "there's been dozens and dozens of people that can declare [Trump] guilty of cheating."
Reilly told the AP that Trump's cheating was what drove him to pen the book. He argues in the book that Trump's very casual approach to the rules of golf has mirrored how he acts as president. Reilly also credits Trump for being a good golfer for his age.
As of midafternoon Tuesday, Trump had not tweeted about Reilly's book.
Despite his wife's senior position in the White House, Conway frequently takes to Twitter to accuse Trump of being a liar.
Last month, after Trump reportedly lied about his not referring to Apple CEO Tim Cook as "Tim Apple," Conway said the president's lying isn't just "immature but pathological." He also said that Trump has a "mental disorder."
Conway tweeted a screenshot of the definition of "antisocial personality disorder" and commented, "It has a name, along with specific diagnostic criteria that include the sort of compulsive, bizarre, pathological lying we see here on virtually a daily basis."
Kellyanne Conway has publicly stated her opposition to her husband's criticism of Trump.