George Conway Says Donald Trump Faces 'Grounds for Impeachment' If He Ordered Block on AT&T-Time Warner Deal
George Conway, the husband of Kellyanne Conway, counselor to the president, tweeted early Monday that if President Donald Trump had ordered ex-White House economic adviser Gary Cohn to pressure the Department of Justice to block the AT&T-Time Warner merger, it would "unquestionably be grounds for impeachment."
Conway, a fierce Trump critic despite his wife's prominent position at the White House, was responding to a New Yorker story that reported Trump had directed Cohn to press the Justice Department to prevent the merger in the summer of 2017.
"I've been telling Cohn to get this lawsuit filed and nothing's happened! I've mentioned it fifty times. And nothing's happened. I want to make sure it's filed. I want that deal blocked!" Trump told then-chief of staff John Kelly, The New Yorker reported, citing "a well-informed source."
"If proven, such an attempt to use presidential authority to seek retribution for the exercise of First Amendment rights would unquestionably be grounds for impeachment," Conway tweeted.
Conway, a partner at Wachtell, Lipton & Katz, proceeded to quote a full paragraph from The New Yorker story in two separate tweets.
"Cohn, a former president of Goldman Sachs, evidently understood that it would be highly improper for a President to use the Justice Department to undermine two of the most powerful companies in the country as punishment for unfavorable news coverage...and as a reward for a competing news organization that boosted him. According to the source, as Cohn walked out of the meeting he told Kelly, "Don't you f***ing dare call the Justice Department. We are not going to do business that way," Conway wrote, quoting directly from the article.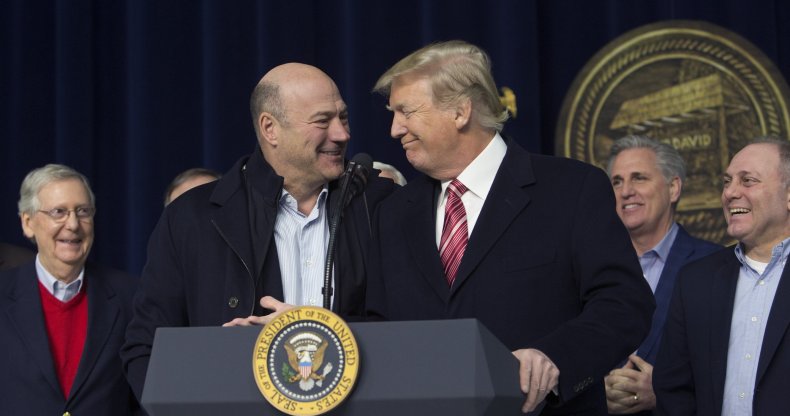 Trump seemed to have opposed the merger because Time Warner owns CNN, which reports critically on Trump and his administration.
A few months after Trump reportedly gave Cohn the order, the Justice Department filed an antitrust suit against the merger. Last year, U.S. District Judge Richard Leon ruled that the merger between AT&T and Time Warner could move forward. Last month, the U.S. Court of Appeals for the D.C. Circuit upheld Leon's decision, a rejection of the Justice Department's attempt to intervene.
On Monday, Conway also retweeted a post by Cass Sunstein, administrator of the White House Office of Information and Regulatory Affairs during the Obama administration, who wrote the book Impeachment: A Citizen's Guide.
"Under the Constitution, use of presidential authority to punish political enemies is an impeachable offense," Sunstein tweeted. "That conclusion emerges from the ratification debates, and it can be traced to the Revolutionary War."