George Conway Fires Back at Nikki Haley, Calls Her 'Shameless' Defense of Trump 'Disgusting, Trashy, and Pathetic'
George Conway, who is best known for being a critic of President Donald Trump while being married to Kellyanne Conway, counselor to the president, called Nikki Haley's recent defense of Trump "disgusting, trashy and pathetic."
Conway's latest criticism began with Representative Elise Stefanik's role during the Democratic-led impeachment proceedings.
Stefanik's profile was raised in the national spotlight for being the youngest woman at 30 years old to be elected to Congress at the time, but her aggressive questioning of witnesses during the Trump impeachment hearing and biting critiques of Representative Adam Schiff have earned her greater support within the Republican party.
"A new Republican star is born," tweeted the president. "Great going @EliseStefanik!"
Conway's response was to post support on Twitter for Stefanik's 2020 opponent in New York's 21st congressional district, Tedra Cobb, where he urged his followers to donate.
".@EliseStefanik is lying trash. Please give to her opponent, @TedraCobb," he wrote.
Former United Nations ambassador and fierce Trump loyalist, Nikki Haley, disagreed with Conway's language, taking to Twitter to voice her irritation.
"This is absolutely uncalled for and disgusting," Haley wrote. "What is wrong with people? George Conway is the last person that can call someone 'trash'. #Pathetic"
Conway, a Yale law graduate, zeroed in on comments Haley made in defense of the president during a Tuesday interview, when she said Trump had been "truthful in every instance" when she had worked for him over the course of two years.
"Oh, @NikkiHaley, just the other day you said that the world's biggest pathological liar, @realDonaldTrump, was a 'truthful' man. *That's* the very essence of disgusting, trashy, and pathetic--utterly shameless and transparent dishonesty," tweeted Conway.
"You'll say anything to get the vice-presidential nomination, won't you, @NikkiHaley?" Conway continued in another tweet.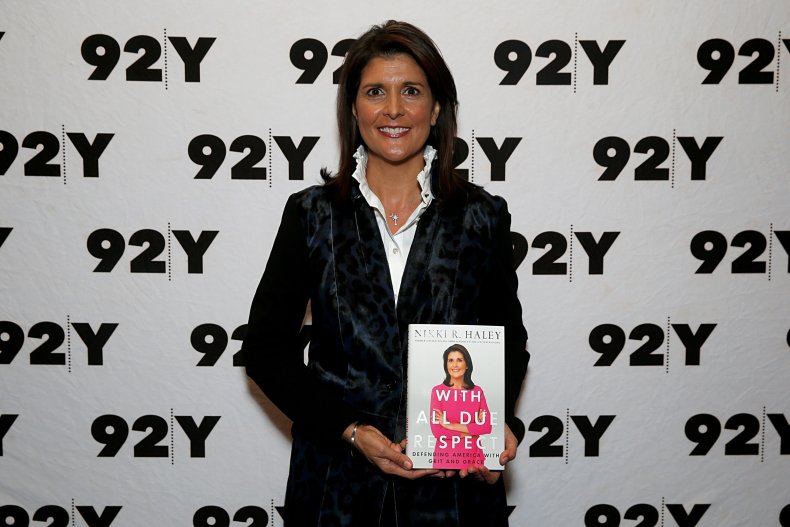 In an interview with Wolf Blitzer, the host said the president had made about 1,200 false claims since July—using the example of Trump saying he won in Alabama by 42 points when he won by 28—and asked Haley if she could really say Trump has been truthful to the American people.
"I think he is—I know from being a public official and being around lots of elected officials, you can slip up at times and get things wrong, and that can happen, um, but I think overall everyone tries to be truthful, everyone tries to do the right thing," Haley said of the president, neatly side-stepping the question by staying focused on generalities and her personal interactions with him.
"And—you know, but all I can tell you is from my experience and in my experience he was always truthful with me and always truthful in the issues that we were working on," she said.