George Conway Hits Back After Trump's 2020 Campaign Manager Invokes Wife Kellyanne in Twitter Spat
George Conway slammed President Donald Trump's 2020 campaign manager, Brad Parscale, after the official issued a personal attack against the husband of White House senior counselor Kellyanne Conway.
Parscale's initial criticism came in a tweet commenting on a sarcastic post by George Conway. In his tweet, the attorney and staunch Trump critic shared a post highlighting the book cover of The Toddler In Chief, which includes an image of the infamous Trump baby balloon. Conway quipped, "Who cares if there's any text."
Trump's campaign manager then retweeted Conway's post, describing the attorney as "irrelevant" and a "lost puppy."
"I remember how irrelevant you were when I met you, how far you have come with hate! Soon you will be irrelevant again, can't wait! I remember you sitting at @KellyannePolls table waiting for attention like a lost puppy," Parscale tweeted. "#JustSayin, I really thought you were her body man."
Conway then shot back with his own recollection of the meeting, writing, "I remember how you repeatedly kept apologizing profusely to her because, in your words, you 'don't know anything about politics.' You still don't."
The prominent Trump critic proceeded to retweet several posts linking to a September investigative article by ProPublica that highlighted what it said was previous misinformation and lies Parscale has said about himself. In one of those tweets, which was posted by ProPublica, the caption read: "Brad Parscale has said he's taking a relative pittance to run the president's reelection operation. But as with much of what Parscale has claimed about his work and life, that's not the full story. This is."
Although Conway's wife is a close adviser to the president and one of his most prominent defenders to the media and the public, her husband has become an ardent Trump critic. A former Republican, Conway became an independent in 2018 and has actively voiced his support for the president's impeachment. Meanwhile, Kellyanne Conway has led the White House's efforts to spin and deflect allegations against Trump, often attacking Democrats as well as the media.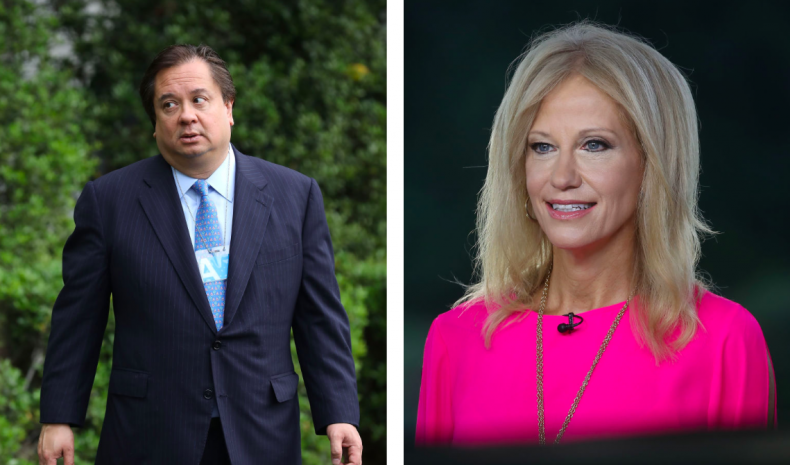 Earlier this week, George Conway called out his wife directly on Twitter, something that the couple had avoided in the past.
"WATCH: Sleepy Joe is Creepy Joe," Kellyanne Conway tweeted on Monday, sharing an awkward viral clip of remarks by Democratic presidential candidate Joe Biden. "We need Ukraine's help to defeat THIS guy?" she quipped.
Her husband then responded, retweeting her post and writing: "Your boss apparently thought so."
Trump's efforts to pressure Ukraine to investigate unsubstantiated claims that Biden acted corruptly to benefit his son Hunter's business dealings in the nation—as well as his request for a probe into the debunked conspiracy theory that Ukraine interfered in the 2016 presidential election—are at the center of the impeachment inquiry underway in the House.
On Thursday, House Speaker Nancy Pelosi said she has asked the House Judiciary Committee to move forward with drafting articles of impeachment, following several weeks of testimony from current and former top administration officials and legal experts.