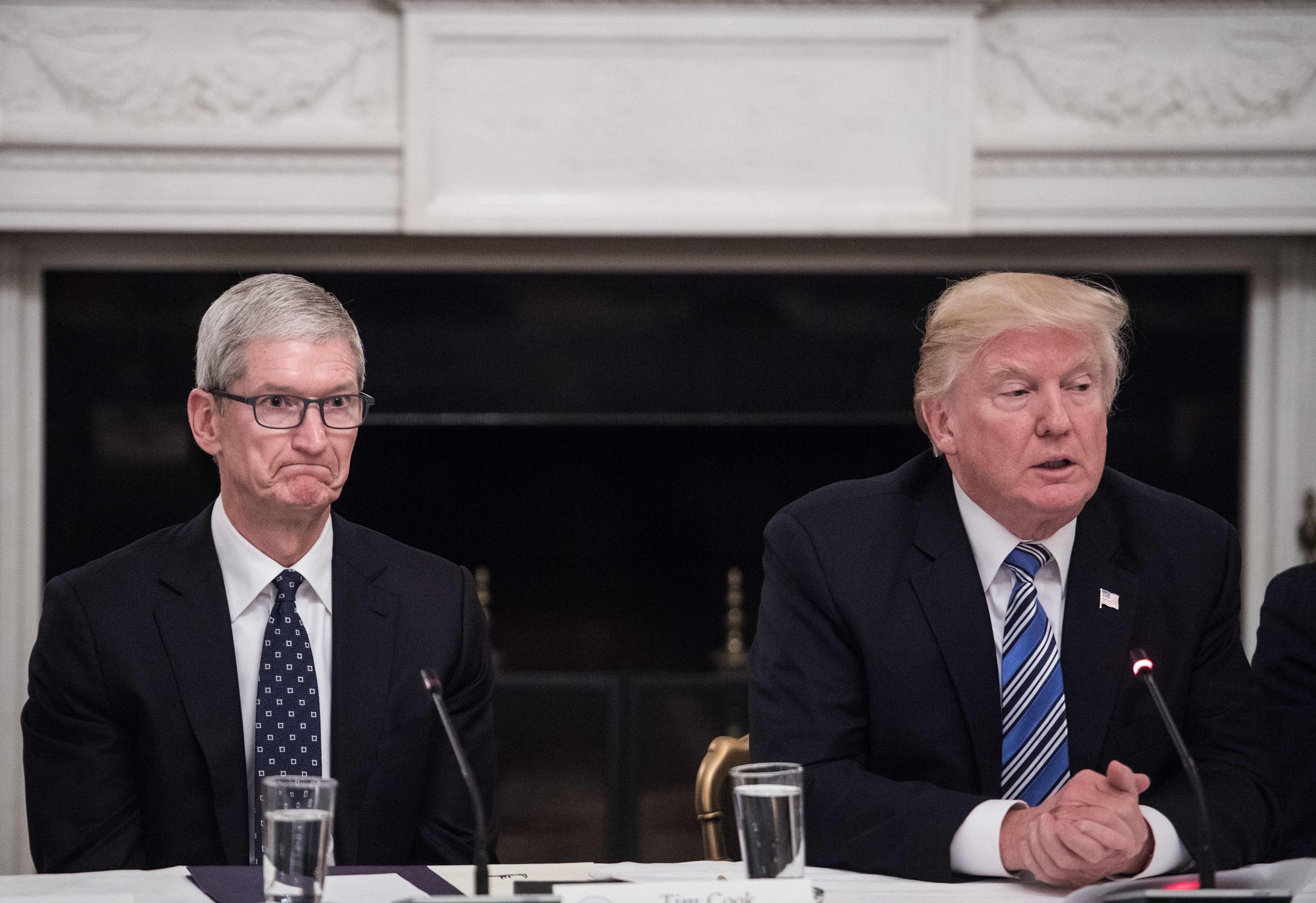 Lawyer George Conway, whose wife is counselor to the president Kellyanne Conway, on Monday morning continued to rip President Donald Trump over his reported lie about saying "Tim Apple," by arguing that Trump's lying isn't merely "immature but pathological."
George Conway tweeted his thoughts after Axios reported Sunday that Trump told Republican donors that he said "Tim Cook Apple" quickly and "Cook" very softly, instead of calling Apple CEO Tim Cook "Tim Apple," as captured on video at a meeting in the White House last week.
Kellyanne Conway's husband quote tweeted a post by former Justice Department Inspector General Michael Bromwich stating, "POTUS can't admit a mistake of any kind no matter how trivial. Instead of admitting, ignoring, or laughing about his slip of the tongue like a mature adult, he lies about it. It's instinctive."
"But also—lying about it even though he was on video," George Conway commented. "So not just immature, but pathological."
Trump called Cook "Tim Apple" at an American Workforce Policy Advisory Board meeting with the Apple CEO on Wednesday, and the comment went viral with Cook even changing his last name on Twitter from "Cook" to the Apple logo.
Though Cook seemed to take Trump's error lightheartedly, Trump has not let it go.
The president reportedly told Republican donors at his Mar-a-Lago resort in Florida on Friday night that the media was putting out "fake news" about him saying "Tim Apple."
"I just thought, why would you lie about that," an anonymous donor at the event told Axios. "It doesn't even matter!"
George Conway began making a case for Trump as a pathological liar on Sunday. He claimed that Trump has a "mental disorder" and hashtagged a series of tweets with "#SummaCumLiar."
"And it has a name, along with specific diagnostic criteria that include the sort of compulsive, bizarre, pathological lying we see here on virtually a daily basis," George Conway tweeted, along with a screenshot on antisocial personality disorder.
On Monday morning, George Conway also quote-tweeted CNN anchor and chief national security correspondent Jim Sciutto stating that Trump's "Tim Apple" remark was reminiscent of Trump claiming that he misspoke during his remarks during a July 2018 press conference with Russian President Vladimir Putin in Helsinki. Trump said, "I don't see any reason why it would be" Russia interfering in the 2016 election, but then claimed he simply omitted a word. "The sentence should have been 'I don't see any reason why... it wouldn't be Russia,'" the president said.
"Very much so," George Conway commented on the resemblance. "Equally bizarre and pathological."
Trump clearly was still disturbed by the matter on Monday morning, continuing to deny he made a mistake.
"At a recent round table meeting of business executives, & long after formally introducing Tim Cook of Apple, I quickly referred to Tim + Apple as Tim/Apple as an easy way to save time & words," Trump tweeted. "The Fake News was disparagingly all over this, & it became yet another bad Trump story!"