Kellyanne Conway's Husband Suggests Donald Trump Is Guilty of Obstruction of Justice, Witness Tampering With Latest Tweet
George Conway, the husband of White House counselor Kellyanne Conway, seemed to accuse Donald Trump of witness tampering and obstruction of justice on Monday after the president praised Roger Stone for refusing to testify against him.
"'I will never testify against Trump.' This statement was recently made by Roger Stone, essentially stating that he will not be forced by a rogue and out of control prosecutor to make up lies and stories about 'President Trump.' Nice to know that some people still have 'guts!'" the president tweeted on Monday morning.
Conway, an attorney and outspoken critic of Trump, retweeted the president's social media post, writing: "File under '18 U.S.C §§ 1503, 1512.'" Conway was referring to constitutional statutes for obstruction of justice and witness tampering.
Norm Eisen, the White House ethics chief under President Barack Obama, also suggested that Trump was actively participating in witness tampering. Eisen said that under the statute it was illegal to "cause or induce any person to withhold testimony.
"It is amazing how much problematic conduct Trump has committed in public—like this open evidence of witness tampering. I am not of course ready to conclude that he has broken the law, that's for Mueller to say. But there is substantial and increasing evidence," Eisen said in another social media post.
Newsweek subscription offers >
Stone pledged his loyalty to the president during an interview with ABC's This Week on Sunday, stating that there would be "no circumstance" in which he would testify against Trump. Stone also claimed that special counsel Robert Muller wanted him to "bear false witness against" the president.
"I'd have to make things up. And I'm not going to do that. I've had no discussion regarding a pardon," Stone said.
Stone's comments came as Mueller's investigative team have been closing in on members of Trump's inner circle.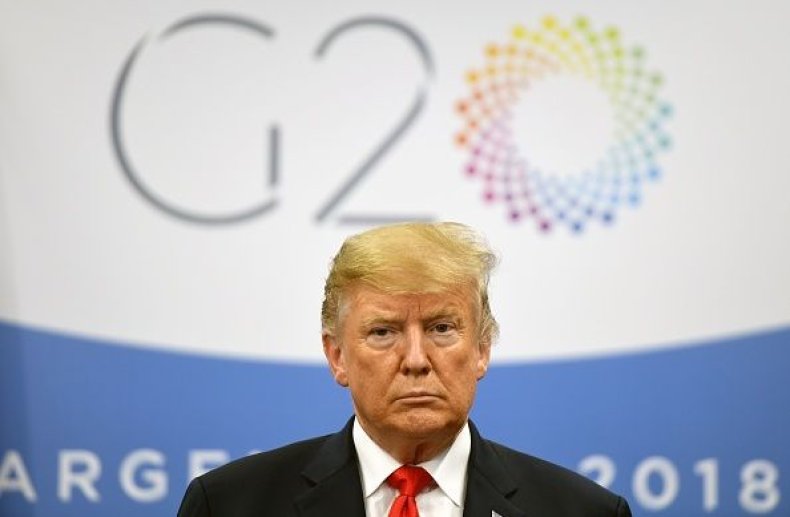 Last week Michael Cohen, the president's former longtime personal attorney, confessed to lying to Congress about Trump's business dealings with Russia as part of a plea agreement with Mueller.
Cohen told a federal judge that negotiations for a Trump Tower real estate project in Moscow were still going on as late as June 2016, one month before Trump won the Republican Party's nomination. In his court statement, Cohen said he had lied "out of loyalty" to Trump and his "political messaging."
Trump slammed both Cohen and Mueller in a series of tweets shortly after Cohen pleaded guilty in federal court last Thursday. On Monday, the president wrote that Cohen did "TERRIBLE" things and that Mueller and "his out of control band of Angry Democrats, don't want the truth, they only want lies."
Kellyanne Conway's Husband Suggests Donald Trump Is Guilty of Obstruction of Justice, Witness Tampering With Latest Tweet | U.S.