George Conway Suggests Mike Pence, Donald Trump's Cabinet Consider 25th Amendment Due to President's 'Mental Condition'
Lawyer George Conway, husband of Counselor to the President Kellyanne Conway, suggested Monday morning that Vice President Mike Pence and President Donald Trump's Cabinet seriously consider invoking the 25th Amendment to remove Trump from office due to his "mental condition."
While Conway did not specifically name the 25th Amendment, which allows Cabinet members to remove a president if he or she is "unable to discharge the powers and duties" of the job, it was implied by his Twitter posts reacting to Trump's series of angry tweets on Sunday.
Conway quote-tweeted Bill Kristol, director of the right-leaning advocacy group Defending Democracy Together, who called on Republicans inclined to re-nominate Trump in 2020 to read the president's tweets.
"Think seriously about his mental condition and psychological state. Then tell me you're fine with him as president of the United States for an additional four years," Kristol tweeted.
Conway commented, "Agree with this, but would add that *all* Americans should be thinking seriously *now* about Trump's mental condition and psychological state, including and especially the media, Congress—and the Vice President and Cabinet."
Kellyanne Conway's husband also quote-tweeted MSNBC's The View co-host Ana Navarro-Cárdenas, saying that Trump had tweeted and retweeted 28 times and counting on Sunday: "It's almost as if he's trying to distract and pre-empt. Dear Bob Mueller, anything you'd like to share?"
Trump's many tweets over the weekend touched on a range of topics, including special counsel Robert Mueller, who is expected to release a report on his probe into Russian interference and possible collusion with the Trump campaign soon. "Don't assume that the things he says and does are part of a rational plan or strategy, because they seldom are. Consider them as a product of his pathologies, and they make perfect sense," Conway remarked.
The lawyer also posted screenshots of the official diagnostic criteria for a narcissistic personality disorder and antisocial personality disorder from the DSM-5, both in reference to Trump.
Conway also retweeted Joyce Alene, U.S. attorney in Birmingham during President Barack Obama's administration, endorsing his tweet suggesting the 25th Amendment for "Trump's mental condition."
"Instead of all Americans 'thinking' about it, I'd like to see those with knowledge & the capacity to act do so, if they believe it's their duty," Alene tweeted.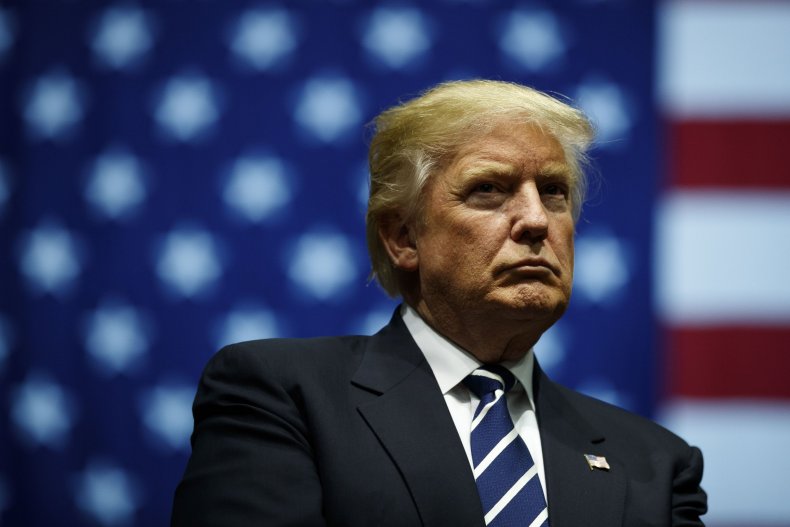 Last month, Trump quoted comments Harvard Law Schoool professor Alan Dershowitz made on Fox News, pushing back on former FBI Deputy Director Andrew McCabe's comment that top law enforcement officials discussed invoking the 25th Amendment.
"Trying to use the 25th Amendment to try and circumvent the Election is a despicable act of unconstitutional power grabbing...which happens in third world countries. You have to obey the law. This is an attack on our system & Constitution." Alan Dershowitz," Trump tweeted.
Kellyanne Conway, one of Trump's longest-serving administration officials, on Monday morning slighted her husband and said she did not "share" his concerns about her boss's mental fitness.
"I have four kids and I was getting them out of the house this morning to talk to the president about substance, so I may not be up to speed on all" her husband's tweets, she told reporters.