George Conway Mocks #Sharpiegate and Donald Trump's Saudi Arabia Ties With Doctored Constitution
George Conway, the husband of Counselor to the President Kellyanne Conway, on Monday morning after the Saudi Arabian oil attacks mocked President Donald Trump's alleged ties to the Saudi royal family with a Sharpie-gate-style doctored image of the U.S. Constitution's War Power Clause.
A zoomed-in image of the Constitution tweeted by conservative lawyer George Conway had added in bold black handwriting, "The Saudi royal family shall have the power." A caret followed the extra text placed in front of Article I, Section 8, Clause 11, or the War Power Clause, which states that Congress shall have power "To declare War."
"Gosh, I went back to take a look at Art. I, sec. 8, cl. 11 of the Constitution, and it looks like someone recently amended it," George Conway commented.
The black writing was a reference to #Sharpiegate trending on Twitter earlier this month after Trump discussed Hurricane Dorian with a National Oceanic and Atmospheric Administration (NOAA) map that had an added black line putting the storm's predicted trajectory on track for Alabama to support the president's claim on Twitter. Despite being called out because his tweet came after NOAA indicated the hurricane would not hit Alabama, Trump has not admitted a mistake.
Asked for comment by Newsweek on his tweet, George Conway replied in a message, "res ipsa," and typed out a smiley face, ":)."
"Res ipsa" is short for "res ipsa loquitur," which is Latin for "the thing speaks for itself."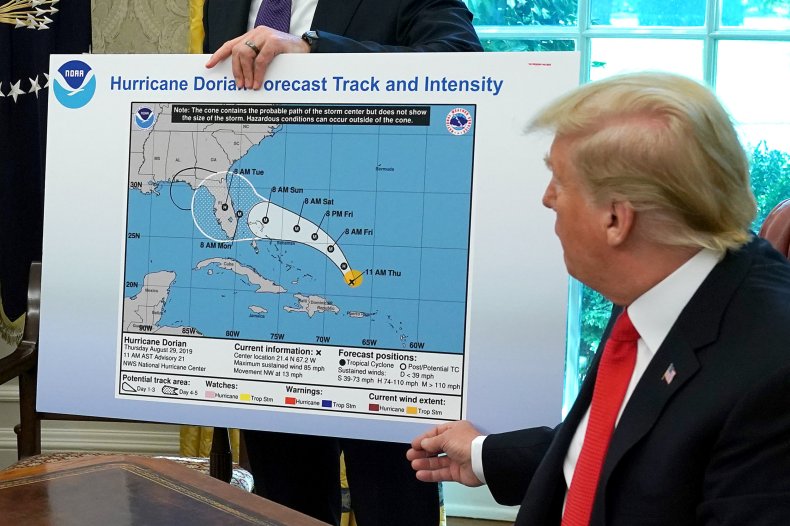 Through several retweets on Monday, George Conway made it clear that his doctored image addressed Trump's tweet from Sunday night acknowledging the weekend attacks on important Saudi Arabian oil facilities. Trump's tweet did not identify who he believes is responsible for the attacks, as the president said he had to first consult with Saudi Arabia to see who they think is behind the incident.
"Saudi Arabia oil supply was attacked. There is reason to believe that we know the culprit, are locked and loaded depending on verification," Trump tweeted, "But are waiting to hear from the Kingdom as to who they believe was the cause of this attack, and under what terms we would proceed!"
George Conway retweeted Congressman David Cicilline's quote tweet of Trump and comment that Congress has the power to declare war.
"If the President wants to use military force, he needs Congress - not the Saudi royal family - to authorize it," Cicilline tweeted.
George Conway retweeted a sarcastic remark by Daniel Drezner, a professor at Tufts University's Fletcher School of Law and Diplomacy who also quote tweeted Trump.
"Look, if there is anything that white working-class voters in Ohio and Wisconsin wanted, it was to transfer Congress' authority to declare war to the Saudi royal family," Drezner commented.
Kellyanne Conway's husband also retweeted Mother Jones' Washington, D.C. bureau chief David Corn, who pointed out Trump's friendly treatment of Saudi Crown Prince Mohammed bin Salman (MBS). Trump defended Saudi Arabia even after the Central Intelligence Agency determined that the prince ordered the killing of Saudi dissident and U.S.-based journalist Jamal Khashoggi.
"MBS is a liar who covered up the murder of a Washington Post journalist. @realDonaldTrump is a liar who has lied about...well, everything," Corn commented on his quote tweet of Trump. "The word of neither of them should be the basis for war."
In July, Trump sided with the Saudi royal family over Congress by vetoing three resolutions that tried to block weapons sales to Saudi Arabia.
George Conway Mocks #Sharpiegate and Donald Trump's Saudi Arabia Ties With Doctored Constitution | World