George Conway Mocks Trump for Drawing Attention to Negative News Story: 'Such a Stable Genius'
Attorney George Conway — husband of White House counselor Kellyanne Conway — once again mocked President Donald Trump on Sunday morning, pointing out that the commander-in-chief had inadvertently encouraged a lot of people want to read a negative news story about the president by trying to criticize it on Twitter.
Early Sunday Morning, the president tweeted a denial about a new article on alleged tensions in the White House: "The Washington Post Story, about my speech in North Carolina and tweet, with its phony sources who do not exist, is Fake News. The only thing people were talking about is the record setting crowd and the tremendous enthusiasm, far greater than the Democrats. You'll see in 2020!"
CNN's Jake Tapper then retweeted the president, sharing a link to the article in question. "Here's the Washington Post story: 'He always doubles down': Inside the Political Crisis Caused by Trump's Racist Tweets,'" he wrote.
Tagging Trump and re-tweeting Tapper, Conway wrote: "Now everyone who didn't know about it wants to read the story that you referred to. You're such a stable genius!"
Journalists for The Post spoke with 26 White House aides, advisers, lawmakers and others involved in the response in the aftermath of Trump's racist attack on four progressive Democratic congresswomen last week. "President Trump's own top aides didn't think he fully understood what he had done last Sunday, when he fired off a trio of racist tweets before a trip to his golf course," the opening line of the article said. It then detailed how aides and lawmakers attempted to explain the controversy to the president and deal with the backlash.
Tweeting more about the article on Sunday, Conway suggested that those working closely with the president try to convince themselves that the president doesn't understand what he is doing in order to avoid introspection. "Some avoid those 'uncomfortable questions' by convincing themselves that @realDonaldTrump is a not-too-bright, unfairly picked-on albeit bratty child who can't help but soil himself, and that they perform a public service by constantly trying to change his political diapers," he wrote.
Conway's wife, Kellyanne Conway, is a prominent White House counselor who frequently defends the president and his administration in television appearances and through press conferences. She was also called out and strong criticized last week after she asked a reporter what his ethnicity was. Despite his marriage to the prominent Trump defender, Conway has become one of Trump's harshest critics on Twitter.
Trump last Sunday tweeted that progressive Democratic congresswomen should "go back" to the countries "from which they came." He added: "you can't leave fast enough." Although he did not mention specific names, it was clear that he was referring to Representatives Alexandria Ocasio-Cortez of New York, Rashida Tlaib of Michigan, Ayanna Pressley of Massachusetts and Ilhan Omar of Minnesota. All are women of color and three of the four were born in the U.S. as American citizens. Omar was born in Somalia and immigrated to the U.S. as a young girl. She became a naturalized U.S. citizen nearly twenty years ago in 2000.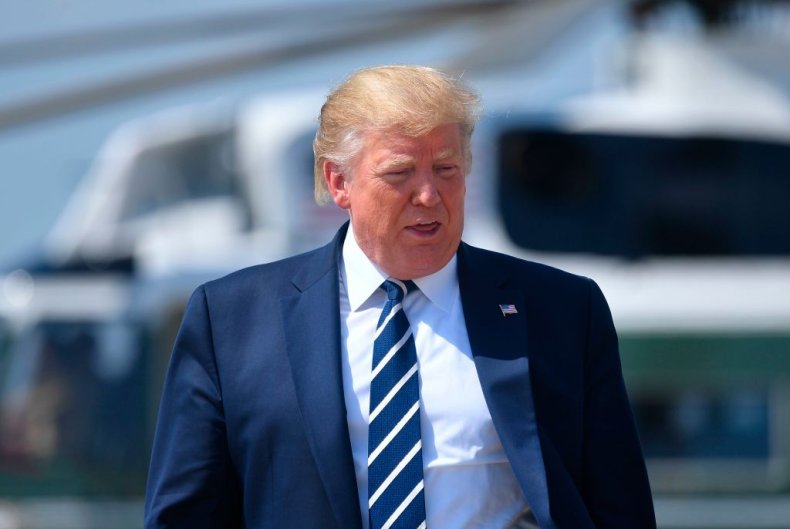 Democrats and some Republicans were quick to condemn the president's remarks as racist and xenophobic. But Trump doubled down on the comments throughout the week and his supporters then chanted "send her back" repeatedly as the president paused to let them carry out the chant during a North Carolina rally. The chant came as he attacked Omar, claiming inaccurately that she and the other congresswomen hate America.
On Sunday morning, Trump continued his attack on the congresswomen. "I don't believe the four Congresswomen are capable of loving our Country," he wrote, arguing that "they should apologize to America."
The House of Representatives, which is controlled by Democrats, last week voted to officially condemn the president's racist criticism of the four congresswomen. Only four Republicans and independent Justin Amash, who officially left the GOP earlier this month, voted with their Democratic colleagues to condemn the president's remarks.