George Conway Mocks Trump's Impeachment Twitter Barrage Hours Before House Vote: 'You Seem Unhappy'
Outspoken Trump critic George Conway quietly trolled President Donald Trump on Twitter as the impeachment drama unfolded Wednesday in the House of Representatives. Conway is the husband of senior White House counselor Kellyanne Conway.
As members of the House headed towards a vote that would make Trump only the third sitting president to be impeached, Trump lambasted the proceedings via Twitter, using all capital letters and four exclamation points.
"SUCH ATROCIOUS LIES BY THE RADICAL LEFT, DO NOTHING DEMOCRATS," Trump tweeted. "THIS IS AN ASSAULT ON AMERICA, AND AN ASSAULT ON THE REPUBLICAN PARTY!!!!"
In a complete reversal of Trump's style of tweeting, Conway responded "you seem unhappy" in all lowercase, using no punctuation.
Conway also retweeted a photo of "Santa's Naughty List," which included Trump, Vice President Mike Pence, Senate Majority Leader Mitch McConnell and others.
"Trump's been naughty; we've been nice," Conway tweeted. "So he and we are getting his impeachment for Christmas."
Newsweek reached out to George Conway for comment but did not receive a response in time for publication.
Conway has been critical of Trump's presidency to the point of publicly questioning Trump's mental health in an article in The Atlantic.
"You don't need to be a weatherman to know which way the wind blows," Conway wrote, "and you don't need to be a mental-health professional to see that something's very seriously off with Trump—particularly after nearly three years of watching his erratic and abnormal behavior in the White House."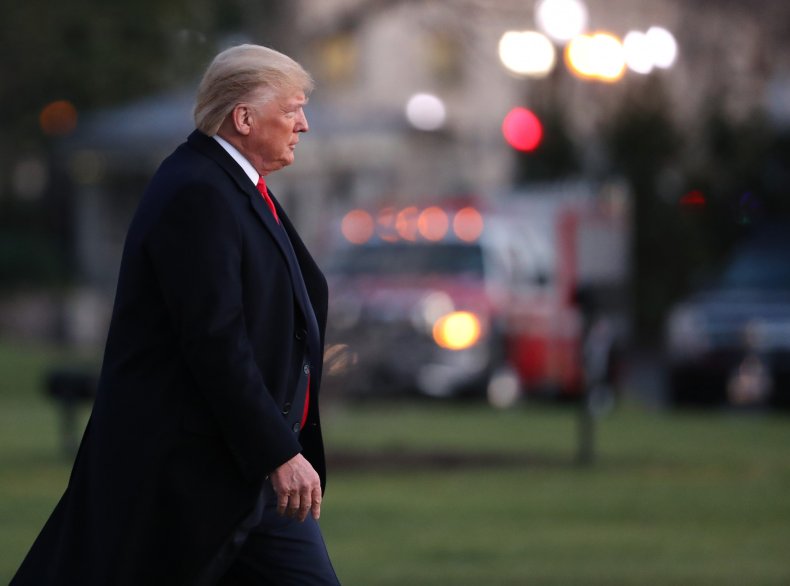 As previously reported by Newsweek, Conway and other Republicans have founded a political action committee known as the Lincoln Project dedicated to getting Trump and his followers out of office.
While Trump has been in a war of words with Conway, the president has been relatively protective of Conway's wife, Kellyanne. Trump refused to fire her in June after independent federal agency The Office of Special Counsel found she had repeatedly violated the Hatch Act, which prohibits federal employees from engaging in some partisan political activities.
"No, I'm not going to fire her," Trump told Fox & Friends in June. "I think she's a tremendous person, tremendous spokesperson. She's loyal. She's a great person. They have tried to take away her speech and I think you're entitled to free speech in the country."
That hasn't left Kellyanne Conway out of Trump's line of sight, especially where her husband is concerned. During a November interview on Fox & Friends, Trump referred to George Conway as a "whack job."
"Kellyanne is great but she's married to a total whack job," Trump said. "I don't know what Kellyanne did to that guy because I don't even know him. He's got to be some kind of a nut job. She must have done some bad things to him because that guy's crazy."