Lawyer George Conway has changed his Twitter cover photo to an image of the moon protruding from Mars, mocking his wife Kellyanne Conway's boss President Donald Trump who tweeted last Friday that NASA should not go to the moon and instead focus on "Mars (of which the Moon is a part)."
George Conway told Newsweek on Wednesday that he updated his cover photo "Last Friday, I believe," in line with Trump's remark. Asked to explain his new cover photo, which is not accompanied by any text, he said, "As we say in the law, res ipsa loquitur," which is Latin for "the thing speaks for itself."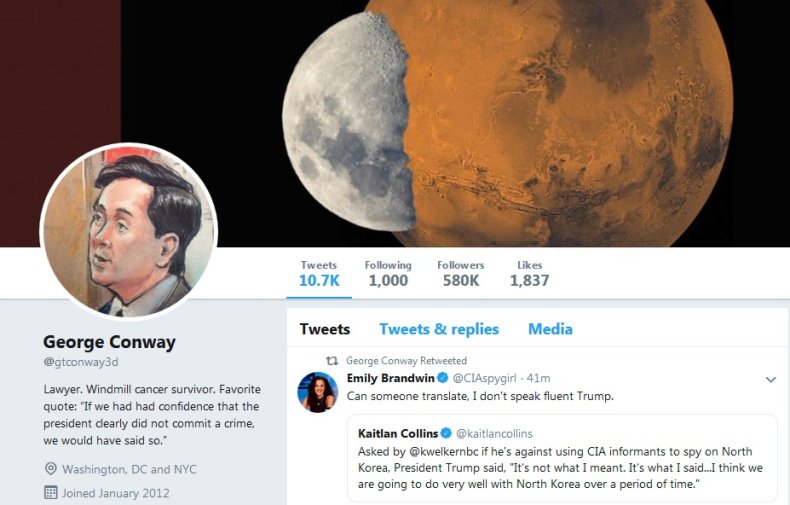 Trump, who in May expressed pride about sending NASA back to the moon, made headlines on social media Friday when he appeared to change his mind about an hour after Fox Business Network anchor Neil Cavuto said, "didn't we do this moon thing quite a few decades ago?"
"For all of the money we are spending, NASA should NOT be talking about going to the Moon - We did that 50 years ago," Trump tweeted, his comments strikingly similarly to Cavuto's. "They should be focused on the much bigger things we are doing, including Mars (of which the Moon is a part), Defense and Science!"
Twitter users including Conway ridiculed Trump for seeming to claim that the moon is a part of Mars, though the president's comment could have referred to NASA's talking point that revisiting the moon would benefit efforts to one day reach Mars.
"We def must go to moon as a part of mars but only as long as we maintain funding for research on windmill cancer," Conway tweeted on Friday, referencing Trump's false claim in April that windmills cause cancer.
Shortly after that development, Conway updated his Twitter profile description from stating only "Lawyer" to also include "Windmill cancer survivor."
On Wednesday, Conway's Twitter profile included a "favorite quote," in addition to the new moon and Mars image. 'If we had had confidence that the president clearly did not commit a crime, we would have said so,'" the quote reads. The quote is from special counsel Robert Mueller, spoken during a press conference last month where Mueller declined to clear Trump of obstruction of justice.
The last capture of Conway's Twitter page by the Internet archive Wayback Machine, from May 28, showed the lawyer's Twitter cover photo was the president's podium in the White House Rose Garden with "I am a loony tune," and "$102 million golfing" photo-shopped in.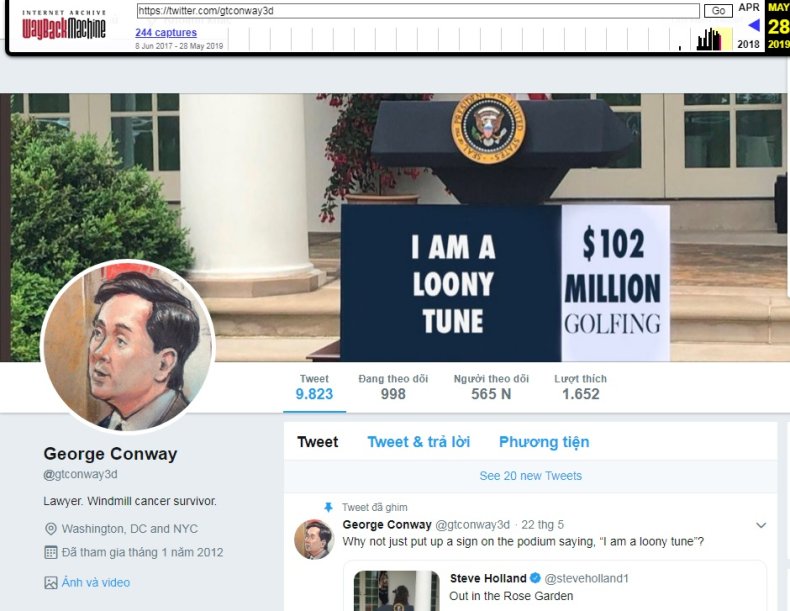 Conway continues to rip Trump on Twitter while his wife serves as counselor to the president and defends her boss just as passionately.
Trump showed he is aware of the lawyer's criticisms by hitting back in March.
"George Conway, often referred to as Mr. Kellyanne Conway by those who know him, is VERY jealous of his wife's success & angry that I, with her help, didn't give him the job he so desperately wanted," Trump tweeted. "I barely know him but just take a look, a stone cold LOSER & husband from hell!"