George Conway Describes Nikki Haley's Claim That Trump Is Truthful as 'Shameless and Atrocious'
Conservative lawyer George Conway on Sunday morning called former ambassador to the United Nations Nikki Haley's claims that President Donald Trump is "truthful" and fit for office as both "shameless and atrocious."
Haley, who left her post last December, expressed her view that her former boss speaks the truth and is fit to be president on NBC's Today show on Tuesday.
"I never had any concern on whether he could handle the job, ever," Haley said. "In every instance that I dealt with him he was truthful, he listened, and he was great to work with."
Conway shared a story on Haley's comments and tweeted: "This, and her assertion that Trump is fit for office, are shameless and atrocious."
He went after Haley the day of her television appearance, sharing a clip of Today co-anchor Savannah Guthrie asking how Trump asking Ukraine to investigate his 2020 rival was putting America first.
"I mean, Ukraine has always been an issue with corruption," Haley replied. Conway commented: "What. A. Joke."
Conway added about the clip: "Every time I see someone sacrifice her integrity like this for @realDonaldTrump, I think of that line from the Bourne Identity and the Bourne Conspiracy: 'Look at us. Look at what they make you give.'"
In a scene from the movie The Bourne Identity, a wounded government assassin expresses grief over giving up everything in the role of a government killer.
Haley has on occasion been critical of Trump since leaving the administration.
In August when Democratic Congressman Elijah Cummings' house was robbed and Trump tweeted sarcastically, "Really bad news!" and "Too bad!" Haley replied to the president, "This is so unnecessary, along with a rolling eyes emoji.
Conway at the time encouraged Haley to further criticize Trump by tweeting, "Come on out, Nikki, the water's warm. Be on the right side of history. Be on the right side."
But in her Today show appearance, Haley sided with Trump. She called him "stronger on Russia than any previous president," contradicting her claim in her recent book that she was the only administration official who challenged him when he refused to criticize Russian President Vladimir Putin in a joint press conference.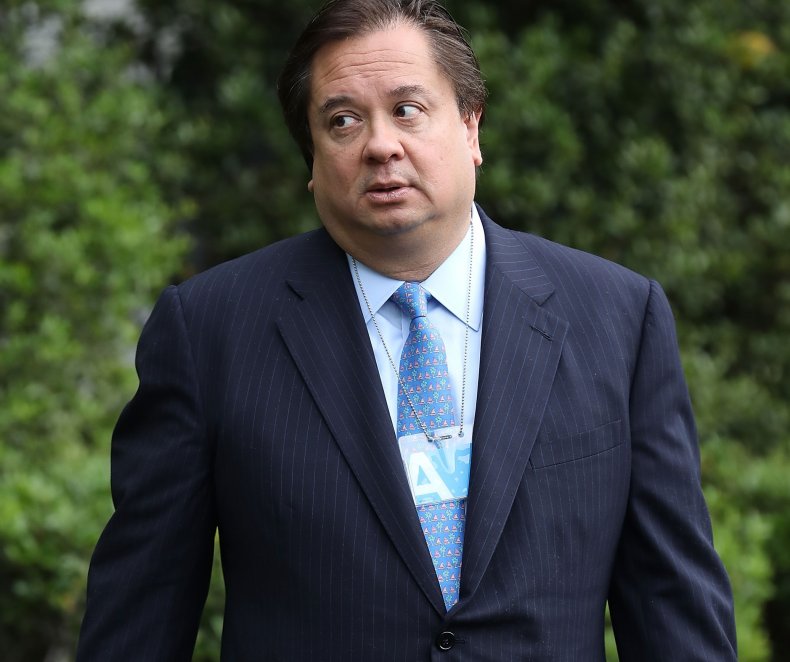 George Conway criticizes Trump on a daily basis despite being married to Counselor to the President Kellyanne Conway. He made a surprise appearance on MSNBC last week to remark on Trump's impeachment hearings and opined that "Republicans are just shooting away their credibility" by defending Trump.