George Conway Predicts Trump Will Have 'Unhinged, Delusional, Narcissistic' Meltdown at SOTU Over Impeachment
Conservative attorney George Conway, who's also the husband of Counselor to the President Kellyanne Conway, on Monday agreed with a prediction that Donald Trump will have an "unhinged, delusional, narcissistic" meltdown during his upcoming State of the Union (SOTU) address over the ongoing impeachment proceedings against him.
Two days after the Democrat-led House approved two articles of impeachment against Trump—obstruction of Congress and abuse of power—Speaker Nancy Pelosi invited the president to deliver his annual SOTU remarks in early February. White House Deputy Press Secretary Hogan Gidley confirmed that Trump accepted Pelosi's offer.
Following Trump's impeachment, Pelosi also indicated that she will hold off from transmitting articles of impeachment to the Senate until Republicans agree to a fair trial.
"This week, the House solemnly honored our oath of office by passing the articles of impeachment," Pelosi wrote in a letter to her Democratic colleagues. "It now remains for the Senate to present the rules under which we will proceed."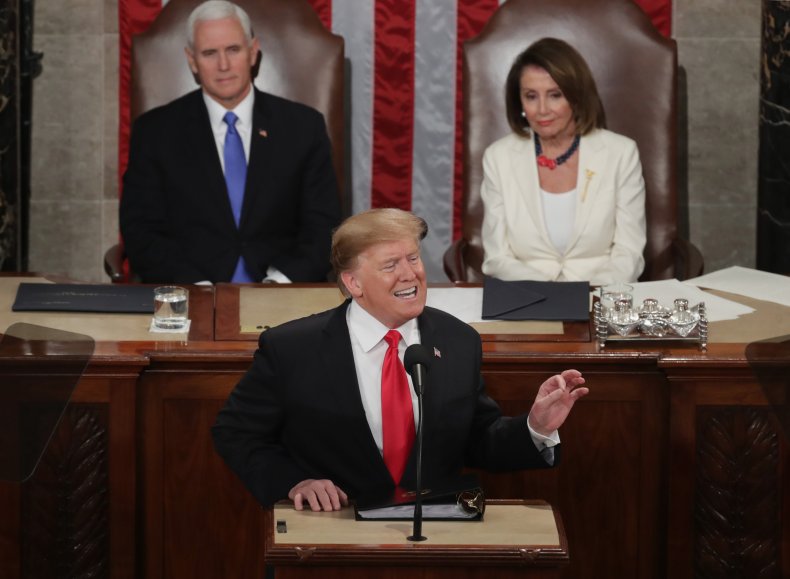 Paul Rosenzweig, former deputy assistant secretary for policy in the Department of Homeland Security, subsequently floated a theory on Twitter: "I think I may have figured out why@SpeakerPelosi is holding the articles of impeachment (or at least part of the reason): She wants to make sure that when POTUS gives the SOTU on Feb 4, he is still under impeachment."
"Imagine what it would be like if he got to give the SOTU having been cleared by the Senate -- it would be a full-blown triumphal rant," he explained. "But if the impeachment is still pending, it might, instead, be an unhinged narcissistic screed of almost unimaginable insanity."
In response, Conway, one of the president's loudest critics online, agreed with Rosenzweig's prediction and called Trump an "unhinged, delusional, narcissistic" psychopath.
"Ding ding ding ding," he tweeted. "I'll take "Unhinged, Delusional Narcissistic Psychopaths" for $500, Alex."
Newsweek reached out to Conway for further comment but did not receive a response in time for publication.
Over the past six months, The conservative attorney, 56, has launched near-constant attacks against his wife's boss over his allegedly inadequate performance in the Oval Office. Although the Conways have largely ignored questions from reporters about their marriage, Kellyanne's husband called his wife out directly on Twitter for the first time earlier this month.
"WATCH: Sleepy Joe is Creepy Joe. We need Ukraine's help to defeat THIS guy?" Kellyanne tweeted, alongside a video of 2020 candidate former Vice President Joe Biden. In a retweet of her post, George said: "Your boss apparently thought so."