Conservative lawyer George Conway said that he hopes Russian President Vladimir Putin's successor will release the country's intelligence files on former U.S. President Donald Trump.
"I wonder someday, that maybe we'll have a president in Russia who actually acts in the best interest of the Russian people and behaves himself before the world... maybe we'll see the files on Donald Trump," Conway told CNN's New Day on Thursday. "I think those would be interesting."
On Tuesday, Trump publicly called for a favor from Putin, asking the Russian president to release information on Hunter Biden, the son of his political foe President Joe Biden.
Trump's remarks were widely criticized given the current war in Ukraine, which began after Putin ordered a full-scale invasion of the country over a month ago.
"We're in the middle of this war where Putin, who can't be trusted for a moment, who murders political opponents, who slaughters women and children—and Donald Trump is focused on, what? Himself? Because he wants to get revenge for losing the 2020 election?" Conway said.
"This is Donald Trump leading the Republican Party off the cliff. This is a man for who there is no bottom," he added. "And Republicans are just afraid to call him out."
While conservatives have largely remained silent on Trump's request, Conway—who was once a close Trump ally—isn't the only one to have criticized the former president's comments.
"No former President should ever ask an evil man like Putin for a favor... like Trump did just yesterday," Representative Adam Kinzinger tweeted on Wednesday. "This is absolutely undermining the national security of this country and should be disqualifying for any re-election."
On Thursday, Senator Mitt Romney told NBC News, "I don't think Vladimir Putin ought to be one of the people we go to for favors right now. He's one of the worst people on the planet, and America shouldn't be asking for favors."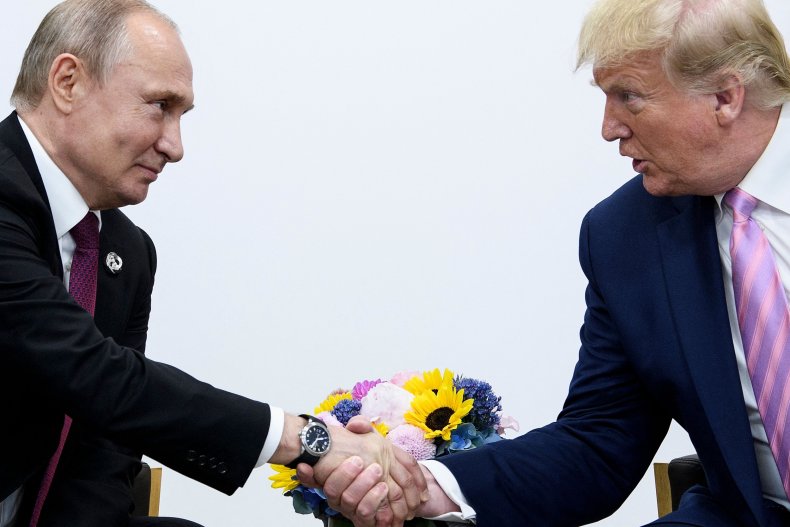 It was reported earlier this week that the federal investigation into Hunter Biden's business practices was much wider in scope than initially believed.
But Conway said that "what matters" is not whether there may actually be incriminating evidence, but that the sitting president has not used his executive powers to pardon his family.
"The point is we don't have a president who is saying, 'This is fake news. These prosecutors are corrupt.' We don't have a president who is trying to disrupt the process of an investigation in the Justice Department to help somebody in his family," he said. "I don't see President Biden pardoning anybody...or pardoning his son or pardoning people who might have anything to do with it—that's the point."
"That's the thing that matters here," Conway continued. "This investigation, however it proceeds, is being allowed to proceed and the President of the United States is not interfering with it."
Although Trump's children and son-in-law Jared Kushner were not among the 143 individuals pardoned during his presidency, there were reports that the former president had discussed the possibility of doing so with his advisers, who talked him out of granting clemency to himself or his family.
The Biden administration has not commented on the ongoing investigation into Hunter Biden, but the White House did fire back at Trump for suggesting that Putin should release potentially damaging information.
"What kind of American, let alone an ex-president, thinks that this is the right time to enter into a scheme with Vladimir Putin and brag about his connections to Vladimir Putin?" White House communications director Kate Bedingfield said at a Wednesday press briefing. "There's only one, and it's Donald Trump."