George Conway Reminds Rudy Giuliani About his Miranda Rights After Trump's Lawyer Attacks John Bolton
George Conway had some advice for President Donald Trump's personal lawyer Rudy Giuliani on Tuesday morning, tweeting out a list of Miranda Rights and suggesting the former New York City mayor read them.
"We know you're not in custody (yet), but you may find nos. 1, 2, and 5 below highly advisable nonetheless," Conway, an attorney and staunch Trump critic despite being married to the president's senior counselor Kellyanne Conway, posted to Twitter.
The specific rights Conway highlighted from the list include: 1) You have the right to remain silent, 2) anything you say can and will be used against you in a court of law and 5) you can decide at any time to exercise these rights and not answer any questions or make any statements.
Conway shared his advice with a retweet of comments from Giuliani about Trump's former National Security Adviser John Bolton. The ex-White House official, who departed from the Trump administration last month, reportedly called Giuliani "a hand grenade" and strongly objected to his efforts, on behalf of the president, to pressure Ukraine to investigate unsubstantiated allegations against former Vice President Joe Biden and a debunked conspiracy theory regarding Democrats and the 2016 election.
The tweet shared by Conway came from NBC News White House correspondent Kristen Welker and included a response to Bolton's criticism from Giuliani. "@RudyGiuliani on Bolton calling him a 'hand grenade.' RG: 'I'm very disappointed that his bitterness drives him to attack a friend falsely...It's really ironic that John Bolton is calling anyone else a hand grenade. When John is described by many as an atomic bomb,'" the original tweet read.
Giuliani's work for Trump is at the center of a fast-moving impeachment inquiry started by Democrats in the House of Representatives last month. The inquiry was formally launched after an anonymous government whistleblower raised concerns about the president's repeated efforts to pressure Ukrainian officials to launch an investigation that could damage his political rival, Democratic presidential candidate Biden. Giuliani traveled to Ukraine on Trump's behalf to dig up dirt on Biden and to push Ukrainian officials to probe a debunked conspiracy theory that Democrats worked with the Eastern European nation to interfere in the 2016 presidential election.
Lev Parnas and Igor Fruman, two associates of Giuliani who assisted him in his efforts with Ukraine, were arrested last week on charges of violating campaign finance laws. They were detained at the airport as they attempted to leave the country with one-way tickets after they'd had lunch with Giuliani at the Trump International Hotel in Washington, D.C.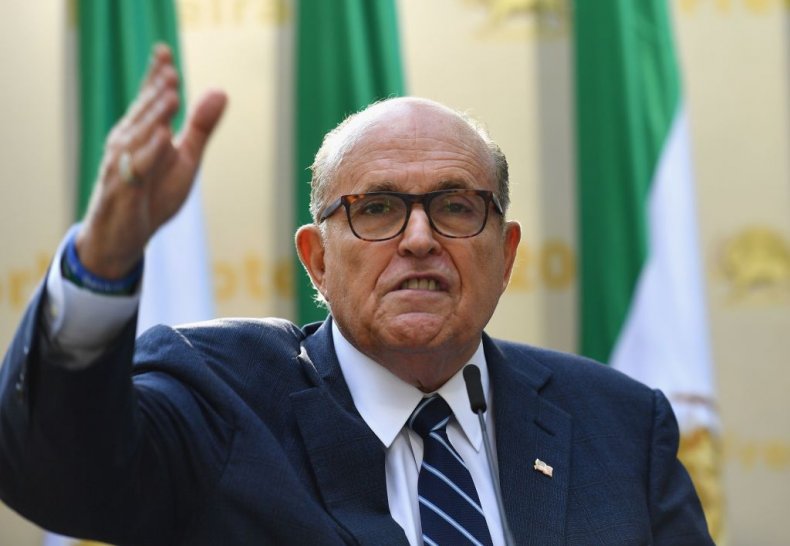 Giuliani told Reuters on Monday that he had been paid $500,000 for work he did on behalf of a company owned by Parnas. According to the president's lawyer, the Florida-based company, called Fraud Guarantee, hired him in August 2018 to consult on its technologies as well as to provide legal advice in regards to regulatory issues. The New York Times had previously reported that Parnas had told associates he'd paid Giuliani hundreds of thousands of dollars for his services.
While Kellyanne Conway is one of Trump's most iconic defenders, regularly appearing before reporters and on Fox News to defend White House policies, her husband trashes the president and his associates on a near daily basis via Twitter. In an interview with Preet Bharara, a former U.S. Attorney for the Southern District of New York, on the Stay Tuned With Preet podcast last week, Conway urged Democrats to move quickly to impeach Trump.
"I think they need to do it in the next several weeks," he said.