George Conway Says Giuliani's Tweet Alone Proves Trump 'Committed an Impeachable Offense' As Giuliani Lawyers Up
George Conway, an attorney and the husband of Counselor to the President Kellyanne Conway, on Wednesday afternoon asserted that Rudy Giuliani's tweet alone proves that President Donald Trump "committed an impeachable offense," shortly after Giuliani announced that he has hired a new legal team to address the Democrat-led impeachment inquiry.
In a series of tweets on Wednesday, Giuliani confirmed he conducted an investigation "concerning 2016 Ukrainian collusion and corruption" and revealed that he hired his own personal counsel as he faces increased backlash amid the impeachment inquiry.
"The investigation I conducted concerning 2016 Ukrainian collusion and corruption, was done solely as a defense attorney to defend my client against false charges, that kept changing as one after another were disproven," the president's attorney tweeted. "The evidence, when revealed fully, will show that this present farce is as much a frame-up and hoax as Russian collusion, maybe worse, and will prove the President is innocent."
Guiliani added that he is now being "represented and assisted by Robert Costello and the Pierce Bainbridge firm in particular, Eric Creizman and Melissa Madrigal."
In response, Conway said that Giuliani's "tweet by itself establishes that [Trump] committed an impeachable offense."
"To say that Giuliani's and Trump's pursuit of 'Ukrainian... corruption' was 'done solely' to protect Trump's interests establishes that Trump was not acting for the country," he added.
Giuliani has been heavily-involved in a scandal involving Trump's foreign policy with Ukraine, which is at the heart of an impeachment inquiry launched by House Speaker Nancy Pelosi in late September. The inquiry centers around allegations that the president pressured Ukrainian President Volodymyr Zelenskiy to probe the family of former Vice President Joe Biden during a phone call in July.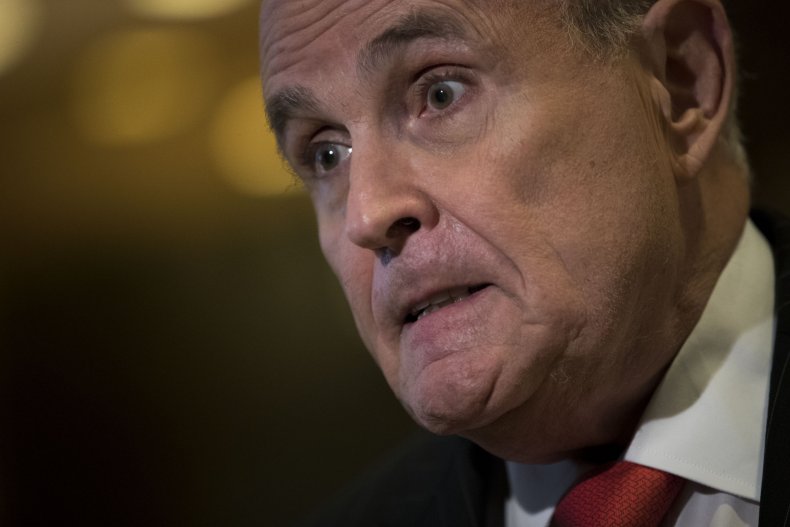 Although a partial transcript of their conversation, released by the White House, shows that Trump had asked Zelenskiy to investigate Biden during the call, the president has repeatedly denied wrongdoing by claiming that there was no quid pro quo.
House Democrats conducting the impeachment investigation on Wednesday released transcripts from closed-door hearings with current and former Trump administration officials, during which several of those testifying said that Giuliani played a key role in implementing the country's foreign policy with Ukraine.
"I think the origin of the idea to get President Zelenskiy to say out loud he's going to investigate Burisma and 2016 election, I think the originator, the person who came up with that was Mr. Giuliani," Bill Taylor, a former United States Ambassador to Ukraine, said in the transcript.
The Democrat-led House formalized their impeachment inquiry last week.