George Conway Says Nobody Told Him About John Weaver After Report Questions What Lincoln Project Knew
Lincoln Project co-founder George Conway on Thursday said that nobody told him about the sexual harassment allegations against the group's other co-founder, John Weaver, following a report questioning what the organization's leadership knew.
"For the record: No one ever told me of these complaints being made to the Lincoln project, and the first I ever heard that Weaver may have done anything questionable were rumors I heard well after the election, and long after I ceased active involvement with the organization," Conway, an attorney, wrote in one tweet replying to a recent report from the Associated Press.
"But I am disappointed in the handling of Weaver, if this report is accurate, and hope it does not detract from the fine work that so many people did on behalf of the Lincoln Project to help rid the country of the scourge of Donald Trump," Conway wrote in another tweet.
The response from Conway come shortly after the AP reported that in June 2020, members of the Lincoln Project's leadership became aware of at least 10 specific allegations of sexual harassment against Weaver "in writing and in subsequent phone calls"—citing multiple people with direct knowledge of the situation.
"The email and phone calls raise questions about the Lincoln Project's statement last month that it was "shocked" when accusations surfaced publicly this year. It's also the first known suggestion that Weaver targeted a Lincoln Project staffer," the AP reported. "Despite the early warning, the group took no action against Weaver and pressed forward with its high-profile work."
In January, The New York Times published a report detailing the allegations against Weaver. The Times interviewed 21 different men, and several of them accused the super PAC's co-founder of sexual harassment online—with many claiming that Weaver promised to help them professionally and personally in exchange for sex.
Several other reports were also published prior to the Times article detailing the accusations against Weaver, including one from The American Conservative.
Following the reports, both the Lincoln Project and Weaver issued statements on the allegations.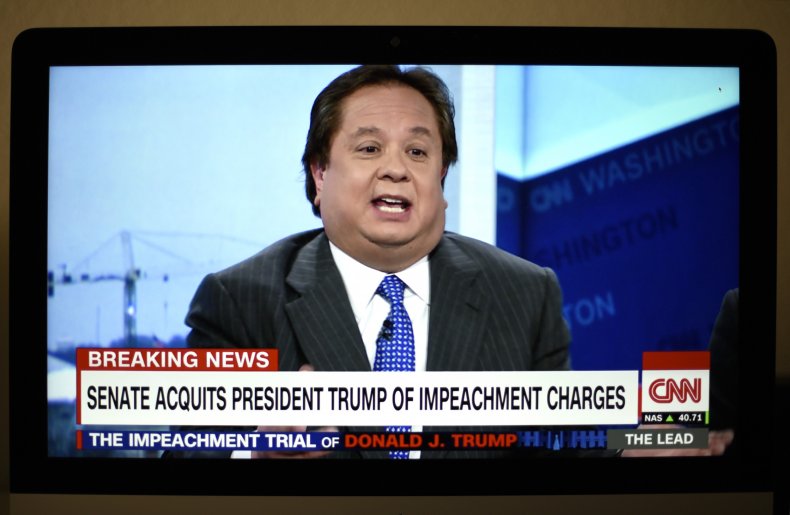 "John Weaver led a secret life that was built on a foundation of deception at every level. He is a predator, a liar, and an abuser. We extend our deepest sympathies to those who were targeted by his deplorable and predatory behavior," the Lincoln Project wrote on January 3, adding that they are "disgusted" and "outraged" by the allegations.
In a statement sent to Axios in January, Weaver said: "To the men I made uncomfortable through my messages that I viewed as consensual mutual conversations at the time: I am truly sorry. They were inappropriate and it was because of my failings that this discomfort was brought on you."
This is not the first time Conway, as well as other members of the Lincoln Project's leadership commented on their relationship with Weaver.
During an interview with MSNBC earlier this month, Conway said: "I didn't know John very well. I frankly only spoke to him a couple times on the phone early on in the Lincoln Project"—adding that "it's terrible and awful and appalling and unfathomable."
In a statement sent to the AP, one of the organization's co-founders, Steve Schmidt, also denied knowing about the internal allegations against Weaver.
"No Lincoln Project employee, intern, or contractors ever made an allegation of inappropriate communication about John Weaver that would have triggered an investigation by HR or by an outside employment counsel," Schmidt said, according to the AP. "In other words, no human being ever made an allegation about any inappropriate sexualized communications about John Weaver ever."
Newsweek reached out to the Lincoln Project for comment, but did not receive a response in time for publication.