George Conway Says Republican Loss in Georgia Would Be 'Better' for Trump and 'His Ego'
President Donald Trump is headed to Georgia this weekend to stump for Republican Senators Kelly Loeffler and David Perdue but George Conway, the husband of Trump's former counselor Kellyanne Conway, doesn't think the president's heart is in the race.
Eyes are on Georgia as candidates continue fierce campaigns ahead of the January 5 runoff elections as control of the Senate is on the line. If Democrats are able to oust Loeffler and Perdue from office, there will be a 50-50 split in the Senate with Vice President-elect Kamala Harris casting the tiebreaking vote. If either Republican candidate is able to keep their seat, Republicans will maintain control, albeit by a slimmer margin than they currently have.
Given that Georgia's runoff elections will determine if Democrats hold control of both the legislative and executive branches, both parties are pouring significant resources into the race. Trump advocated for voters to back Loeffler and Perdue, calling them "great" people, but Conway told The Daily Beast's podcast, The New Abnormal, on Tuesday that Trump doesn't "actually care" about the GOP senators.
"He doesn't care about them, he only cares about himself," Conway said. "It's better for him and better for his ego if they lose."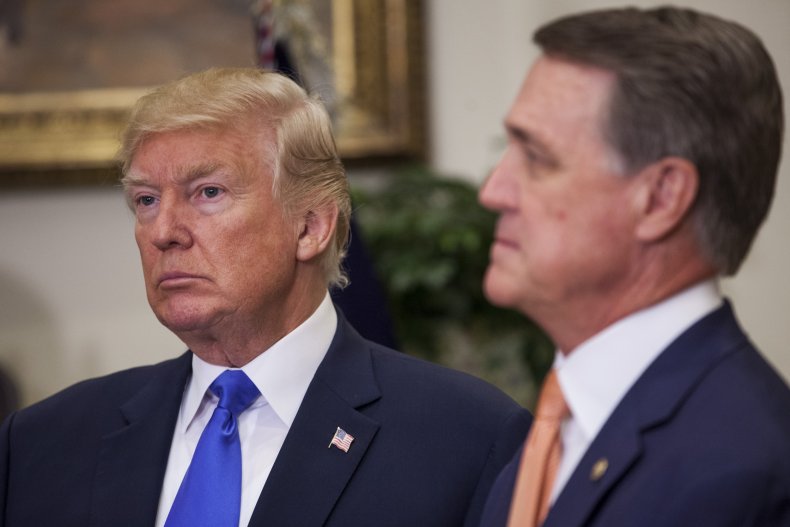 Trump has yet to concede the presidential election and is pressuring Georgia Governor Brian Kemp to take action against the alleged fraud he claims cost him the election. A problem for Trump, according to Conway, is that down-the-ballot Republicans did better in their elections than he did and in the House, Republicans gained nine seats, although they lost one in the Senate.
This, Conway said, undercuts Trump's claims of fraud and if there was no fraud, it means "significant" Republicans "couldn't stomach him."
None of the candidates in Georgia's two Senate races earned the needed 50 percent vote threshold in the November election, thereby forcing both races into runoff elections. Perdue fared better than Loeffler in his race, winning a 1.8 point lead over his Democratic challenger, Jon Ossoff. However, Loeffler, who received 25.9 percent of the vote, was also in a race against a second Republican, Representative Doug Collins, who took 20 percent of the vote. This time around, it'll be down to herself and Reverend Raphael Warnock, her Democratic challenger who received 32.9 percent of the vote.
Along with putting his weight behind Loeffler and Perdue, Trump's influence on the Georgia election has some considering voting for him instead of the GOP senators. The hashtag "WriteInTrump" trended on Twitter and some advocated for people to withhold their vote if Perdue and Loeffler didn't push for an investigation into the election. But, the president's eldest son, Donald Trump Jr., pushed back against the potential boycott, calling it "nonsense" to not vote for the GOP senators.
"We need ALL of our people coming out to vote for Kelly & David," Trump Jr. posted on Twitter.
Trump is expected to visit Georgia on Saturday to rally voters for Loeffler and Perdue. Conway predicted Trump's speech would be focused more on his "grievances" in the election and "very little about" the two senators.
"This is going to be a rant and rage about the media about the Democrats," Conway said. "At the end of the day he's going to say some outrageous things about voter fraud ... and it's not going to help these two Republican Senate candidates. They may win anyway, I don't know, but Trump isn't going to help."