George Conway Says Trump's Credibility is 'Annihilated' After President Denies Knowing Alleged Assault Victim
Speaking to reporters outside the White House on Saturday, President Donald Trump once again insisted he doesn't know journalist E. Jean Carroll, the latest woman to come forward with sexual assault allegations against him.
"I have no idea who this woman is," Trump told reporters as he readied to leave for Camp David. When asked about a photo that depicts him and his accuser standing in a group at an event, Trump denied it held any significance. "Standing with my coat on in a line? Give me a break. With my back to the camera? I have no idea who she is."
Trump's second denial came hours after attorney George Conway, who is married to White House Counselor Kellyanne Conway, penned an op-ed in The Washington Post outlining why Republicans who believed former President Bill Clinton's accusers should also take Carroll's claims seriously.
In an excerpted passage from her forthcoming memoir, published Friday by New York Magazine, Carroll claimed Trump raped her in the dressing room of a Bergdorf Goodman department store in "the fall of 1995 or the spring of 1996."
Newsweek subscription offers >
"He seizes both my arms and pushes me up against the wall a second time," Carroll wrote, "as I become aware of how large he is, he holds me against the wall with his shoulder and jams his hand under my coat dress and pulls down my tights." She then detailed Trump unzipping his pants and raping her. Two journalists whom Carroll said she confided in at the time of the alleged assault confirmed her account to New York.
In his op-ed, Conway—a frequent Trump critic, despite his spouse's position as one of the president's top aides—compared Carroll's claims to those bought by Juanita Broaddrick. In that case, Broaddrick said then-Arkansas Attorney General Clinton had assaulted her in 1979 while visiting the nursing facility where she worked. The allegations first surfaced publicly in 1999 and then again in 2016, when both Trump and Kellyanne Conway used them to discredit Hillary Clinton's campaign.
George Conway said it would be "hypocritical" for Republicans who vociferously defended Broaddrick at the time to turn their backs on Carroll.
"Trump called Broaddrick 'courageous,' and if Broaddrick was courageous, then certainly Carroll is as well," he writes. "For Carroll's story is at least as compelling as Broaddrick's—if not more so."
Newsweek subscription offers >
He later referenced the photo of Carroll and Trump, writing: "By making the absurd and mendacious assertion that he never even met Carroll, Trump utterly annihilates the credibility of his claim that he didn't assault her."
At least one other person who shares personal connections to Trump has also come out in support of Carroll. Trump's The Art of the Deal ghostwriter, Tony Schwartz, charged Trump with being a "serial felon" in a string of tweets published Saturday. (Schwartz has also become a frequent critic of the president.)
Meanwhile, Carroll said she doesn't intend on pursuing criminal charges against Trump.
To date, at least 22 women have come forward with assault allegations against Trump, ranging from inappropriate touching to rape. The president has steadfastly denied all of the claims.
"She is trying to sell a new book — that should indicate her motivation. It should be sold in the fiction section," Trump said about Carroll's charges.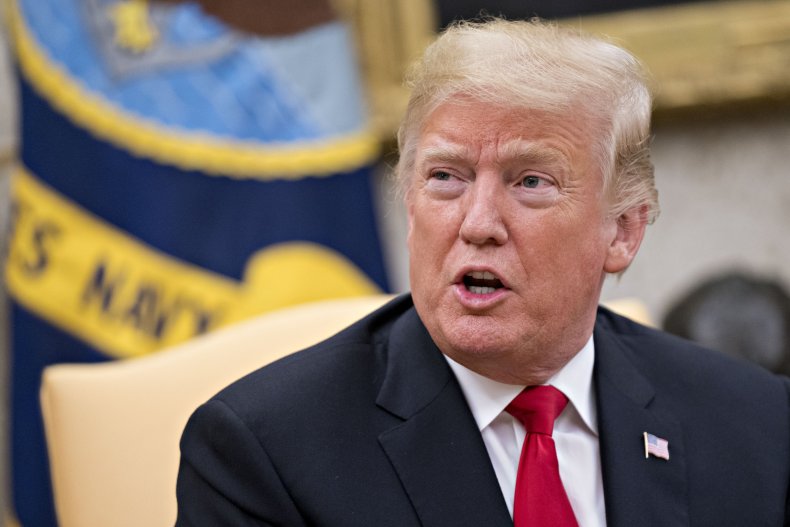 George Conway Says Trump's Credibility is 'Annihilated' After President Denies Knowing Alleged Assault Victim | News